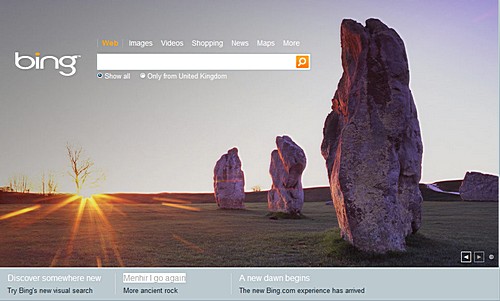 Microsoft's daftly named rival to Google has now officially launched in the UK after five months in beta.
Featuring a simple, photo-dominated homepage, the page shows a rather pleasing photo of Avebury stone circle at dawn, accompanied by the cheesy strappy line: "A new dawn begins".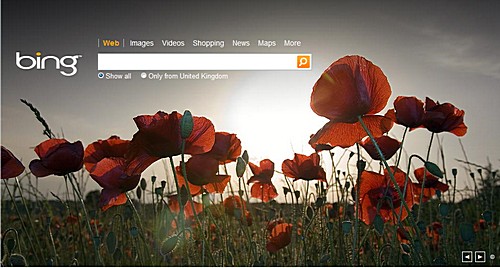 Hotspots on the photo take you to links related to the image, while underneath there's a rare breakout of  Microsoft humour, with the caption; "Menhir I go again. More ancient rock" taking you a page full of videos of bouffant, tight trousered 80s rockers Whitesnake.
A pair of  back and forward buttons in the bottom of the right of the page let you scroll through other striking home page images, which all come with related links for more info. It's rather a pleasant way to spend a few moments.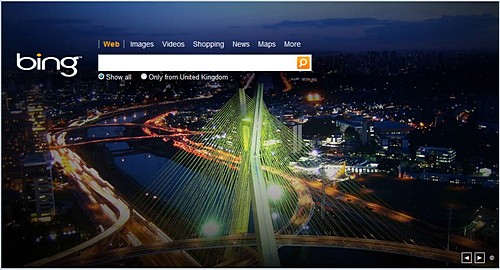 Here's what UK users can expect from Bing:
* A localised UK homepage, featuring hotspot-snippets of information on a daily theme.
* Visual Search, which images and meta data to search without having to type in keywords
* Instant Answers, which gives answers quickly to specific queries
* Twitter feed searching, pulling up Tweets in Bing searches in real-time
* Integrated shopping with Ciao UK
* Bing Maps, designed based on data collected from Multi map users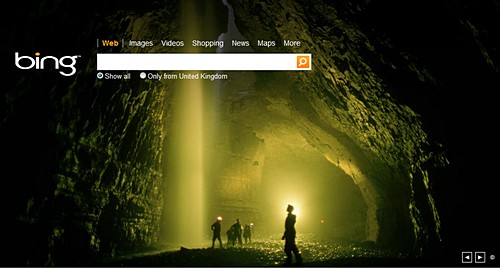 Do you like?
Like most of the known universe, we're die-hard Google users, but we are rather warming to the cut of Bing's jib and fancy we may be giving it more of a go in the coming months. How about you? Tempted? Or are staying firm with Google?