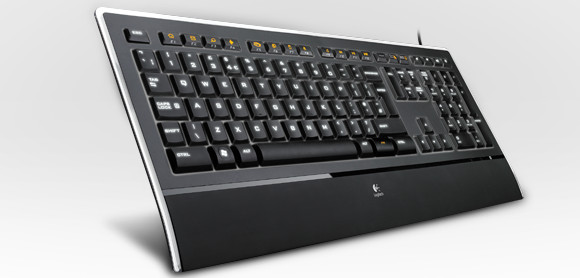 If you often find yourself typing away into the wee small hours as you battle against looming deadlines, then it might be worth considering shelling out for this deluxe, hoity-toity Logitech illuminated keyboard.
It's a looker, alright
A well designed matt black number with a natty see through plastic trim, the Logitech Illuminated Keyboard is a solidly built, compact affair measuring 456 x 190 x 40mm.
The key action is a tippety-tap delight too, with the keyboard serving up  a light and positive action that almost manages to make filling in a tax return an enjoyable experience. Almost.
In our tests, words flew out of the keyboard as smoothly and as quietly as what we found on Logitech's top of the range DiNovo Edge keyboard, which was our favourite before a load of ruddy letters rubbed off.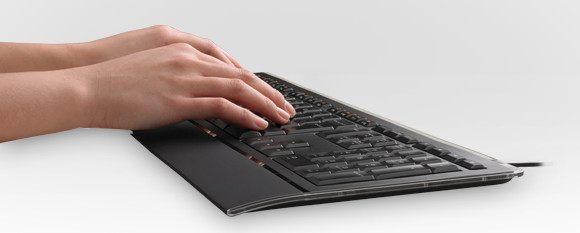 It's all about the lights
Of course, the big seller is the backlit laser-etched keys which produce a pleasingly hi-tech, mini-Blackpool effect under your fingers and make those long night time typing sessions a little less squinty.
There's three levels of  backlighting available (toggled via a key in the far top right  corner) but the lighting is a pretty subtle affair so only the most terrifyingly hungover are ever likely to need sunglasses.
It's a shame there isn't the option to toggle an auto setting though, but you're unlikely to notice the backlighting in daytime (unless you lurk in a dark, dank Dickensian office with barely a candle glow for company).
Connecting over USB, the keyboard comes with a  reasonably generous and high quality lead and we suspect it adds up to better value than the cordless version of the keyboard which seems to need a lot of regular charging according to web reports.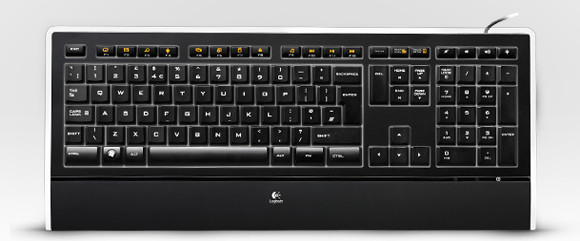 Verdict
The keyboard is a solidly built, stylish and attractive number, and comes with a smooth and pleasing typing action – but then, that's the least you'd expect for £70 or so.
Of course, this thing is all about the funky backlighting and it's up to you whether you think it's worth paying such a considerable premium for the light show.
As for us, we chuffing well love it – so much so that we went out and bought the thing after writing this review.
Logitech Illuminated Keyboard ratings

– Build


– Design


– Value for money


– Overall
Buy the Logitech Illuminated Keyboard on Amazon
.