Panasonic has unveiled its new DMC-G3 Micro Four Thirds mirrorless interchangeable lens camera, packing a beefier sensor in a smaller body.
The new 16.6MP sensor produces 15.8MP images, backed by Panasonic's Venus Engine FHD image processor, with the new technology claiming to reduce noise by more than 66 per cent.
Notably in shooting at high ISO settings, S/N value is improved by approximately 200% compared with the conventional 12.1-megapixel sensor. The sensor performance improves by 6db at ISO 3200 and max. 9db at ISO 6400.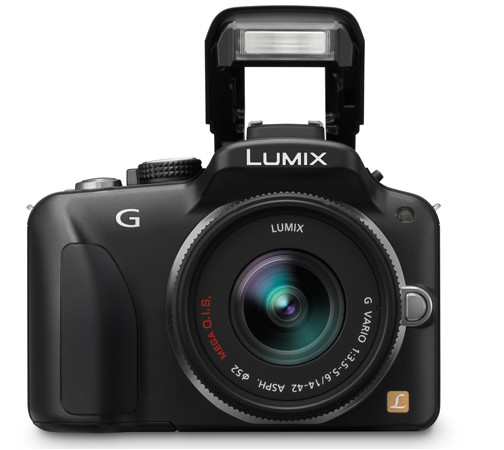 Around the back lurks a 3 inch articulated LCD providing touch-based functions like Touch AF/AE and Touch Shutter, with the G3 supporting 1920 x 1080 full-High Definition (HD) video recording with stereo sound in AVCHD.
The Panasonic G3 can bag full resolution images at a maximum rate of 4fps (used with a Class 6 SDHC card, the camera will rattle off around 20 of the highest quality JPEGs, 7 raw or 7 simultaneous raw and JPEG files before things start starts slowing down).
Aimed at more experienced photographers than the easy-peasy GF2, Panasonic have still lobbed in a slew of scene modes (17 to be precise) with the generally fabulous Intelligent Auto plus (iA+) mode present and correct.
The Panasonic Lumix DMC-G3 is set to launch in the coming months and will set you back around £550 for the body only, or £630 for the body with a 14-42mm kit lens.
Update: the good folks at Techradar have posted up an early review and their conclusion is very positive indeed:
Panasonic appears to have a winner on its hands. The Panasonic G3 manages to combine the best elements of the G2 and GF2 and as a result is a camera that is likely to find favour with many enthusiasts, especially those who like street and reportage photography.

While Panasonic has made strides in noise control and low light performance, the G3's strength is in its small size and high-quality images in 'average' lighting conditions.

Sometimes it's hard to put your finger on exactly what you like about the images that a camera produces and while the results from the G3 may not be absolutely perfect, they do have a lovely film-like quality.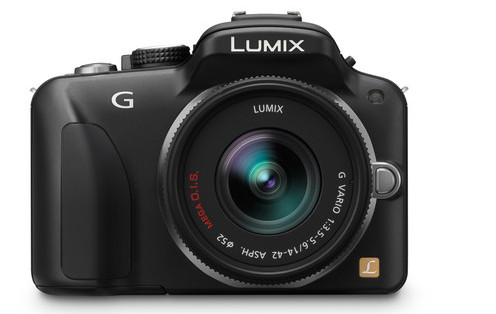 G3 specs:
Image Sensor: 16.0 MP LIVE MOS
Engine: Venus Engine VI FHD
ISO setting: Auto / Intelligent ISO / 160 / 200 / 400 / 800 / 1600 / 3200 / 6400
Maximum continuous shooting: 4 fps (16.0M) / 20 fps (4M)
Movie recording: AVCHD 1920×1080 50i (Sensor Output 25fps), AVCHD 1280×720 50p (Sensor Output 25fps)
Viewfinder: Electronic with approx. 100% Field of View, 1.44mil dots equiv.
LCD Screen: 3.0in 460K dots Free Angle Touch LCD
Size: 115.2 x 83.6 x 46.7 mm (excluding protrusions)
Weight: 336g (body only)
Built-in Flash: TTL Built-in-Flash, GN 10.5 equivalent, built in pop-up
Interface: HDMI, USB 2.0, Digital AV Out, Remote input, microphone, speaker.
Full press release below:
The New Panasonic LUMIX G3 Features Large Touch Screen LCD for Intuitive Touch Control and Technologies Enhancing Imaging Quality

SECAUCUS, NJ (May 12, 2011) – Panasonic today announces a new addition to the LUMIX G Series of Compact Systems Cameras (CSC), the LUMIX DMC-G3, the company's smallest and lightest digital interchangeable lens camera with a viewfinder to date* . This new class of CSC offers a lighter weight and smaller size not seen in traditional DSLRs, thus providing greater portability and creative control. The LUMIX G3 features a new 16.0-megapixel sensor that produces rich, true-to-life, high quality images, plus 1920 x 1080 full-High Definition (HD) video recording capability with stereo sound in AVCHD. The Panasonic LUMIX G3 is the ideal hybrid, offering superb still and video capabilities with easy-to-use features so users at any level can create professional-quality images.

"With the LUMIX G3, Panasonic offers an extremely light compact system camera that is easy to use, thanks to a touch-control LCD, yet still maintains powerful and creative features to appease the more advanced photographer," said Darin Pepple, Senior Product Manager, Imaging, Panasonic Consumer Electronics Company. "With new features that enhance photo and video quality, the LUMIX G3 offers exceptional image quality that a photographer at any level would be excited about using to capture their experiences."

For the camera traditionalist, the LUMIX G3 provides a traditional DSLR-like experience with an external Mode dial for quick access to common modes like Program, Shutter and Aperture Priority, Manual. Additional dial settings include two Custom Modes, Scene Modes and a Creative Control Mode. The LUMIX G3 provides a dedicated video button that can be used to switch to video capture quickly without changing modes. Like most traditional DSLRs, the LUMIX G3 provides a built-in flash and hotshoe for connecting optional LUMIX flashes. For many, a traditional eyelevel viewfinder is still a must have, so the LUMIX G3 meets this demand with an eye-level electronic viewfinder that projects a high resolution 1.44m-dot image with 100% field of view (800×600, 0.7x magnification). In addition, color breakup has been improved when compared to the LUMIX G2.

To enhance operability and ensure it's user-friendly, the LUMIX G3 features touch-control shooting, which lets photographers focus on the subject by simply touching it on the large, 3-inch high-resolution LCD touch screen. Once locked on the subject by a touch, the LUMIX G3 tracks the subject, even if it moves, with Auto Focus (AF) tracking. In addition to its 23 Area Auto Focusing Points, the LUMIX G3 features new Pinpoint AF. Pinpoint AF allows extremely precise near–pixel-level focus point setting at the touch of a finger. For example, unlike DSLRs that limit the number of fixed hardware focus points, Panasonic's Pinpoint AF can be set by touch control to very fine points anywhere on the LCD. With a new Precision Contrast LightSpeed AF system, the LUMIX G3 is extremely fast, measuring approximately 0.1 second (14-140mm ~0.1 sec. 14-42mm ~0.18 sec., 45-200mm ~0.15 sec.). The LightSpeed AF feature is achieved by reducing the detection time for focusing by doubling the Live MOS Sensor drives
speed from 60 fps to 120 fps.

Manual control over focus is available in the LUMIX G3 and has been greatly improved when compared to its predecessor, the LUMIX DMC-G2. When magnification is first enabled at 4x by simply touching the subject on the LCD, that subject is enlarged in a small window allowing you to keep the rest of the image in view as a framing reference. Beyond 4x, that small window fills the monitor so even more control over focus fine-tuning can be achieved. This handy feature is available from both the MF Assist (Manual Focus) and AF + MF focus modes.

The Intelligent LCD has a bright 1,440,000-dot equivalent resolution and rotates 180° to the side and tilts 270° up and down offering approximately 100% of field of view, making it easy to operate and shoot at different angles. In addition, the touch-enabled-screen operation excels not only for shooting but also for playing back images with outstanding visibility. Users can scroll through hundreds of images on the screen, simply by thumbing through the thumbnails. Or, to play back images one-by-one, the user drags the image across the screen as though flipping a page in a book.

The LUMIX G3's newly developed 16.0-megapixel Live MOS sensor, combined with the powerful Venus Engine FHD image processor, contribute to the high-quality photo and video images. The processor also provides selective noise reduction to create a more naturally-balanced curve without deterioration of the image. In the LUMIX G3, noise is significantly suppressed by more than 66%. Notably in shooting at high ISO settings, S/N value is improved by approximately 200% compared with the conventional 12.1-megapixel sensor. The sensor performance improves by 6db at ISO 3200 and max. 9db at ISO 6400.

For added ease of use, the LUMIX G3 features Panasonic's iA** and new iA Plus modes, which are enabled automatically once the iA button is pressed. Panasonic's iA features, such as Intelligent Resolution, MEGA O.I.S. (included in several lenses), Intelligent ISO Control, and Intelligent Scene Selector are available when shooting still images. However, Panasonic's new iA Plus mode adds greater flexibility with real-time visual feedback between automatic and manual shooting features:

Touch-screen-slider-enabled background defocusing.
Touch-enabled exposure control compensation.
Touch-screen-slider-enabled white balance. A desired color balance result under difficult lighting can now be achieved visually from the LCD with a touch-enabled slider icon.

The LUMIX G3 offers rapid burst shooting control at various rates and resolutions. Image capture at full-resolution (16-megapixel) is possible at up to 4 frames per second with its mechanical shutter enabled, or an even faster 20 frames per second using the electronic shutter feature at a reduced resolution of 4 megapixels.

With an array of creative features, the LUMIX G3 offers users the opportunity to express their creativity with settings like Creative Control mode, which allows for images to be taken with popular visual effects that previously required software post processing. Effects include: Retro, High Key, Sepia and High Dynamic.  The conventional film mode has evolved with a new effect control, Photo Style, which has Standard, Vivid, Natural, Monochrome, Scenery, Portrait presets that allow finer adjustment of contrast, sharpness, saturation and noise reduction by each.

As with many interchangeable lens cameras, dust on the sensor reduces image clarity. To eliminate this potential, the LUMIX G3 uses a Dust Reduction System that uses a supersonic
wave filter in front of the Live MOS sensor. Vibrating vertically around 50,000 times per second, the filter repels dust and other particles effectively.

The LUMIX G3 utilizes the Micro Four Thirds (MFT) System mount, offering greater size and weight reduction in the lens without compromising performance and clarity. The LUMIX MFT System offers a selection of 11 high-performance fixed focal length and variable aperture G Vario zooms, including a highly-versatile 3D lens capable of capturing both 2D and 3D images at the same time. There are lens adaptors available for mounting older Leica M and Leica R lenses, including prior LUMIX full Four Thirds lenses.

An innovative 14-140mm HD G Vario lens provides the best of video and still-image shooting with a long 10x range and near silent high-speed focusing. When connected to the LUMIX G3, ultra-fast focusing and auto subject track AF can be achieved. Many LUMIX MFT lenses come with MEGA O.I.S. (Optical Image Stabilization) built-in. This feature helps prevent blurring from shaky hands. Working together with this is the camera's intelligent ISO Control, which reduces motions blur by adjusting the ISO sensitivity if the subject moves, helping to ensure sharp images.

The Panasonic LUMIX DMC-G3, made of aluminum, will be available in a variety of attractive colors, including black, red, white and brown, starting in June 2011. Suggested retail price of the LUMIX G3 with the 14-42mm Zoom Lens Kit will be $699.99. For more information about the Panasonic LUMIX G Series of compact system cameras, please visit www.panasonic.com/lumix.

* For an interchangeable lens system camera with a view finder, as of May 12, 2011.
** Some functions in iA mode may not be available depending on the lens that is mounted.