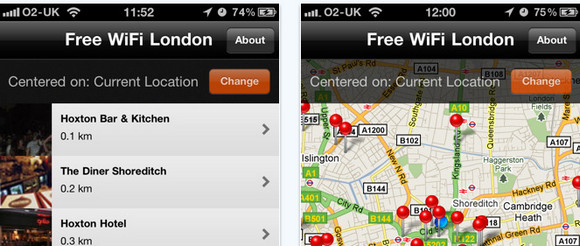 One of our favourite London websites, The Londonist, has just launched their own iPhone app displaying cafes, bars, restaurants and other places offering free Wi-Fi.
Location aware
The online magazine for all things Cockney and Landahn first documented the capital's Wi-Fi services three and a half years ago as a web-based Google map, and have based the new app on their original map, bolting on geo-awareness to help folks hook up quicker.
The app lists venues offering Wi-Fi services without any charge, loyalty requirement or membership – athough you may need to ask behind the bar for a password in some places.

Londonist say that they've contacted every venue listed in the app to make sure details are correct as of Aug 2010, but like all freebie Wi-Fi deals, routers can bork, staff can trip over the wires or the venue may just decide to withdraw the service.
We've loving the sound of the app – but where's the Android version?
Features:
– Displays nearest free wifi spots to your location, or any other part of town
– Hundreds of venues throughout Greater London
– Sort results by location type – cafes, pubs, coffee shops, etc.
– Every location checked for accuracy of information
– Browse by map or index
– Contribute additional locations with a simple contact form
– Full contact details for all venues
– Access to venue reviews via Qype.com
Free Wifi London is available now in the iTunes store, price £1.19. Compatible with iPhone, iPod touch and iPad. Requires iOS 3.1.2 or later.