For reasons best kept to himself, the former ice-cool frontman of the seminal 60s band the Velvet Underground has released the $1.99  'Lou Zoom' app.
It doesn't do an awful lot – the app basically turns your iPhone into the equivalent of those big phones for old people with huge numbers on – although it does offer a marginal improvement to searching for contacts.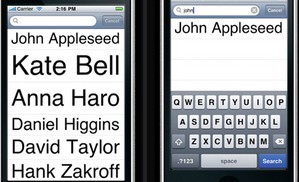 The blurb on the accompanying website is amusingly over the top, trotting out tosh about the app being, "dramatically set in Helvetica Neue type," and being a, "contemporary take on classic Modernist design," which Lou reckons will "turns heads as quickly as it dials phone numbers."
Sure it will, Lou. Really.
Here's a hype-fuelled list of the features, presumably in the grumpy rockstar's own words:
Form and Function
You can see it… You can read it!
With Lou Zoom, your contacts have never been this beautiful—or this huge and legible! Each name in your contact list expands to the full width of the display, making them easier to select, and allowing you to read you contact info without squinting. No pinching, no panning around—just your contacts, clearer. Dramatically set in Helvetica Neue type, this contemporary take on classic Modernist design turns heads as quickly as it dials phone numbers.

Spectacular Search
Use the search bar to quickly narrow down your list of contacts. Unlike the built-in Contacts app, Lou Zoom lets you search any part of the name. Has Kate Bell recently become Kate Appleseed-Bell? Searching for "Bell" will still bring up her name in Lou Zoom. From there, her full info is just a tap away.

Just the Facts
Once you select a contact, you'll see all the vital details on a single page. Multiple phone numbers? No problem. Just swipe left and right to page through multiple addresses, phone numbers or email addresses. When you're ready to map an address, make a call, or send an email, just double tap. Or you can switch to Edit mode to make changes. Whatever you need to do, Lou Zoom makes it as fast and easy as possible.