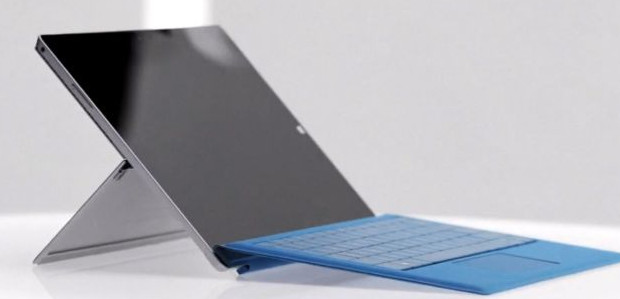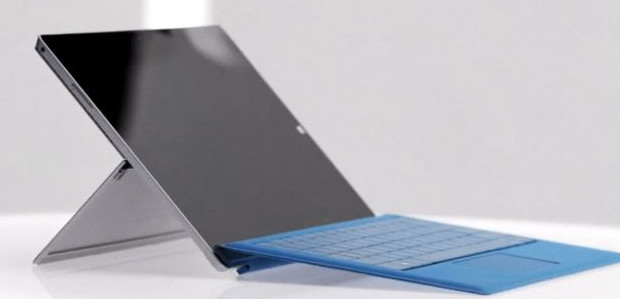 Microsoft has unveiled the third generation of its Surface tablet/laptop hybrids, with the Surface 3 packing a 12 inch, 2160 x 1440 pixel display and an Intel Core i7 Haswell processor.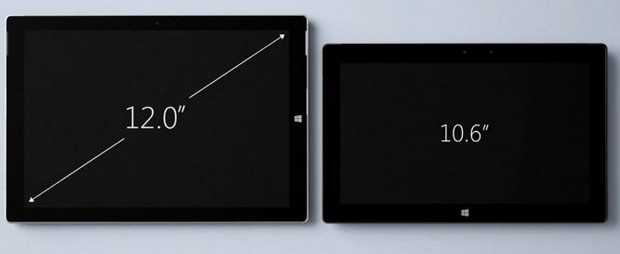 Measuring 0.36 inches/9.1mm  thick and weighing 1.8 pounds, the Surface Pro 3 claims to be  "the thinnest Core PC ever made" with a Core i7 processor powering the device.
The new Surface also sports a bigger screen than the Surface Pro 2, and is thinner and just a smidgen heavier than its predecessor.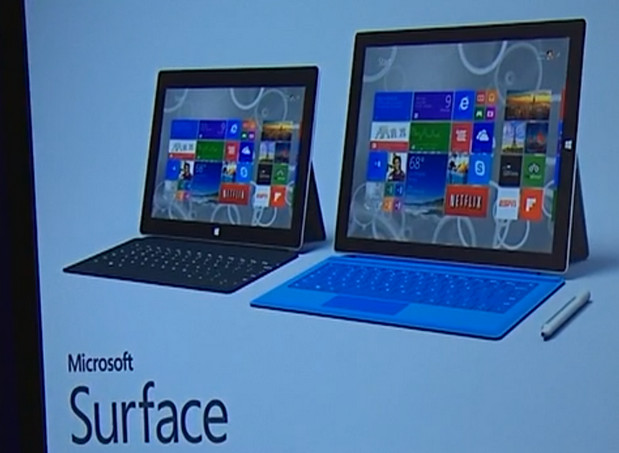 With its 3:2 aspect ratio high quality display and improved speed and battery life, Microsoft says that the Surface Pro 3 is a tablet designed to replace your notebook.
Inside, the system uses a "silent" fan that dissipates air through vents around the sides of the case,  while the Surface Pro 3 has completely flexible new hinge offering up to to 150 degrees of travel.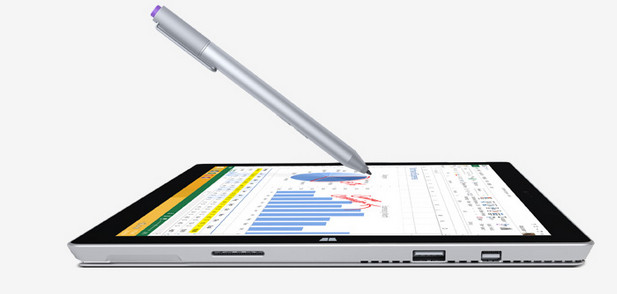 The Surface still offers dual digitizer support for finger or pen input – now optimised to work with Photoshop CC, and there's also a desktop docking station that outputs to a 4K monitor.
Pricing starts at £639 for the 64GB/Intel i3 model, rising to a hefty £1,649 for the 512GB/Intel i7 top of the range model. See all pricing options here.
Hands on video:
Specs:
Software – Windows 8.1 Pro
Exterior Dimensions: 7.93 x 11.5x 0.36 inch • Weight: .79 kg's • Casing: VaporMg • Colour: Silver • Physical buttons: Volume, Power, Home
Storage
64GB, 128GB, 256GB or 512GB • 64GB has >36GB available disk space • 128GB has >96GB available disk space • 256GB has >211GB available disk space • 512GB has >450GB available disk space
Display
Screen: 12″ ClearType Full HD Display • Resolution: 2160 x 1440 • Aspect Ratio: 3:2 • Touch: 10-point multi-touch
CPU & Wireless
4th generation Intel Core i3, i5 or i7 Processor options • System memory: 4GB or 8GB • TPM Chip for enterprise security • Wireless: Wi-Fi 802.11ac/802.11 a/b/g/n • Bluetooth 4.0 Low Energy technology
Battery Life
Up to 9 hours battery life
Cameras, Video & Audio
Two 5MP HD cameras, front and rear-facing • Stereo microphones • Stereo speakers with Dolby sound
Ports
Full-size USB 3.0 • microSD card reader • Headphone jack • Mini DisplayPort • Cover port
Sensors
Ambient light sensor • Accelerometer • Gyroscope • Magnetometer
Warranty
1-year limited hardware warranty
Surface Pen
Dimensions: 135mm (length), 9.5mm (diameter) • Weight: 20g +/- 2.0g
Pre-installed Apps
Flipboard • Skype Wi-Fi • Skype • OneNote MX • Solitaire • Mahjong • Sudoku/Microsoft Number Puzzle • Fresh Paint • Note Anytime
In the box
Surface Pro 3 • Surface Pen • 36-watt power supply • Quick Start Guide • Safety and warranty documents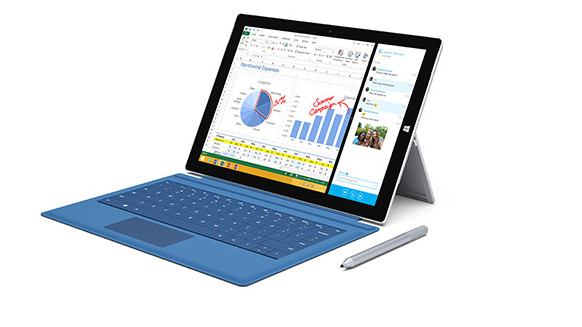 Press release: 
NEW YORK — May 20, 2014 — On Tuesday, Microsoft Corp. introduced Surface Pro 3 — the lightweight tablet that packs the power and performance you expect from a laptop.

Surface Pro 3 is a tablet and a laptop: multiple processor, RAM and storage options intersect with a sleek design that, with a simple snap or click, transform the device from a perfectly balanced tablet to a full-functioning laptop and back again — all in a beautiful package that is 30 percent thinner than an 11-inch MacBook Air. Its stunning 12-inch display and new, continuous kickstand provide the screen real estate and multiple viewing angles people need for work and play. And the new Surface Pen — completely redesigned with form and function in mind — delivers a precise, luxurious drawing and note-taking experience with a single click of the pen.

"So many people carry both a laptop and a tablet but really want just one device that serves all purposes," said Panos Panay, corporate vice president, Microsoft Surface. "Surface Pro 3 is thetablet that can replace your laptop — packing all the performance of a fully powered laptop into a thin, light and beautifully designed device. You'll love being able to carry a single device for your next class, workday or weekend getaway knowing you have all the power you need."

Surface Pro 3 and Surface accessories

Surface Pro 3 features a 12-inch full HD display, 4th-generation Intel® Core™ processor options, amazing click-in keyboards, and a multiposition kickstand that goes from movie mode to working mode and all the way to writing mode. Because it runs Windows 8.1 Pro, people can run the desktop software they rely on, including Microsoft Office , multitask with side-by-side windows, and use it at work. Surface Pro 3 delivers the best writing and drawing experience with Surface Pen included and an amazing new capability where with just a click of the pen, Surface launches a fresh page in OneNote, so you can capture your thoughts immediately — as quickly as a pen and piece of paper. And it delivers big-screen entertainment anywhere with the larger, full HD screen, the kickstand, great speakers with Dolby® Audio enhanced sound, and up to nine hours of Web-browsing battery life.

New Surface accessories like the improved Surface Pro Type Cover will take Surface Pro 3 from tablet to laptop in a snap. The new premium Surface Pen with pressure sensitivity enables a more natural writing experience, while a full-size USB 3.0 port, microSD card reader and Mini DisplayPort allow for quick file transfers and easy connections to a range of peripherals.

Coupled with additional optional accessories, including a new Docking Station for Surface Pro 3and a Surface Ethernet Adapter, Surface Pro 3 has all the features and capabilities of a complete laptop. The new Surface accessories can be found here.

Surface Pro 3 for business

With the introduction of Surface Pro 3, our commitment to business has never been stronger. Since introducing commercial availability less than a year ago, Surface has expanded into 31 commercial markets, celebrating new customers along the way. Surface Pro 3's versatile features allow commercial customers to deploy a laptop replacement that delivers the power, manageability and security they need to conduct business with confidence. Companies such asBMW Group, The Coca-Cola Company and LVMH – Moët Hennessy Louis Vuitton have already committed to purchasing and deploying the device as one of the choices inside their organizations.

"Surface Pro 3 is a truly innovative device that will replace both a tablet and a powerful laptop," said Mario Müller, vice president IT infrastructure, BMW Group.

Microsoft is proud that these esteemed brands are adopting Surface Pro 3 to harness the promise of mobility to transform their customer experiences.

Pre-order and availability

Starting at an estimated retail price of just $799, Surface Pro 3 will be offered in multiple configurations featuring 4th-generation Intel® Core™ i3, i5 and i7 processors. Specs are availablehere.

Surface Pro 3, Surface Pro Type Cover and Surface Pen will be available for pre-order starting May 21 at 12:01 a.m. EDT through Microsoftstore.com, Microsoft retail stores and select third-party retailers. Commercial customers should speak to their authorized reseller.

Beginning June 20 in Canada and the United States, customers can visit Microsoftstore.com, Microsoft retail stores, select third-party retailers and commercial resellers to purchase Intel® Core™ i5 Surface Pro 3 and select accessories. Additional configurations will become available during August, and additional accessories will be available in the next few months.

By the end of August, Surface Pro 3 and select new accessories will become available for purchase in 26 additional markets, including Australia, Austria, Belgium, China, Denmark, Finland, France, Germany, Hong Kong, Ireland, Italy, Japan, Korea, Luxembourg, Malaysia, the Netherlands, New Zealand, Norway, Portugal, Singapore, Spain, Sweden, Switzerland, Taiwan, Thailand and the United Kingdom.

More information on Surface can be found at http://www.microsoft.com/surface.