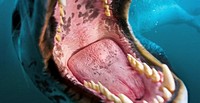 OK, we admit that the obvious  link with technology news is being a little stretched here, but it's a story worth seeing.
National Geographic have just posted a YouTube video showing what happened when their contributing photographer Paul Nicklen dived under the ice in Antarctica to capture shots of leopard seals.
Now these guys are big. Very big, but the one they spotted was so ruddy mahoosive the guide exclaimed, "Bloody hell that's the biggest leopard seal I've ever seen!"
Fearlessly, Nicklen dived under with his camera and soon saw the monster seal approaching him, jaws wide open…..