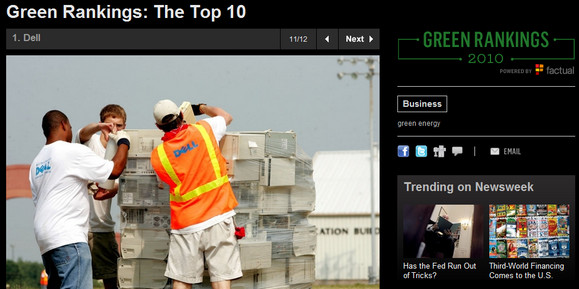 Newsweek has released their environmental rankings of the 500 largest publicly traded companies in America and the biggest publicly traded companies in developed and emerging world markets.
The 'green' rankings were based on a complex set of criteria which included judging the environmental footprints of companies, their management of that footprint (including policies and strategies) and their reputation among environmental experts.
USA rankings
American companies were rated both in their business category and overall, with Dell emerging as the most environmentally responsible company, while Google ranked 14th in tech (36th overall) and Apple scored 20th in the tech sector (65th overall).
Here's how Dells's achievement was described in Newsweek's Green Rankings summary:
The company takes back and recycles any of its products for free, and will also take back competitors' products at no cost with the purchase of new Dell computers or peripherals. Consumers can also mail back old equipment, Dell will pick up items at their homes, or they can drop them off at more than 2,000 Goodwill or 1,500 Staples locations. Based on their strong Environmental Impact score, Reputation score, and excellent Green Policies score, Dell was the No. 1 company in NEWSWEEK's 2010 Green Rankings
Here's the top ten listing for the US:
1 Dell
2 Hewlett-Packard
3 International Business Machines (IBM)
4 Intel
5 Sprint Nextel
6 Adobe Systems
7 Applied Materials
8 Yahoo!
9 Advanced Micro Devices (AMD)
10 Cisco Systems

Global rankings
Newsweek's Global Green Rankings also measured the environmental qualities of "the biggest publicly traded companies in developed and emerging world markets," and saw IBM grab the top slot overall, and in the tech sector.
Here's the top global top ten:
1 International Business Machines (IBM)
2 Hewlett-Packard
3 Deutsche Telekom
4 Toshiba
5 Vodafone
6 Nokia
7 Nippon Telegraph & Telephone
8 Microsoft
9 France Telecom
10 China Mobile
[Newsweek USA Green rankings – tech companies]