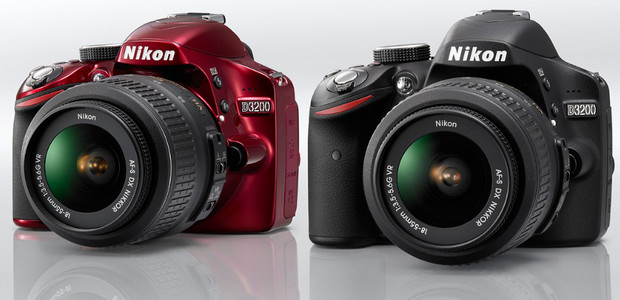 Nikon has announced the follow-up to its enormously successful D3100 entry-level DSLR, with the new D3200 showing a significant upgrade in specs, while still holding a competitive price.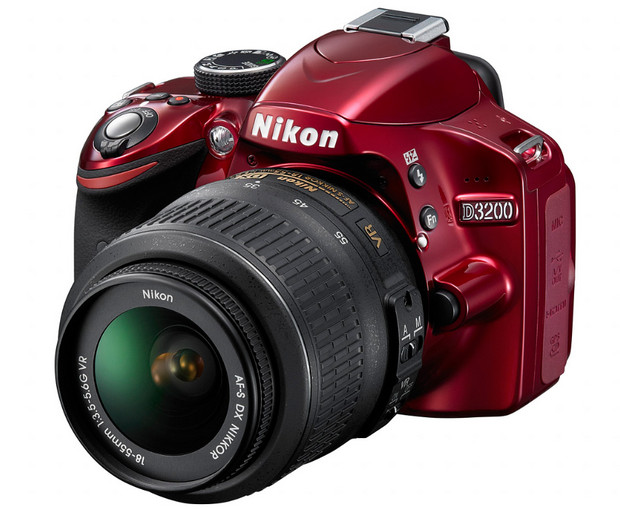 The new D3200 packs a 24.2 megapixel DX format APS-C sensor – the same EXPEED 3 processor as seen in the flagship D4 – plus full 1080p HD video, 11-point autofocus system and 4fps continuous shooting and a ISO range covering ISO 100-12800.
The LCD screen has also been boosted from its predecessor's measly 230k dots to a far more impressive 920k dots.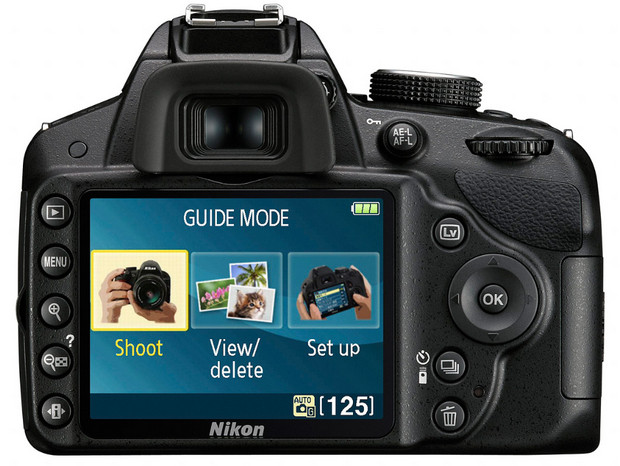 The new camera can also take an optional Wi-Fi unit, the WU-1a Wireless Mobile Adapter (£54.99), which adds the ability to send full-sized or VGA images to Android smartphones (iOS support is promised later in 2012) and to remotely preview the live view screen (and, we think, shoot photos).
The device bolts on to the side of the camera and works over a 49ft range – and will, no doubt, prove a hit for those wanting to get their photos on social networks sharpish.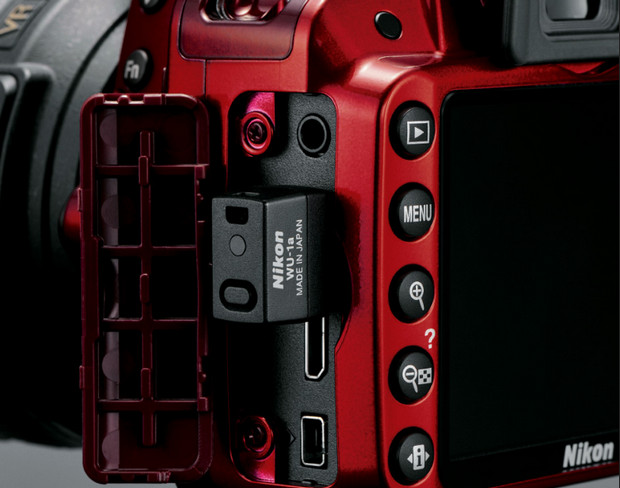 The Nikon D3200 will be available in black or shiny red priced at £559.99 / €667.00 body only and £649.99 / €775.00 with the Nikkor 18-55mm VR lens.
Here's the Nikon UK Press Release:
The new Nikon D3200 makes beautiful photography easy for everyone

London, UK, 19th April 2012 Nikon introduces the D3200, a new easy-to-use entry-level D-SLR, boasting latest-generation Guide Mode with full HD video to deliver beautiful, high-quality pictures and cinematic quality movies.

Simon Iddon, Product Manager for Enthusiast Products at Nikon UK says: "The D3200 follows the success of Europe's best selling D-SLR camera, the D3100 . Newcomers to D-SLR photography will benefit from the camera's intuitive features, such as the Guide Mode that takes you step by step through the photography process to capture high quality images to be proud of.

He adds: "This high powered camera offers superior image quality, with an incredibly high megapixel count, as well as Full HD video for creative photographers".

D-SLR photography made easy
The D3200 is perfect for those looking to capture quality photos and videos. Whether you are starting a family or about to embark on a big trip, the D3200's easy to understand functions mean you can take beautiful pictures even if you have never used a D-SLR camera before.

Guide Mode, previously seen on the popular D3000 and D3100 D-SLRs, is now in its third generation with significant improvements to help you grasp the more creative options, taking you through the entire process step-by-step. Running in parallel, Assist Images uses visual examples to help you to identify the shot that you are imagining. Capturing that beautiful background blur in portraits or sharp pictures of your children playing has never been easier. New items have been added to the Advanced operation menu, for example, to help you to enhance the red in sunsets or reduce blur.

Nikon's automatic Scene Recognition System will meticulously analyse the scene you are shooting and adjust the focus, exposure and white balance for optimum results. And, if you want your camera to do the work for you there is still a range of automatic functions such as Scene Auto Selector in Live View and Scene Modes that will apply the most relevant setting.

Superior image quality
The D3200's incredibly high 24.2 megapixels delivers rich detail, meaning you can crop or print large images, keeping memories alive without a loss of sharpness. Nikon's latest image processor, the fast and powerful EXPEED 3, provides high-speed operation, producing remarkably clear images with excellent colour reproduction; and enhanced movie recording. ISO 100-6400 (extendable to 12800 equivalent) helps you take sharp images, even in low light. The razor-sharp 11-point autofocus system will make sure everything is in focus, delivering sharp results even if your subject is off centre, or completely unpredictable, like your baby smiling or laughing. By shooting action at four frames per second, the D3200 helps capture fast moving objects, like children playing on their skateboards, at exactly the right moment.

Should you find yourself taking shots in high-contrast conditions, such as backlit scenes, Nikon's Active D-Lighting automatically adjusts the lighting while retaining detail in both dark and bright areas for stunning images with natural contrast.

Enhanced HD movies
If you are looking to capture a milestone moment, such as your child's first steps or their role in a school play, a picture is not always enough.

Record your own stunning full HD (1080p) movies to play back on your high definition TV using the D3200's easy-access movie record button. The camera's large sensor and high ISO offer exceptional image quality. There is a high quality microphone built in to the camera, but if you want to take a further step in sound recording, you can utilise the optional external microphone input. You can easily edit your movies on the camera by selecting the start and end point as well as saving selected frames so that you never miss a moment. When coupled with a wide variety of NIKKOR lenses, you can create fantastic cinematic effects to bring your home HD movies to life.

Connect the camera
Wirelessly transmitting images from your camera to an Android smart device is now possible by using the optional WU-1a Wireless Mobile Adapter. This means it is easy to share them with your friends and family instantly via social networks and e-mail or save and back them up when you are on the move. Because you don't need a Wi-Fi connection to transfer images from the camera to your smart device, the WU-1a Wireless Mobile Adapter is an ideal accessory when you're travelling. The WU-1a also allows you to remotely preview the live view screen and trigger the shutter from your android device, so you can be part of group photos. The WU-1a is compatible with Android smart devices.

In-camera editing
There are a variety of editing functions available to help draw out your artistic flare. Adding creative effects such as Miniature, Selective Colour, Colour Sketch and Filter Effects – to add a warm or soft filter – will bring a personal touch to the finished image. It also lets you resize your images, give them a quick retouch, or even straighten them if necessary, directly on the camera to quickly and easily improve the quality of your photos.
In addition, the large 7.5cm (3 inch) high-resolution (921k-dot) LCD monitor makes it a pleasure to review and edit your movies and photos.

Easy operation
Its lightweight, small body makes the D3200 easy to pack and carry around so you never miss those important moments. When you come to use the camera, the controls have been intuitively laid out to ensure you have a secure grip that it is comfortable to handle. The most common functions, such as Live View and Release mode, have dedicated buttons. If you want to take a picture of yourself using the optional ML-3 remote control, the D3200 has a receiver which has been positioned on the front and back to make it easier to do so. The Info button is also close to hand, should you need any further help.

Other key features
• Smart autofocus for movies: enjoy continuous autofocus (AF) when you shoot D-movies. Full-time servo AF (AF-F) and subject-tracking AF maintain the focus when you shoot moving subjects. Face-priority AF is ideal for filming events where you want to relax and let the camera focus on faces.
• Extensive movie options: you can record Full HD (1080p) and the camera supports use of Nikon's ME-1 stereo microphone. In-camera edit functions let you perform tasks such as setting the start and end point of your movie. A mini HDMI output enables playback on an HDTV.
• NIKKOR lenses: take advantage of Nikon's legendary NIKKOR lenses to capture images with vivid colour, striking contrast and crisp detail, or to experiment with cinematic effects. Use fast prime lenses for stunning portraits, micro lenses for life-size close-ups or telephoto lenses for distant subjects.
• Nikon system options: offer endless creative opportunities with a wide range of optional accessories. These include the GP-1 GPS unit that geo tags every image you capture so that you will always remember the place that it was taken. The D3200 comes equipped with a convenient built-in pop-up flash, but with optional Speedlights, inspired flash photography becomes even easier and more creative. The compact and lightweight SB-400 delivers intelligent through-the-lens (i-TTL) flash control and bounce flash capability for a more natural lighting effect without strong shadows. The multifunctional SB-700 offers the exciting potential of wireless multiple-flash operation via the Nikon Creative Lighting System

RRP
D3200 body only: £559.99 / €667.00
D3200 with 18-55mm VR: £649.99 / €775.00
Sales start date: mid May 2012