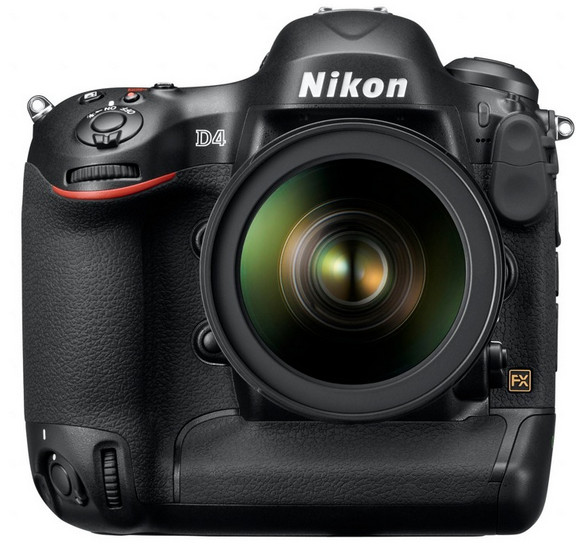 Nikon has taken the wraps of its new high-end, flagship pro DSLR camera, the D4, which packs in a newly developed 16.2 million pixel FX format (full frame) sensor in a big and beefy bombproof package.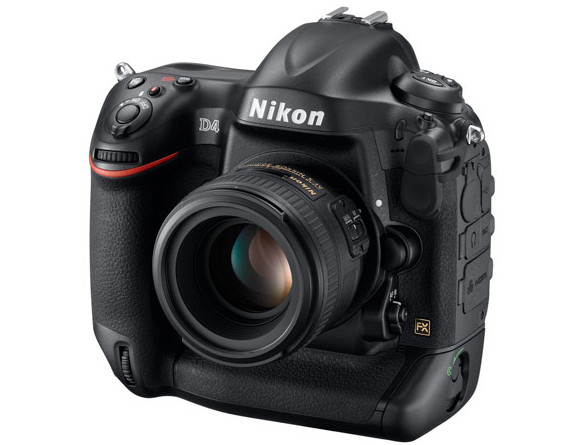 Serving up no less than 45 new or improved features from its predecessor, the D3s, this is a hefty, all weather camera aimed at professionals covering sports, news and reportage photography.
Due to be released in time for the London 2012 Olympics and whizzing up a start-up time of 0.12 seconds and a release lag of 0.042 seconds, photographers will have no excuse for missing Usain Bolt's dash for the line with this stunning camera.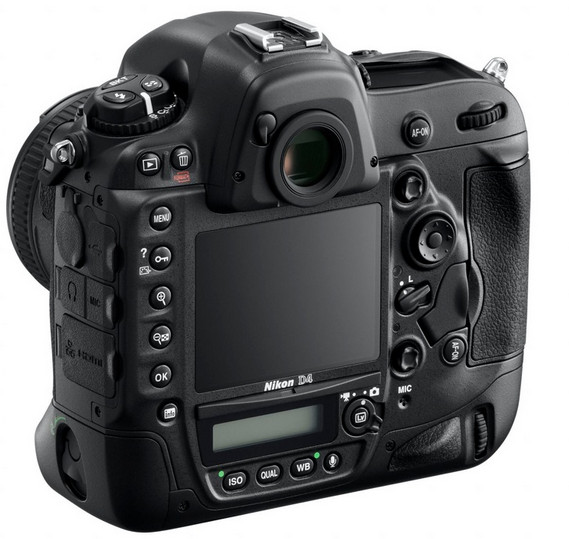 HD Movie recording
Offering super fast 11fps shooting backed by Nikon's nippy EXPEED 3 image processing engine, the D4 also doubles up as a movie recorder, capable of Full HD video recording  at 30p, 25p, 24p, with the option to ratchet up to 60p for slow-motion movies at 720p HD.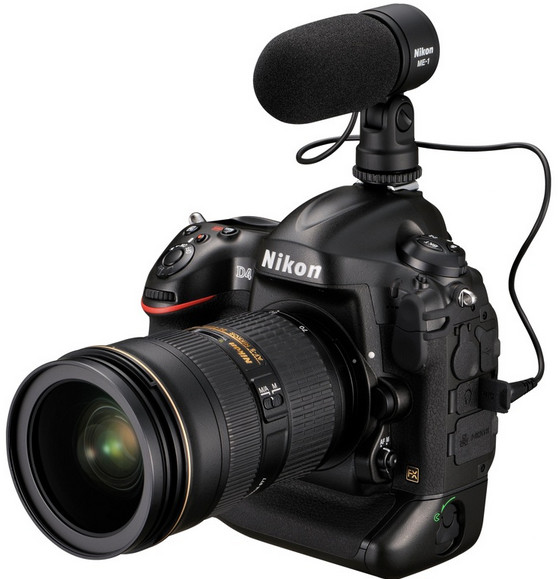 Movie clips can be recorded up to 29 minutes and 59 seconds at a time, with a new multi-area mode allowing recording in both FX and DX based formats, as well as in native full HD (1920 x 1080 crop).
In line with its high end movie recorder aspirations, there's an external headphone jack, an uncompressed HDMI output for pro-quality editing and a feature that lets users tag important frames in-camera.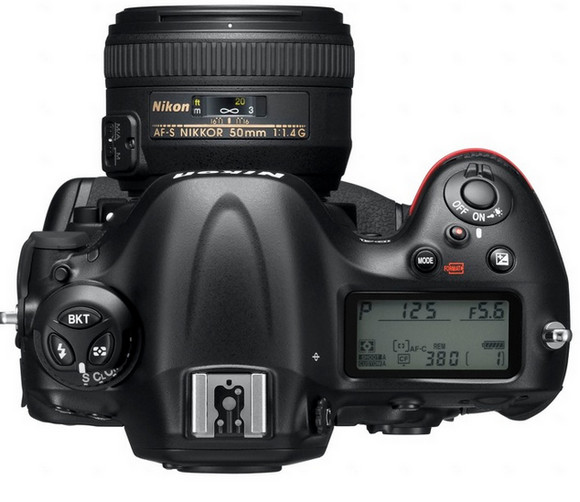 The D4 comes with Nikon's Advanced Scene Recognition System, 3D tracking and an updated Multi-CAM3500FX AF Sensor module, offering 9, 21, and 51 point coverage settings for fast subject detection.
Nikon say that autofocus is now possible in the murky depths of extreme low-light situations, down to -2 EV.
Low noise
A freshly optimised and redesigned 14-bit A/D signal processing promises low noise images, with the  standard sensitivity range covering ISO 100-ISO12800 (expandable down to IISO 50 and upwards to ISO 204, 800).
The shutter unit is now an impressive sounding Kevlar/carbon-fibre shutter affair, offering a maximum shutter speed of 1/8000 and flash synchronisation at up to 1/250 seconds.
With the shutter tested up to 400,000 releases, this looks like a unit that won't let you down in the field.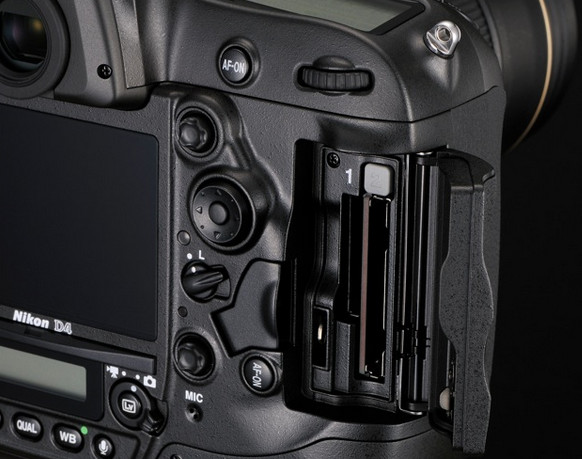 The D4 also comes with two card slots with support for the XQD memory card format, wireless LAN support and a wired LAN connection built into the camera body.
The camera's layout is designed to remain consistent whether in portrait or landscape mode, while a newly designed 3.2 inch wide-viewing angle LCD monitor with automatic brightness control graces the camera's back.
As this camera goodness comes at a price though, with the Nikon D4 hitting the stores on the 16th February 2012, with a leg-crossingly high price of $5999.95/£4,799.99.
Here's the full press release:
WHEN THERE IS NO SECOND CHANCE: THE NEW NIKON FX-FORMAT D4 MULTI-MEDIA DIGITAL SLR IS THE DEFINITIVE UNIFICATION OF SPEED AND PRECISION

The New 16.2 Megapixel Nikon D4 Wields a Formidable Fusion of Swift Performance, Battle-Tested Technologies and Innovative New Features to Create High Caliber Photo and HD Multimedia Content

MELVILLE, N.Y. (Jan 5, 2012) – The new Nikon D4 digital SLR builds upon the legacy of the proven Nikon flagship D-SLRs before it, engineered to give today's professional multimedia photographers a new apex of speed and accuracy with unparalleled image quality, low-light capability and Full HD video. The Nikon D4 hosts a multitude of advanced new features and useful functions that deliver speedy performance and amazing image quality for when missing the shot is not an option.

Every aspect of the new Nikon D4 D-SLR has been designed to emphasize rapid response and seamless operation to help professional photographers consistently capture incredible content. Nikon's proven 51-point AF System has been further enhanced for maximum speed in a variety of challenging shooting situations, even at 10 frames per second (fps). Considered the new Nikon flagship, the D4 renders supreme image quality, a feat accomplished with a new 16.2-megapixel FX-format CMOS sensor, coupled with the latest generation of Nikon's EXPEED 3 image processing engine to help produce images and videos with stunning clarity and color. Photographers are also able to shoot in even the most challenging environments and lighting conditions with the assistance of Nikon's new 91,000-pixel 3D color matrix meter and a broad ISO range from 100 to a staggering 204,800 for low-light capture like never before. The Nikon D4 is engineered for the modern professional and incorporates never before seen HD-SLR video features for those who also need to capture multimedia content from the field.

"Speed without accuracy is irrelevant," said Bo Kajiwara, director of marketing, Nikon Inc. "The status of a Nikon flagship camera is not given lightly; this next generation of Nikon's most professional body exceeds the needs of a wide variety of both still and multimedia professionals that rely on Nikon to make their living. Besides overall performance and burst speed, the D4 provides Nikon's most advanced AF system to date, as well as enhanced workflow speed to give professionals the edge in the field."

Velocity Meets Versatility
Speed is a necessity for today's multimedia photographer as milliseconds matter when the action commences. Whether an assignment relies on fast processing power, burst rate, write speed, enhanced workflow or even streamlined camera controls, the D4 is the epitome of professional-caliber photographic horsepower. Ready to shoot in approximately 0.012 seconds, the new Nikon D4 can capture full resolution JPEG or RAW files at up to 10 fps with full AF / AE or up to 11 fps with AF / AE locked. Immediately before image capture, the camera interprets data from the AF sensor, including subject color as detected on the 91,000-pixel RGB sensor, to deliver consistently tack-sharp focus frame after frame. Whether a photographer is shooting a full-court fast break under gymnasium lighting or the downhill slalom in the bright sun and frigid temperatures, the D4 will instill the confidence with consistently great results.

The Advanced Multi-Cam 3500 AF autofocus system is the next generation of Nikon's proven 51-point AF system. The fully customizable system offers users the ability to capture fast moving subjects and track focus with precision or select a single AF point with pinpoint accuracy. The Nikon D4 D-SLR aligns 15 cross-type sensors in the center to detect contrast data in both vertical and horizontal planes. In addition to detecting each AF-NIKKOR lens with an aperture of f/5.6 or lower, the camera also utilizes nine cross-type sensors that are fully functional when using compatible NIKKOR lenses and TC14E or TC17E teleconverters or a single cross-type sensor when using compatible NIKKOR lenses and the TC20E teleconverter with an aperture value up to f/8, which is a great advantage to those shooting sports and wildlife. For maximum versatility in situations such as photographing nature from afar or competition from the sidelines, photographers are also able to select multiple AF modes, including normal, wide area, face tracking and subject tracking, to best suit the scene.

The Nikon D4 D-SLR also employs a new 91,000-pixel RGB 3D Color Matrix metering system that meticulously analyzes each scene and recognizes factors such as color and brightness with unprecedented precision. This data is then interpreted and compared against D4's on-board database to implement various settings, resulting in vibrant images with faithful color reproduction and balanced exposure. In addition, this new AF sensor now has the ability to detect up to 16 human faces with startling accuracy, even when shooting through the optical viewfinder, allowing for correct exposure even when the subject is backlit. Additionally, to capture every brief moment from a bouquet toss to a photo finish under nearly any condition, the 51 focus points deliver fast and accurate detection down to a -2 EV with every AF-NIKKOR lens.

All of this image data is funneled through a 16 bit pipeline and are written to dual card slots which have been optimized for the latest UDMA-7 Compact Flash™ cards, as well as the new XQD™ memory card. The D4 is the first professional camera to harness the capabilities of this new durable and compact format, which offers blazing fast write times and extended capacity essential for multimedia professionals shooting stills and video.

Image Quality That Hits the Mark
The heart of the new D4 is the Nikon-developed 16.2-megapixel FX-format (36 x 23.9mm) CMOS sensor that provides amazing image quality, brilliant dynamic range and vivid colors in nearly any lighting condition. By achieving the optimal balance of resolution and sensor size, professional photographers will realize exceptionally sharp, clean and well saturated images throughout the entire ISO range.

Like the D3 and D3s before it, the Nikon D4 retains Nikon's status as the sovereign of low-light capture ability, with a native ISO range from 100 to 12,800 ISO, expandable from 50 (Lo-1) to an incredible yet usable 204,800 (Hi-4). From a candlelit first dance to nocturnal wildlife, the large 7.3µ pixel size absorbs the maximum amount of light to excel in any situation. Additionally, the sensor's construction features a gapless micro-lens structure and anti-reflective coating which further contributes to images that retain natural depth and tones with smooth color gradation. For ultimate versatility, photographers can also take advantage of the camera's extreme high ISO ability while recording video.

Another factor contributing to the camera's rapid performance and stellar image quality is Nikon's new EXPEED 3 image processing engine that helps professionals create images with amazing resolution, color and dynamic range in both still images and video. From image processing to transfer, the new engine is capable of processing massive amounts of data, exacting optimal color, perfect tonality and minimized noise throughout the frame.

There are also a variety of shooting options available to help capture the highest quality images and video. In addition to standard NEF (RAW) files, the D4 is also capable of shooting smaller compressed RAW files to ease storage and speed up workflow. Users are also able to capture even more dynamic range with the in-camera High Dynamic Range (HDR) function that merges consecutive exposures. For deep contrast and further tonality, Active D-Lighting can also be activated during shooting for balanced exposures even in backlit scenes. Additionally, the camera features a dedicated button for quick access to Nikon's Picture Controls, allowing users to quickly select one of six presets.

Professional Multimedia Features
The Nikon D4 D-SLR is engineered with innovative new features for the multimedia professional that needs the small form factor, low-light ability and NIKKOR lens versatility that only an HD-SLR can offer. The new features add functionality for those professionals looking for the best possible experience to capture a moment in Full HD 1080p video at various frame rates, providing footage that is more than suitable for broadcast.

• Full HD video recording – Users have the choice of various resolutions and frame rates, including 1080p 30/24fps and 60 fps at 720p. By utilizing the B-Frame data compression method, users can record H.264 / MPEG-4 AVC format video with unmatched integrity for up to 20 minutes per clip. This format also allows for more accurate video data to be transferred requiring less memory capacity. The sensor reads image data at astoundingly fast rates, which results in less instances of rolling shutter distortion.
• Full manual control of exposure – Shutter speed, aperture and ISO can be changed while recording to adapt to lighting and alter depth of field for professional cinematic results that help realize a creative vision.
• Uncompressed output: simultaneous Live View – By using the camera's HDMI port instead of the CF or XQD card, users can stream an uncompressed full HD signal directly out of the camera. This footage can be ported into an LCD display or appropriate external recording device or routed through a monitor and then to the recording device, eliminating the need for multiple connections.
• Audio recording for professionals – The Nikon D4 features a stereo headphone jack for accurate monitoring of audio levels while recording. Output can be adjusted in up to 30 steps for precise audio adjustment. The D4 offers high-fidelity audio recording control with audio levels that can be set and monitored on the camera's LCD screen. The microphone connected via the stereo mic jack can also be adjusted with up to 20 steps of sensitivity for accurate sound reproduction.
• Multi-area Mode Full HD Video: FX/DX, and 2.7x crop mode at 1080p video modes – Whether shooting for depth of field in FX format mode, or looking for the extra 1.5X telephoto benefits of DX mode, the high resolution sensor of the D4 allows videographers to retain full 1080P HD resolution no matter what mode they choose. With the 2.7x crop, users can experience ultra-telephoto benefits in full HD resolution all at 16:9 aspect ratio.
• Simultaneous live view output without display / simultaneous monitor – Shooters have the option to send the display signal directly to an attached monitor via the HDMI port. This signal can be viewed on the camera's LCD screen and external monitor simultaneously. Additionally, the image data display can be cleared from the screen, to remove distracting data or when feeding a live signal.
• Full-time AF – In addition to manual focus, four modes are available, including normal, wide area, face detection and subject tracking, which uses fast contrast detect AF to accurately focus while recording video and in live view.
• New LCD screen – The large high resolution 3.2-inch LCD screen is 921K dots, and includes auto brightness adjustment. Users can also zoom in up to 46x to check critical HD focus.
• Time lapse shooting – This new feature combines a selected frame rate and "shooting interval" in a dedicated time lapse photography menu. Playback can be achieved with a wide variety of speeds from 24x to 36,000x while producing a fully finished movie file output for faster multimedia workflows.
• Remote shutter operation – Using dedicated Movie Custom Settings, recording can be set to be engaged by the shutter release button -users can now use a variety of remote accessories to trigger video recording.
• NIKKOR lens compatibility – The highest caliber optics are vital to creating HD images and Nikon is the world leader in optics manufacturing with a legacy spanning more than 75 years. Nikon has a vast NIKKOR lens system, with more than 50 lenses with a variety of focal lengths and features, including VR II vibration reduction.

Professional Construction, Superior Operability
The reputation and respect bestowed upon a Nikon D-Series flagship camera is earned from those who use it; therefore the chassis of the Nikon D4 is machined from magnesium alloy for maximum durability and reliability. The body of the camera is sealed and gasketed for resistance to dirt and moisture, as well as electromagnetic interference. Photographers are able to easily compose through the bright optical viewfinder, which offers 100% frame coverage. The shutter has been tested to withstand 400,000 cycles for maximum durability, while sensor cleaning is employed by vibrating the OLPF. The self diagnostic shutter unit also encompasses a mirror balancer to minimize the residual "bounce" to enhance AF and extend viewing time. What's more, the viewfinder is coated with a new thermal shield finish which works to resist overheating during prolonged use, enhancing overall reliability. Users can easily compose on the camera's wide, bright and scratch resistant 921,000-dot high resolution 3.2-inch LCD screen.

The overall controls and operability of the camera has also been engineered with a renewed emphasis on speed and functionality. During critical moments, users will appreciate refined button layouts with renewed ergonomics, such as a quick AF mode selector placed near the lens mount for fast access on the fly. A new joystick style sub-selector is also placed on the camera's rear for AF point and option selection, while vertical controls have been enhanced for improved operability. Finally, to continue the D4's moniker of the best tool for just about any condition, key control buttons on the back of the camera can all be illuminated, making the camera simple to operate in complete darkness.

Nikon has also made enhancements to overall workflow, adding options to streamline the process and maximize shooting time. Users are now able to automatically generate IPTC data for their images and image sets, making organizing and chronicling images easier for both the photographers and their editors. A wired Ethernet port is also utilized so that a user can shoot tethered and transfer images easily and quickly to clients. Nikon has also introduced the new WT-5A wireless file transmitter, to transmit via FTP server or computer. The device can be set to transfer either automatically or manually selected images. This device also allows for remote operation of the camera using Nikon's Camera Control Pro 2 software. A mobile application is also in development to control the camera using this accessory, which will include the ability to trigger the shutter and record video, making this a must-have remote accessory for many professionals.

Price and Availability
The Nikon D4 will be available in late February 2012 for the suggested retail price of $5999.95.*