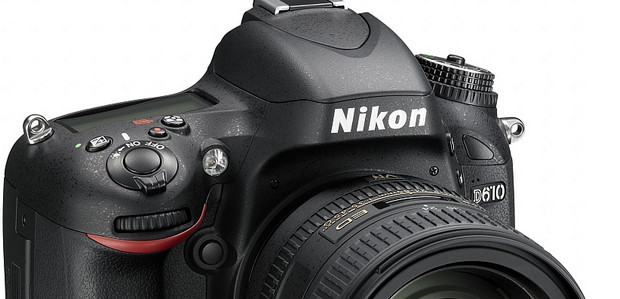 Aimed at enthusiasts with fairly deep pockets, the new Nikon D610 is a full-frame digital SLR camera sporting a beefy 24-megapixel FX sensor, and a new Quiet Release Burst mode which reduces the sound of the mirror rattling about at the expense of a slower burst speed.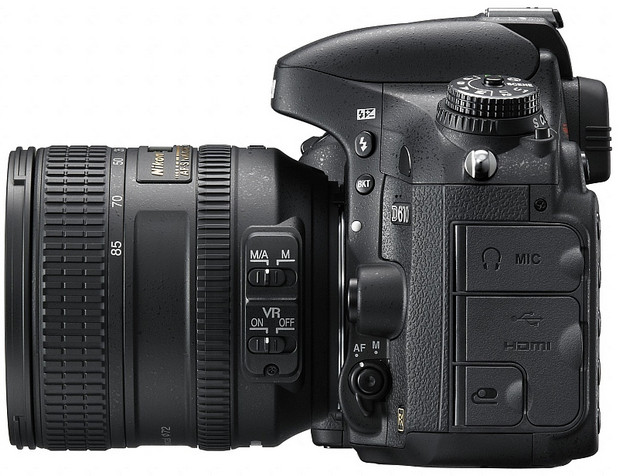 In regular ('full noise,' if you will!) mode, the Nikon D610 can rattle off six frames per second (a slight improvement of the 5.5fps produced by the Nikon D600), whereas switching to the hush-hush Quiet Release Burst mode takes the maximum shooting speed down to am ore stately 3fps.
Apart from this relatively small innovation, there's not a lot to report on, with the Nikon D610 being just about identical to its predecessor.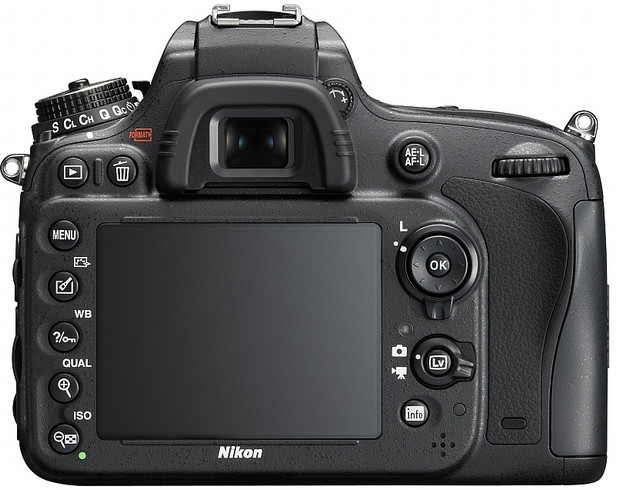 This means you get the same 24.3-megapixel full-frame sensor, magnesium alloy body shell, sensitivity range of ISO 100-6400 (extendable up to 25,600) and full HD movies.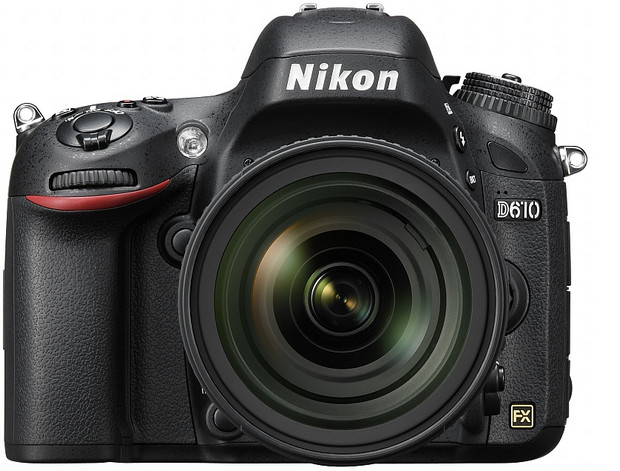 Other familiar features present and correct include a pentaprism viewfinder with 100% coverage and 0.7x magnification, a lockable mode dial, Nikon's Multi-CAM 4800 39-point AF system, face detection, HDR, built in filters, time-lapse and double SD card slots for oodles of storage.
The Nikon D610 will be shunting its way into shops later this month priced at $1999.95.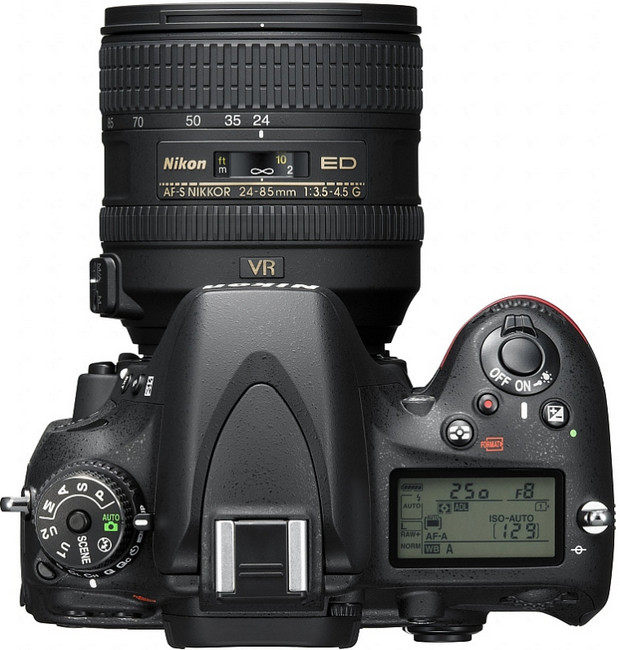 Here's the fact-packed Nikon Press Release for your delectation and we have not one, but two. What joy!
NIKON BRINGS THE TRUE POWER OF FULL-FRAME PHOTOGRAPHY TO ENTHUSIAST PHOTOGRAPHERS WITH THE NEW NIKON D610

Nikon today announces the latest addition to its formidable line-up of FX format (full-frame) D-SLRs, the Nikon D610.An exciting option for those who are ready to take the next step in their photographic journey, this 24.3-megapixel D-SLR allows keen photographers to develop their skills, and define their style whilst enjoying teh superiour image quality that come with the FX-format sensor.

Full frame, full detail, full freedom: The 24.3-megapixel FX-format image sensor captures every detail with lifelike sharpness, and continuous shooting speeds have increased to 6 frames-per-second (as compared to the camera's predecessor, the Nikon D600).

Nikon's new Quiet Release burst mode allows you to shoot in near-silence, and a robust, lightweight build allows photographers to explore the advantages of full-frame in any environment.

Combined with the optical prowess of NIKKOR lenses, the Nikon D610 is a superb option to explore new realms of creativity through the kind of image quality that only the FX format can offer.

Hiro Sebata, Product Manager for Professional Products, Nikon UK, says: "We're excited about the creative possibilities this camera has to offer thanks to its fast, powerful processing and impressive feature set that includes 'quiet shooting' for when you need it most.

"Plus, its solid yet lightweight design and stunning image quality makes this camera a serious choice for photographers looking to step into full-frame photography."

The full perspective: Exceptional depth and detail
For those ready to take their photography to the next level, the D610's 24.3-megapixel FX-format CMOS sensor will open up new worlds of photographic depth and detail. From true wide-angle to super telephoto, the sensor captures every element with lifelike sharpness at up to 6 fps.

Offering outstanding levels of detail and tonal range, plus superb low-light capability, the Nikon D610 captures images that are sharp, and video quality is impressive even at higher ISO settings. The ISO range goes from 100–6400, and is extendable up to 25,600 (equivalent) or down to 50 (equivalent) for maximum flexibility in all lighting conditions, whether shooting still images  or video.

Always fast and quiet when necessary
Faster than its predecessor, the Nikon D610 shoots up to 6 frames-per-second (6 fps) in both FX and DX formats, making it easier than ever to capture fast-moving subjects. For situations when silence is key, Nikon's new Quiet Release burst mode reduces the sound of the camera's mirror return mechanism, so it's easier to capture elusive subjects, such as wildlife, at up to 3 fps.

Pro Nikon image technology
The Nikon D610 is packed with technology inherited from Nikon's professional D-SLRs, including the same EXPEED 3 image processor and AF sensitivity as Nikon's flagship D4.Highly sensitive autofocus system: The Nikon D610's Multi-CAM 4800 39-point AF system boasts AF sensitivity inherited from Nikon's flagship D4, enabling superior subject acquisition in any light.

Compatible with lenses up to f/8 combined open aperture, and sensitive down to -2 EV (ISO 100, 20 °C/68 °F), the AF system achieves sharp shots even under moonlight. Coverage is individually selectable or configurable 9-, 21-, and 39-point settings, and AF modes such as dynamic-area AF and 3D-tracking maintain focus on even the smallest subjects, however unpredictable their movements may be.

Simplified selection of AF modes such as AF-A, AF-S, and AF-C is possible without taking your eye away from the viewfinder.Advanced Scene Recognition with 2,016-pixel RGB sensor: The Nikon D610's Advanced Scene Recognition system incorporates Nikon's renowned 2,016-pixel RGB metering sensor that meticulously analyses each scene for outstanding accuracy.

It can detect human faces with startling exactness through the optical viewfinder, and recognise a scene's colours and brightness with unprecedented precision.

This level of detailed scene analysis is also utilised to support more accurate autofocus; auto exposure and i-TTL flash exposure results in a diverse range of compositional and lighting situations.

EXPEED 3 image processing: Equipped with the same image-processing engine as Nikon's flagship D4, the Nikon D610 makes light work of data-rich tasks without sacrificing speed and quality. The 16-bit image processing offers richer colours and tones than ever before, delivering smooth gradations with abundant detail and tone all the way up the scale to pure white, even when shooting in JPEG.

Full-frame D-Movies: Broadcast quality video
Designed to ensure large-format movie shooting at its best, the Nikon D610 features the same multi-area Full HD D-Movie as found in Nikon's acclaimed D800.

Since the camera offers a wide variety of movie applications, a comprehensive variety of frame rates, and convenient custom controls—which enable full control over live view operation when filming—photographers can move from inspiring stills to broadcast quality video with ease.

Frame rates: Full HD (1080p) movies can be recorded in 30p, 25p, and 24p, with 60p, 50p, and 25p options at 720p. Full HD movie clips can be up to approximately 29 minutes 59 seconds long.

Multi-area mode: Full HD (1080p) recording is possible in both FX and DX formats, enabling exceptional freedom of expression.

High-fidelity audio control: With the Nikon D610, movies sound as good as they look. A microphone jack allows use of an external stereo microphone for crisp sound recording, and there is an audio out for external headphones.

Uncompressed HDMI output: The Nikon D610 offers the possibility to transmit an uncompressed live video stream at 1080p to external recorders, and output will automatically drop to 1080i if an external monitor is detected. The uncompressed data is output at the designated image size and frame rate, and is clean of the information overlay that can be simultaneously displayed on the camera's TFT monitor.

In-camera creative tools
A range of creative and practical in-camera tools enable photographers to make the most of every shooting opportunity and take full advantage of the creative freedom that full-frame FX-format photography affords.

They include: Time-lapse shooting: Create time-lapse photography through simple menu operations, with no need for elaborate calculations and editing. Easily save images as movie files and view slow action in fast playback, with playback rates from 24 to 36,000 times faster than normal. Use interval timer shooting to trigger the shutter at preset intervals.

HDR (High Dynamic Range) mode: shoots one overexposed and one underexposed frame in a single shutter release. The range can be widened by up to ±3 EV for different looks, full of saturation and tonal gradation, while the smoothness of the edg¬e where the two exposures meet can be adjusted for a more natural appearance.

Picture Controls: Customise the look of your stills and videos by fine-tuning parameters such as sharpness, saturation, and hue. This feature can be directly accessed via a dedicated button.

Scene modes: 19 scene modes optimise settings such as shutter speed, ISO, and aperture for superior results every time. An ideal way to quickly capture perfect shots.

In-camera editing: Menus include an array of useful features, encompassing options to correct red-eye and colour balance, as well as D-Lighting, RAW processing, and resize options. Filter effects include Skylight, Cross screen, Miniature, Colour outline, Colour sketch, and Selective colour.

Quick retouch options include distortion control, perspective control, straighten, and fisheye. There is also an movie editing feature that enables the start and end point of movie clips to be designated in order to save them more efficiently.

Full-frame freedom
With the Nikon D610, it's possible to capture and share the full perspective from anywhere using Nikon's wireless mobile adapter for wireless image transfer. Double SD card slots provide multiple options for recording and storing large files – possible to write RAW and JPEG data to separate cards, copy from one card to another, and select a slot according to the remaining capacity during video shooting.

Wi-Fi: Nikon's optional WU-1b Wireless Mobile Adapter allows images to be transferred directly to any smartphone or tablet, and enables the camera to be controlled remotely via the smart device. A great way to easily share high-quality images, preview shots on a larger screen, or experiment with full-frame self-portraits.

Efficient power management: A reworking of the D800's circuits now enables approximately 900 shots¹ of still image shooting or approximately 60 minutes of movie live view². All on one charge of a Rechargeable Li-ion Battery EN-EL15.Storage media: High-speed dual SD card slots support SDXC and UHS-I memory cards.

Full-frame strength
Built to withstand severe conditions, the lightweight Nikon D610 boasts the same robust build and responsive handling as its predecessor. Durable magnesium alloy is used for the camera's top and rear frames, and the camera is weather-sealed to the same degree as Nikon's professional D800 SLR, ensuring enhanced resistance to moisture and dust.

The camera's fast response, reliable operation, and conveniently placed buttons and controls enable smooth, comfortable handling and the flexibility to respond quickly to even unexpected shooting opportunities.

Fast response: Start-up is approximately 0.13 s¹, shutter release time lag is minimised to approximately 0.052 s¹, with continuous shooting capability of approximately 6 fps capability in FX and DX formats.

High-precision, high-durability shutter: The shutter unit has been tested to 150,000 cycles of release to prove durability and precision. It boasts a speed range of 1/4000 to 30 s; and features an intelligent self-diagnostic shutter monitor and a drive unit designed to reduce the demand on power when the shutter is raised for extended periods during movie shooting.

Precision 8 cm (3.2-in.), approx. 921k-dot, wide-viewing-angle LCD monitor with automatic monitor brightness control: Delivers bright, crisp image playback with wide colour reproduction capacity. LCD brightness is automatically adjusted according to the viewing environment.

Glass prism optical viewfinder: With approximately 100% frame coverage and 0.7x magnification (50 mm f/1.4 lens at infinity, -1.0m-1).

Dual-axis electronic virtual horizon: Offers accurate confirmation of level shooting by letting you check the LCD monitor, or the viewfinder, for both the camera's position in relation to the horizontal plane and its pitch (forward or rear rotation).

The NIKKOR advantage
Whatever your ideas, experience, or creative vision, Nikon's legendary NIKKOR lenses represent the only true option for complete FX-format integrity. Pair the Nikon D610 with a NIKKOR lens, and you have the optical power to draw out the full potential of the camera's 24.3-megapixel sensor. The NIKKOR name has become synonymous with high-performance and unrivalled image quality, and 2013 marks the 80th anniversary of NIKKOR as well as the year in which the total production of NIKKOR lenses reached 80 million. With more than 80 types of lenses in their current line-up, Nikon ensures photographers have every chance to make the most of the FX sensor's incredible properties, including stunningly shallow depth of field—a feature that allows for beautiful bokeh effects when paired with a fast NIKKOR prime lens.

Optional accessories
Multi-Power Battery Pack MB-D14: Accommodates a variety of batteries including AA-sized batteries of various types and Nikon's Rechargeable Li-ion Battery EN-EL15 (see specifications). The MB-D14 has its own dedicated shutter-release button and command dials for more comfortable composition when shooting with the camera in vertical orientation.Creative Lighting System: Compatible with Nikon's creative lighting system, the D610 supports the use of powerful and versatile i-TTL Speedlight flash units such as the professional SB-910 or the easy-to-use SB-700.Capture NX 2—fast, powerful and creative image processing: To accommodate the imaging power of the D610's 24.3-megapixel sensor, the latest Capture NX 2 is faster than before and boasts full 64-bit compatibility.Camera Control Pro 2—versatile remote camera controls: The software offers numerous improvements to make the D610's Live View operation exceptionally smooth. Aside from controlling exposure mode, shutter speed, and aperture, creative controls include remote start and stop for movie shooting and switching between Live View for stills and movies.

¹Based on CIPA Standards.
²Live view shooting may end automatically before 60 minutes to prevent overheating.

---

Nikon USA Press Release

Concentrate on the Clarity: The New Nikon D610 FX-Format D-SLR Places Emphasis on the Image Making Experience

The Nikon D610 HD-SLR Delivers FX-Format Quality and Pro-Level Features for Enthusiasts Ready to Take Their Passion to the Next Level

MELVILLE, N.Y. – Nikon Inc. today announced the Nikon D610, the latest FX-format HD-SLR to incorporate cutting-edge features and superior operability to help photographers create amazing images and Full HD video.  Engineered for those enthusiasts who focus on the color, sharpness and clarity of their images, the D610 provides enhanced performance and image quality improvements, coupled with Nikon core technologies, all in a lightweight form factor. With image quality rivaled only by the 36.3 megapixel Nikon D800, the D610 is an attractive option for those willing to step up to FX-format.

"For many of us, photography is an unexplainable passion; a relentless pursuit of sharpness and fidelity in every image captured, as we endlessly seek a way to express ourselves," said Masahiro Horie, Director of Marketing and Planning, Nikon Inc. "The Nikon D610 is a tool to help us capture and share our creative vision with all the benefits of a full frame sensor, including expanded depth-of-field control, wide dynamic range, high image quality, low noise, fine color, and low-light capability."

Superior Image Quality
Inside and out, the Nikon D610 is dynamically engineered to deliver the outstanding balance of image quality, performance and operability that only a full-frame camera can offer. The large 24.3-megapixel FX-format (35.9 x 24mm) CMOS sensor is capable of creating low-noise images with amazing dynamic range, clarity and precise color, even in challenging light. No matter the type of photography, from landscapes to wildlife, portraits to sports, the Nikon D610 excels, delivering stellar sharpness, superior handling, and the ability to enjoy the full resolution benefits of a wide variety of NIKKOR glass. Image quality and performance are further bolstered with the aid of Nikon's EXPEED 3 image processing engine, which helps to provide vivid colors and an exceptionally broad tonal range while quickly processing image data transfer from capture to card. Additionally, EXPEED 3 contributes to surprising energy efficiency for all-day shooting.

Serious Performance for the Advanced Photographer
Whether capturing an awe-inspiring vista at the golden hour, or portraits that absolutely have to flatter, the swift response and advanced feature set will appeal to a wide range of users. From Nikon core technologies to thoughtfully laid-out controls, the robust and innovative feature set of this D-SLR will satisfy even the most demanding enthusiast.

Low-Light Performance:  A wide ISO range helps the user master any lighting challenge. From a clean ISO 100 to a versatile 6,400 (25,600, Hi-2), the D610 provides minimal noise and maximum confidence.

39-Point AF System and Scene Recognition System:  Users can select single point, continuous, dynamic or 3D autofocus modes to adapt to any shooting situation from static subjects to dynamic athletics. The Nikon D610's 39-point AF system quickly acquires focus throughout the frame, even on fast moving subjects. For further accuracy, the system uses Nikon's exclusive 3D Color Matrix Metering II 2016 pixel RGB Sensor in conjunction with the Scene Recognition System to analyze the scene and adjust exposure, white balance and focus. The resulting images display a more balanced exposure, precise sharpness and accurate color. Furthermore, the D610 utilizes nine cross-type sensors, seven of which retain AF ability up to f/8, a true boon to wildlife and sports photographers who rely on teleconverters for maximum distance.

New Improved Automatic White Balance (AWB):  With an updated AWB algorithm, users can capture more vivid skies, and more natural-appearing reproduction of artificial light than ever before. Additionally, more natural skin tones can be captured, rendering faces with a more three-dimensional appearance.

New Increased Speed and Performance: A new shutter mechanism in the D610 affords a faster frame rate. Users can now capture the action at a continuous 6 frames-per-second (fps), which is ideal for photographing action sports or elusive wildlife.

New Quiet Continuous Shutter Mode: Ideal for weddings and other sensitive events, the D610 features a new Quiet Continuous Shutter Mode. When selected via the main command dial, users can shoot discreetly at up to 3 fps.

100% Frame Coverage and 3.2-inch High Resolution LCD: Shoot all day comfortably and compose easily through the wide and bright optical viewfinder, which offers 100% frame coverage. Additionally, the high-resolution 921K dot, 3.2-inch LCD screen is viewable from a wide variety of angles making it easy to compose, review and share.

Unleash Creativity with Advanced Modes:  With a wide variety of creative modes designed for enthusiasts, users can continue to express themselves in new, creative ways. A series of images with multiple exposures can be combined with built-in HDR, while users can explore their inner artist with an automatic Time Lapse Mode, or the intervalometer found in all advanced Nikon D-SLR's. To adjust color, saturation and other image parameters on the fly, Picture Controls can be applied to both stills and HD video.

Dual SD Memory Card Slots: The Nikon D610 accepts two SD memory cards, which users can set to copy and overflow, or mark as one dedicated video when shooting multimedia. Additionally, the D610 accepts blazing-fast and high capacity SDXC and UHS cards.

Full High Definition Capabilities: Capture stunning Full 1080P HD video in a variety of frame rates, including a cinematic 24p and 30p. A useful feature inherited from professional Nikon cameras, the Nikon D610 can feed 100% full screen, uncompressed video via HDMI to an external device such as a monitor or digital recorder. Additionally, a stereo microphone and headphones can be connected through thoughtfully placed auxiliary input jacks for capturing and monitoring audio.

Share a Stellar Shot Instantly: When using the optional WU-1b Wireless Mobile Adapter *(1), unbelievable images can be shared directly to a compatible smart mobile device such as a phone or tablet. Users can then share these images with friends and family through their own social networks or photo sharing applications.

Robust Construction: The Nikon D610 is sealed and gasketed, with dust and moisture resistance of the same caliber as the Nikon D800. The top and rear covers of the camera are made of magnesium alloy for maximum durability, while the shutter unit is tested to 150,000 cycles.

NIKKOR, Speedlight and System Compatibility
The Nikon D610 is compatible with a wide variety of NIKKOR Lenses, allowing users to truly realize a lens' potential with an FX-format camera. For eighty years, photographers have come to rely on Nikon's heritage of optical excellence for lenses that deliver the pinnacle of optical quality. Additionally, the Nikon D610 is fully compatible with Nikon's Creative Lighting (CLS) System, and can act as a Commander to control up to two groups of Speedlights, in-camera.

Price and Availability
The Nikon D610 D-SLR will be available in late October 2013 in a variety of configurations.

Body Only – $1999.95* Suggested Retail Price (SRP)
With AF-S NIKKOR 24-85MM F/3.5-4.5G ED VR Lens – $2599.95* SRP
With AF-S NIKKOR 28-300MM F/3.5-5.6G ED VR Lens + 32GB Class 10 memory card + Large Laptop Bag – $3049.95* SRP
With AF-S NIKKOR 24-85MM F/3.5-4.5G ED VR Lens + AF-S VR ZOOM-NIKKOR 70-300MM F/4.5-5.6G IF-ED Lens + WU-1b Wireless Mobile Adapter + D-SLR Tablet Bag + 32GB Class 10 memory card – $3249.95* SRP

About Nikon
Nikon, At the Heart of the Image™. Nikon Inc. is the world leader in digital imaging, precision optics and photo imaging technology and is globally recognized for setting new standards in product design and performance for its award-winning consumer and professional photographic equipment. Nikon Inc. distributes consumer and professional digital SLR cameras, NIKKOR optics, Speedlights and system accessories; Nikon COOLPIX® compact digital cameras; 35mm film SLR cameras; Nikon software products and Nikon sports and recreational optics as well as the Nikon 1 advanced camera with interchangeable lens system. Nikon Corporation, the parent company of the Nikon Inc., recently celebrated its 80th anniversary of NIKKOR optics, and announced the production of over 80 million NIKKOR lenses in 2013, creating a new milestone in Nikon's heritage of superior optics.  For more information, dial (800) NIKON-US or visithttp://www.nikonusa.com which, links all levels of photographers to the Web's most comprehensive photo learning and sharing communities. Connect with Nikon and other photographers on Facebook at http://www.facebook.com/nikon and get the latest news and information from Twitter by following @NikonUSA