Our recent article comparing the new Panasonic Lumix LX5 and Canon Powershot S95 high end cameras has resulted in us getting a fair bit of email, so we thought we'd post a follow up article answering some of the points raised.
Only for snappers?
Nick Wade commented:
At the end of the day, these are all "happy-snappy" cameras. i.e., you can't take them too seriously – despite the heavy price tags. The results are going to be pretty marginal in comparison. The Canon does sport RAW format which is a big plus though.
We disagree.  The Lumix LX5 also supports RAW and both cameras are far from 'happy snappy' cameras – in the right hands, they're extremely versatile tools capable of very high quality results – check out the Lumix LX3 and Canon S90 photo pools for examples of what their predecessors could achieve .
We've sold numerous photos taken on our long-serving Lumix LX3, and it's proved a reliable and durable performer – in fact, when reviewing some of our photos we weren't able to immediately tell if some were taken on our Nikon D300 dSLR or the LX3 without indulging in a bout of pixel-peeping.
That said, Nick is right to say that the difference in output from both the new Canon and the Lumix cameras will be marginal: with the two cameras packing similar, high quality components you'll be unlikely to see any huge advantage either way.

Pocketable?
Richard Lyons asked:
What I have not read yet, is a really valid comment on exactly how pocketable the LX5 is. I know the S95 is, and I see the LX5 noted as 'slightly larger'. I would like to know, and I realize I might have to wait til I handle one, is whether the LX5 is shirt pocketable.
Here's where the Canon scores points over the Lumix, with its slightly smaller dimensions making the difference between a truly pocketable camera (albeit with big pockets) and something you'd probably prefer to carry with a strap.
You could probably wedge a Lumix LX5 into the pockets of 'cargo' style pants, but we've always carried the LX3 by it's strap – something that offers the advantage of being able to access it quicker, but at the cost of being less discrete.
According to DPReview, the Lumix cameras slightly differ in size:
LX3: 109 x 60 x 27 mm (4.3 x 2.4 x 1.1 in)
LX5: 110 x 65 x 25 mm (4.3 x 2.6 x 1 in)
The LX5 is slightly larger overall, but appears to be – crucially for wedging it into pockets! – a little bit slimmer (25mm compared to the LX3′s 27mm).
Same size as the GF-1?
Nick later posted back commenting, "Apparently the LX5 would be close to the GF1 in size… non-pocketable with the pancake lens."
There's actually a substantial difference in size between the two – here's two rather hastily taken comparison photos of our Lumix GF-1 and LX3 cameras, showing the GF-1 dwarfing the LX3 (note that we've added the excellent Ricoh 'exploding' lens cap to our LX3, which adds a few mm).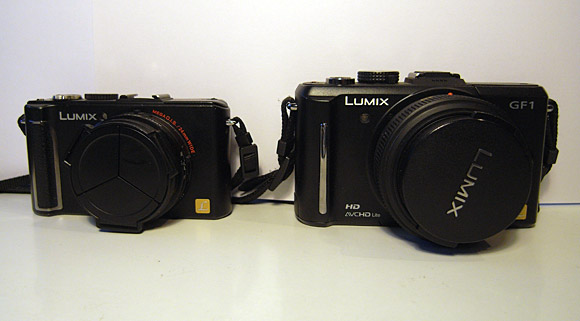 Concert photos
Leanna wrote in to ask:
Considering the given specs which is the best to use during concerts or similar situations?
We'd say that it very much depends on what kind of gigs you're looking to snap. Neither camera would be much good for big theatre gigs because of the lack of a long, fast zoom and the cameras' small sensor size, but if you're able to get close up and personal at smaller gigs, the LX5's wider angle lens may prove persuasive.
The photo below was taken on our Lumix LX3 at the recent Vintage at Goodwood festival.
Here's a tip for you too: if you're bringing a camera into a gig where they they're not allowing 'professional' cameras in – and both these cameras may fall foul of this rule if the bouncers are bring stroppy – stick some white tape around your camera to make it look like it's on its a crap cheap snapper on its last legs, and you might just get away with it. It's worked for us a few times!
Again, the Canon S95 would be our choice if were looking to do a lot of small concert photography because of its smaller dimensions – but the 28mm wide angle may seem restrictive if you're looking to take photos in cramped clubs.
Low light
Of course, in low light the difference between the sensor size becomes far more apparent, and a good dSLR will always outperform even a high quality compact when the light gets low – if you're serious about band photography, get a dSLR.
The inability of compacts to offer real depth of field for portraits can also prove frustrating in some circumstances, but as general, carry-everywhere cameras, both the Lumix and Powershot can produce good results for even large prints.

Which is the best camera?
The old adage goes that the best camera to have is the one that you are carrying at the time, and that's something we agree with.
An advanced dSLR may give you better results, but if it's sat at home because you're finding it too heavy/risky to lug about, then it's easy to justify the expense of shelling out for a decent compact.
We've tested a lot of high end compacts, and for us the LX3 remains the best we've tested so far, although the S90 ran it a very close second, with Ricoh's GX200 not far behind (although an excellent performer, the Canon G11 is simply too bulky for us to consider).
We're looking forward to testing the new Canon and Lumix cameras and will report back our findings – and if you manage to get your hands on one before us, we'd love to hear your opinions!
Oh, and thanks again for your input – we're looking to buy one of these cameras too, so it's helping us decide!
Amazon links:
Canon PowerShot S95 – Panasonic Lumix LX5.