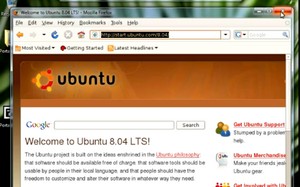 Here's a neat tool for Windows users who'd like to experiment with the Ubuntu operating system without having to faff about with dual booting systems or risk trashing your current installation.
The free Portable Ubuntu for Windows application lets you runs an entire Linux operating system as a Windows application – and then carry it around on a USB stick.
Portable Ubuntu is a stand-alone package that runs a fairly regular version of the popular Ubuntu Linux distribution and it doesn't actually install anything to your machine – everything runs inside a Windows window. If you get our drift.
Being Linux-based, there's naturally some spoddery involved, but only a small amount as Lifehacker explains:
Grab the latest Portable Ubuntu package (about 438MB as of this writing), then double-click to unpack it to a folder. On Vista or Windows 7, you'll have to open your command prompt as an administrator (hit Windows key, type in cmd, then right-click on the "Command Prompt" option that appears and select "Run as Administrator"); on XP, you'll probably just have to launch a command prompt. Head to the folder where you extracted your Portable Ubuntu, and enter run_portable_ubuntu and hit Enter to launch the .bat script.

Your machine will whir and decompress for a while, and you'll likely get a few prompts to "Unblock" coLinux and a few other apps' abilities on your system. Unblock all of them, and you'll eventually get a small, move-able menu bar on your desktop, as seen in the top screenshot. Drag this wherever it's comfortable to keep it, and you're on your way.
Check out the video and click on the link below to download the free software.
Download it here: Portable Ubuntu.