Although Mr Jobs and his Apple chums have decided on your behalf that really don't want a nice, convenient, small netbook running your favourite OS, there appears to be no shortage of folks who really would rather like such a creation.
With no official channels open to anyone wanting the twin joys of Mac OSX and a wee netbook,  the team at myMacNetbook have compiled a handy set of guides for filling up those wee cheap PCs with Apple magic.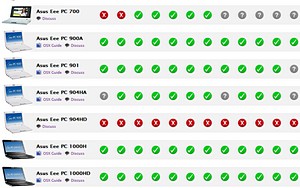 Compatibility charted
To get you started, they've put together a Mac OS X netbook compatibility chart, showing what features will work with individual netbooks.
The netbooks are listed against tick boxes for showing compatibility with important features such as Bluetoot, Wi-Fi, Ethernet, USB, audio, power management etc.
Once Mac OSX has been installed, a surprisingly high amount of netbooks can run with all the features present and correct – a proposition which may prove tempting to Apple fans unimpressed with the basic specs and multi-tasking fail of the iPad.
Not a simple job
It has to be said that installing Mac OSX on to a netbook is not a job for the feint hearted, although many have reported success.
A few  guides for individual Dell and HP netbooks can be found here, and there's a forum (hosted by InsanelyMac) to help you iron out any issues.
We'd love to have get our Asus Eee 901 purring along on the Mac OSX but – to be honest – we're sure we'd screw up the installation.
Have any of you tried installing OSX on your netbook? Tell us more!