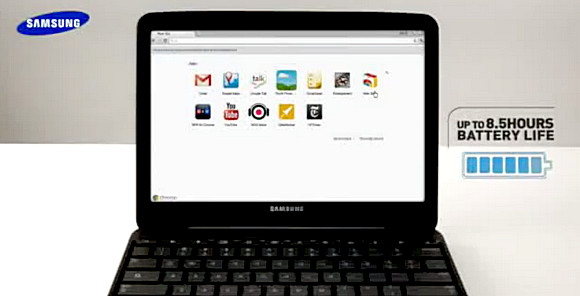 Samsung has released a promo video for their upcoming Samsung Chromebook, which runs Google's new Chrome OS operating system.
The video shows off the slender notebook's 12.1 inch screen and bigs up the fact that it can boot up in just eight seconds and resume from sleep instantly.
Weighing 1.48kg/3.3lbs, the Chromebook is just 19.9mm/0.78″ thin – which makes it less than the height of a €1 coin, apparently-  and comes with SD/multi-memory card slot, USIM card slot, USB ports and VGA dongle out, a large touchpad and up to 8.5 hours battery life.
Packing an Intel Atom dual-core processor, the Chromebook – which lurks on the borders between laptop and netbook – is set for release in the UK on the 24th June.
The pricing puts it high above most netbooks though, with the 3G version setting you back £399 for the 3G version and the Wi-Fi only number coming in at £349.
Here's the jingly jangly video: