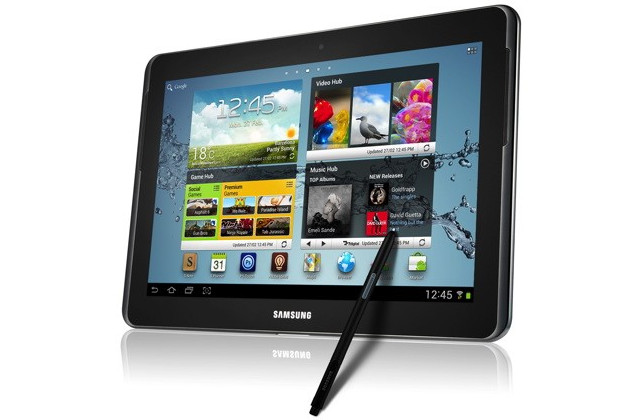 We were rather keen on Samsung's stylus-packing, phone-cum-tablet, the Galaxy Note, so we're rather pleased to see a larger version joining the stable, the Galaxy Note 10.1.
Packing the same S-Pen, the tablet runs Samsung's bespoke Touchwiz interface on top of the Android Ice Cream Sandwich OS, while inside beats a beefy a 1.4GHz dual-core CPU backed by 1GB of RAM.
Unlike the original Note, you can't use this tablet as a phone – which frankly would have been a ridiculous proposition – but it still comes with HSPA+, WiFi and Bluetooth 3.0 connectivity.
The 10.1-inch screen serves up a WXGA (1280 x 800) resolution, with a 3-megapixel camera at the back for photos and a 2-megapixel number on the front for the video conferencing lolz.
What makes this 8.9mm thick tablet a more tempting offering than most is the pre-loaded Adobe Photoshop Touch and Adobe Ideas apps which have been optimised for the Galaxy Note's S-Pen.
We've always liked the idea of using a stylus for certain tasks on tablets, and Samsung's pressure sensitive S Pen could prove very useful for creative types.
There's also both GPS and Glonass satnav onboard, plus business-pleasing support for Exchange ActiveSync, on-device encryption, Juniper Junos Pulse and Cisco VPNs.
The tablet will come in 16, 32 and 64GB flavours, with a built-in microSD slot letting you rack up an extra 32GB of storage. UK availability and pricing is yet to be announced, but we should expect the tablet to arrive in Q2.
Here's the press release:
Boost your Creativity and Productivity with GALAXY Note 10.1

A new device category, GALAXY Note 10.1 comes with an immersive 10.1" screen and
S Pen versatility to unlock your creativity and productivity

Barcelona, February 27, 2012 – At Mobile World Congress, Samsung announced the launch of GALAXY Note 10.1, which expands the GALAXY Note experience in creativity, productivity, and learning.

With its large display, GALAXY Note 10.1 provides multi-screen functionality to maximize efficiency in learning, work and creative endeavors. Its multi-screen functionality enables you to do a true multi-tasking, by viewing Internet pages, videos or other applications side by side while writing or sketching your ideas.

GALAXY Note 10.1 features S Note, a unique and efficient tool that lets you combine notes or sketches together with web content, images and other digital media into your own personalized storyboards. It gives you a new way to create stories as S Note provides various ready-to-use templates such as meeting minutes, recipe, cards, diary, magazine and more. Also, hand-drawn geometric shapes can be perfectly digitized by using the Shape Match function, which helps users to create more organized idea sketches and storyboards.

Moreover, by using the S Note's integrated knowledge search engines, users can quickly search, obtain information, and easily drag & drop the cropped images and content onto S Notes without having to switch between screens.

GALAXY Note 10.1 enables an extraordinary learning experience. Students can watch a lecture live-streamed on video while writing down comments on S Note; research a college essay on the web while taking notes; or even read a full e-textbook while annotating it. Similar to the Shape Match, Formula Match function helps to correct and digitize formulas hand-drawn with S Pen, making the device a more powerful education tool.

Users can fully enjoy PC-like premium photo editing and drawing experiences with Adobe® Photoshop® Touch and Adobe Ideas. Photoshop Touch lets users transform images with core Photoshop features and combine multiple photos into layered images, make popular edits, apply professional effects, and more. Adobe Ideas is an easy-to-master drawing tool that allows users to sketch ideas, choose amazing color themes and import images. Both are specially optimized for S pen and are exclusively pre-loaded on Samsung GALAXY Note 10.1.

"GALAXY Note 10.1 takes productivity on a Note to a whole new level. With a larger, fully utilizable screen and superior performance, it combines the intuitiveness of handwriting with all the versatility of digital content to let users be more productive across all of life's demanding tasks-whether working, learning, or simply creating their own stories," said JK Shin, President of IT & Mobile Communications Division at Samsung Electronics. "With GALAXY Note 10.1 we are demonstrating Samsung's commitment to extend the mobile category and are working with key partners like Adobe to provide extraordinary experiences for users that enable them to be more productive, express themselves creatively and add a touch of fulfillment to their lives."

Ensuring intuitive multitasking and web browsing, GALAXY Note 10.1 runs on AndroidTM 4.0 (Ice Cream Sandwich) and features a 1.4GHz dual-core processor and HSPA+ connectivity. Its real-time video streaming and Full HD video playback add to the device's content versatility.

GALAXY Note 10.1's innovative S Pen, the most advanced pen input solution on the market, is completely integrated into the device's original applications. It provides enhanced pressure sensitivity, superior accuracy and control when editing or writing, providing an analog pen writing experience on a digital device.