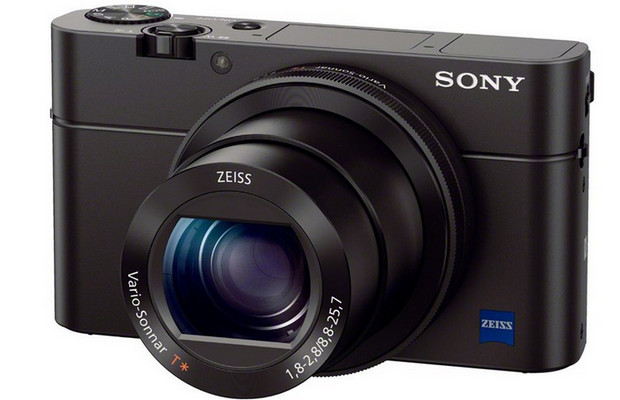 Sony has taken the wraps off its new Cyber-shot DSC RX100 III, a rather splendid compact camera sporting a large 1″-type sensor and a particularly nippy zoom lens.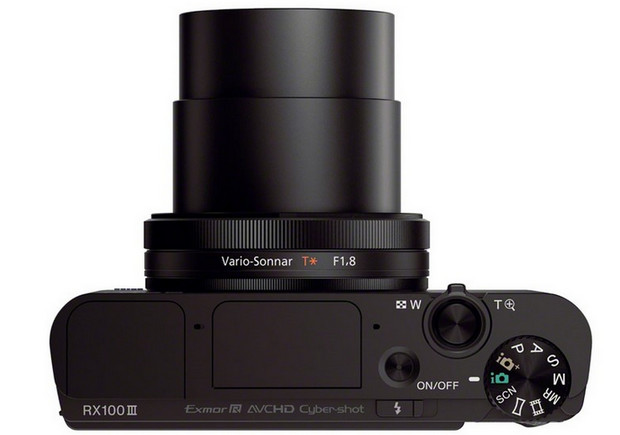 The RX100 III serves up the same 20.1 MP 1.0-type back-illuminated CMOS image sensor as its popular predecessor, but sweetens the pie further by mixing in the latest Bionz X processor and a pop-up electronic viewfinder.
The real big news here, however, is the RX100 III's new zoom, which now covers a useful 24-70mm equivalent range, with a fast maximum aperture of F1.8-2.8 – a substantial improvement on the on the 28-100mm, F1.8-4.9 lenses of the previous two models.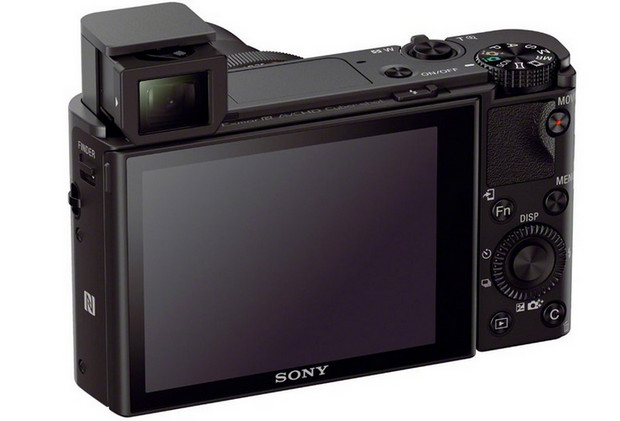 There's more shiny improvements to be found around the back, with the rear LCD flipping by up to 180°  for capturing those arty angles and oh-so vital selfies.
The RX100 III also comes with built in Wi-Fi, and has the ability to run Sony's Playmemories Camera Apps, with the premium camera expected to hit the shelves in June, priced around $800.
Read more in the press release below.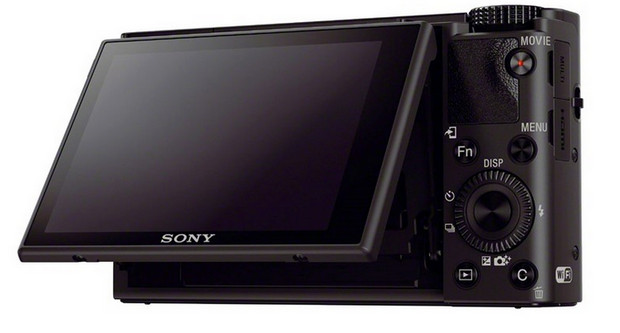 Sony Adds New Pocket-Sized RX100 III Camera to Acclaimed Cyber-shot® RX Line

New RX100 III Model Features Large-Aperture ZEISS® 24-70mm lens1, Built-in OLED Viewfinder with ZEISS T* Coating, BIONZ® X processor and more

SAN DIEGO, May 15, 2014 – Building on its lineup of acclaimed compact cameras, Sony Electronics has introduced a new addition to its popular Cyber-shot RX series – the pocket-sized RX100 III camera.

Based on the same sleek, stylish design as the existing RX100 and RX100 II models, the new RX100 III features a specially developed ZEISS® Vario-Sonnar T* 24-70mm1 F1.8-2.8 lens and adds a built-in OLED viewfinder with ZEISS T* coating. The camera utilizes the same high-resolution 20.1 MP 1.0-type back-illuminated CMOS image sensor as the existing RX100II model, and adds the powerful BIONZ X processor featured in several high-end Sony cameras including the full-frame α7, α7R and α7S models.

"Sony continues to push the modern limits of engineering and innovation with our Cyber-shot RX family of products" said Patrick Huang, director of the Cyber-shot business at Sony Electronics. "With the new RX100 III model, we've added a brighter, wider aperture lens and an impressive retractable OLED EVF, while also utilizing the latest Sony imaging technologies to boost the camera's processing speed and efficiency. And we've done this without sacrificing any of the true 'pocketability' of our RX100 line, creating an especially unique compact camera unlike anything else in market today."

New ZEISS® Vario-Sonnar T* 24-70mm1 F1.8-F2.8 Lens
The unique new ZEISS lens on the RX100 III camera covers the popular 24 -70mm1 focal length with a wide F1.8 – F2.8 aperture. This is particularly noteworthy at the 70mm telephoto end of the lens, where the maximum F2.8 aperture allows it to gather about twice as much light as the RX100 and RX100 II models (at 70mm), ensuring that portrait subjects can be captured against beautiful background defocus. The wide aperture also allows the lens to capture moving subjects clearly without any blur due to camera and/or subject shake.

The versatile new lens is capable of capturing dramatic landscapes or large group photos at the wide 24mm length while also boasting impressive macro shooting capabilities throughout the focal range. For example, it can still focus accurately as close as 30cm from the front of the lens (working distance) when fully extended. There's also a built-in 3-stop (1/8) neutral density filter that adds to shooting flexibility in a wide range of outdoor conditions.

The new ZEISS lens realizes outstanding corner-to-corner sharpness, with nine total aspherical glass elements including two advanced aspherical elements that have been cemented together – a world's first in lens manufaturing2. This results in an ultra-compact physical footprint while maintaining a wide maximum angle of view. Additionally, the 24-70mm lens1 features ZEISS T* coating that minimizes flare and ghosting and a seven-blade circular aperture that enhances 'bokeh' background defocus.

Clear, High-Precision Built-in EVF with ZEISS T* Coating
Largely based off of customer feedback on existing RX100 series cameras (RX100 and RX100II), the new RX100 III adds a versatile, high-quality OLED Tru-Finder™ electronic viewfinder. The EVF has an impressive 1.4 million dot resolution, adding exceptional brightness and clarity to the overall framing and viewing experience, and handily pops in and out of the top of the camera body based on shooting preferences. This allows the camera to operate in the traditional 'rangefinder' style without sacrificing any of its portability or compactness.

The unique new EVF also features a specially-designed eyepiece lens with ZEISS T* coating, dramatically reducing reflections that can interfere with clear viewing. The viewfinder achieves exceptional corner-to-corner clarity, and includes an eye sensor that automatically switches between viewfinder and monitor display.

Exmor R CMOS Sensor and BIONZ X Processor
The powerful new RX100 III camera shares the same critically acclaimed 1.0-type back-illuminated 20.1 MP Exmor R CMOS image sensor featured in the RX100 II and RX10 cameras. With approximately four times greater image capture area than the 1/2.3 type image sensors commonly used in compact cameras, the sensor takes in significantly more light, translating into brighter, clearer images and sharper Full HD videos that capture all of the finer details of a scene.

The high-resolution sensor is paired with the evolved BIONZ X image processor introduced in the α7, α7R models this past fall. Around three times faster than the BIONZ processing engine in the RX100 and RX100 II models, it employs detail reproduction, diffraction-reducing and area-specific noise reduction technologies that allow the camera to produce amazingly detailed images and Full HD videos in all types of lighting conditions.

Pro-Quality Full HD Video Capture
The new RX100 III model is equipped with a host of HD video capabilities to satisfy the most demanding enthusiasts.

The new compact is the first Cyber-shot model to offer high-resolution HD video recording in the XAVC S format, which allows for full HD recording at a data rate of 50 mbps with lower compression for improved video quality. Additionally, with the power of the BIONZ X processor, the camera is able to read, process and output data from all of the sensor's pixels during video recording, ensuring that it produces the highest quality video possible by eliminating aliasing, moiré and false color artifacts.

Other video features include a 'clear' HDMI® output for reviewing footage on an external monitor, 120 fps recording at 720p HD resolution and zebra pattering on the LCD and built-in EVF. The camera also has dual video recording capability (XAVC S / AVCHD files4 along with MP4 files), which allows users to shoot a high bit-rate video for storage or editing purposes while also recording a lower bit rate video that's optimized for sharing via Wi-Fi®.

The camera also has Intelligent Active Mode – another first for Cyber-shot RX series cameras – which utilizes Sony's frame analysis technology and 5-axis compensation to dramatically reduce the effects of camera shake while shooting movies.

Camera Design, Customizability and Control
Despite its small "pocketable" size, the new RX100 III features many opportunities to adjust common shooting settings, including a 'Fn' key, customizable control ring and a "C" custom button with more than 40 assignable functions.

New to the RX series, the RX100 III model features an articulated LCD that can tilt upward by about 180 degrees for self-portraits and all the way downward to approximately 45 degrees for high-angle shots. The camera also can output still images in 4K resolution6 with full wide-gamut TRILUMINOUS Color support when connected to compatible 4K televisions.

Wi-Fi® and PlayMemories™
The RX100 III camera has built-in Wi-Fi, giving consumers one-touch connection with Xperia® or NFC-compatible Android™ smartphones or tablets for instant image transfer and sharing. A single touch also activates Smart Remote Control, linking the camera with a smartphone or tablet for a live image preview, to fire the shutter from a distance and to review shots instantly.

For devices without NFC one-touch capabilities, users can wirelessly transfer images and videos and activate Smart Remote Control through Sony's free PlayMemories Mobile™ application, available for the iOS and Android platforms.

The camera is also the first Cyber-shot RX series model to feature compatibility with Sony's growing assortment of downloadable Sony PlayMemories Camera Apps5, adding a range of exciting and creative capabilities. Learn more at www.sony.net/pmca .

Pricing and Availability
The Cyber-shot RX100 III compact camera will be available in June for about $800. The camera and a range of compatible Cyber-shot accessories will be sold at all Sony retail stores (www.store.sony.com) and other authorized dealers nationwide.

Footnotes:
1 35mm full-frame format equivalent
2 As of the official May 16, 2014 release date. Based on Sony survey of of glass aspherical elements used on digital cameras.
3 An SDXC memory card with a Class 10 or higher speed rating is required for XAVC S recording.
4 Dual Video Recording is not available when the Intelligent Active Mode is ON, or when XAVC S 120p/60p/50p or AVCHD 60p/50p is selected.
5 The latest version of the PlayMemories Mobile application must be downloaded and installed on your smartphone or tablet computer.
6 QFHD (3840 x 2160)