With its last two eBook readers failing to capture the enthusiastic wolf whistles that greeted the Kindle's strut down Consumer Avenue, Sony are hoping that its new PRS-350 eBook reader while gets eyelashes a-fluttering.
New screen
Packing a 5″, 16-level grayscale, higher-contrast E-Ink Pearl display (as seen in the latest Amazon Kindle and Kindle DX), 2 GB onboard memory and hand-written text input, the Sony PRS-350 is hoping to lure punters with its competitive $180 price tag and bijou dimensions, weighing in at 5.64 ounces and just .33 inches thick.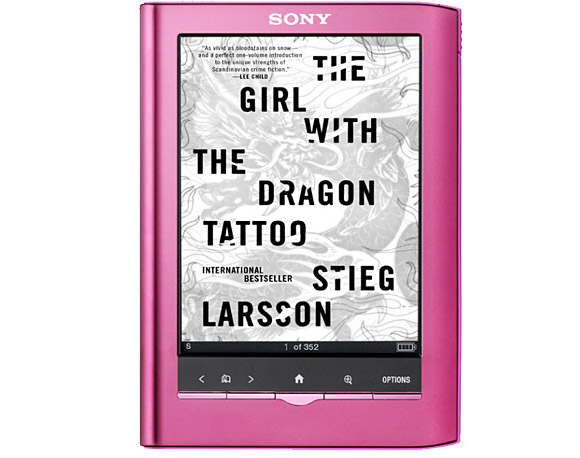 Fully featured
It may be in the budget end of the market, but there's a fairly comprehensive feature set on offer, with the eReader offering six adjustable font sizes, support for PDF files plus MSWord files, JEPG, PNG, GIF and BMP image formats, embedded multilingual formats and Reader Library software for both PCs and Macs.
RS-650 and PRS-950 new models
Sony is also updating its Touch Edition reader (which goes from PRS-600 to PRS-650 and retails for $229.99) and the Daily Edition PRS-950, which features an 7-inch screen and is the only one to offer built-in WiFi and 3G wireless from AT&T. The PRS-950 is expected to knock out for around $300.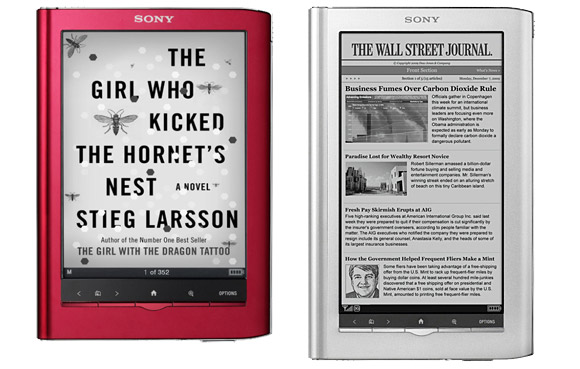 Bonkers
This seems a little bonkers to us considering that both the Kindle and the Barnes & Noble Nook eReaders come with built-in WiFi and 3G and cost less than the Sony Touch Edition – and you can get WiFi-only versions of both for less than $150.
But, there again, the Sony is available in pink, which may be an important factor for some. Not us though. Oh no. We like manly graphite and matt black colours, and we always talk in deep voices when holding an eReader.
PRS-350's main features:

Price: $179.99
5-inch "clear touch" screen (16-level grayscale E-Ink Pearl screen)
Weighs 5.64 ounces
Measure 5.71 x 4.11 x 0.33 inches (HWD)
2 GB built-in memory (stores around 1,200 e-books)
Text and handwritten note-taking capabilities
Two weeks of reading on a single battery charge
Embedded multilingual dictionaries (2 English language and 10 translation dictionaries)
6 adjustable font sizes to customize
USB 2.0 data and power connection (micro USB)
Supports PDF, Microsoft Word, and other text file formats, as well as EPUB/ACS4 and connection with Adobe Digital Editions
Reads JPEG, PNG, GIF, BMP image files
Reader Library software for PC and Mac
Available in silver and pink
Shipping September 1