We've been absolutely loving the Swype keyboard on our HTC Desire, and Symbian S60 users are set to join in the finger smudgin' fun with today's announcement from Nokia that it will be coming to Symbian S60 5th edition devices.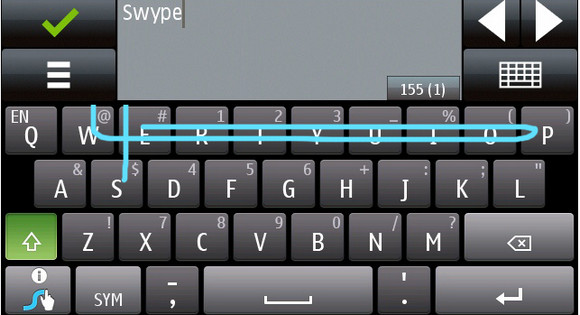 How does it work?
The Swype technology lets you input text much faster than conventional virtual keyboards, with words 'traced' onscreen rather than pecking away at individual letters.
It may look odd but it really works – after we'd spent a few minutes playing with, it, we've never gone back to our old school HTC keyboard (Note for Android users: Swype is currently in a closed beta, but you can register your interest here).
Get in quick
The Swype beta currently supports Nokia N97, N97 mini, X6, 5800, and 5230 Nokia handsets, but the smartypants software keyboard is only being launched as a limited beta – so we recommend you get in quick and clock on the download link below.
If you're successful, Nokia want to hear your feedback too:
Swype and Nokia have been hard at work to deliver a limited beta release to Nokia S60 5th edition device owners. Your feedback will be valuable to us in the coming weeks, and we are especially interested in how well Swype interfaces with the many types of applications you use every day.
Key features
Standard QWERTY keyboard layout makes Swype easy to learn
Use a stylus or finger – Swype's amazing input path analyzer allows you to go fast and sloppy. Just make a reasonable effort to trace through the word and Swype will do the rest
Double Tap Editing – Make a mistake? Double tap on a word to bring up a list of other possible matches.
Auto-Spacing
Auto-Capitalization
Auto Spelling Correction
Automatic Help – Swype detects when you may be having trouble or might benefit from a particular feature and prompts you with helpful tips and instructions
Instant access to Symbols, Numbers and Editing functions
65,000-word Learning Dictionary – Chances are the word you are typing is already in the Swype dictionary. If it isn't, just tap it out once followed by a space and Swype will remember it for future use.