They've taken an eternity to make their minds up, but T-Mobile has finally unveiled its iPhone 4 prices to UK users.
24 month contracts everywhere
Anyone hoping for a bargain can jog on, as T-Mobile's prices are more or less in line with the other major networks, with an iPhone 4 16GB costing £259 on a £25 a month contract and the 32GB version hitting you harder at £349.
Both are on beastly 24 month long contracts with 100 minutes, a stingy 100 texts and a measly 500MB data cap bundled.
Free iPhone 4 16GB
The 16GB version is available for free  if you're prepared to shell out £60 a month for the next two years of your life, and for that you get unlimited minutes, 500 texts and 1GB of data.
Pay as you go
A 16GB iPhone4 on pay-as-you-will cost you £499, which is the same as Apple's prices, but sweetened by a year of free internet access thrown in.
Launch date?
The prices may have finally creaked out of T-Mobile's offices, but the company have declined to report on launch and stock availability, with their website currently only inviting users to register their interest.
Monthly contract tariffs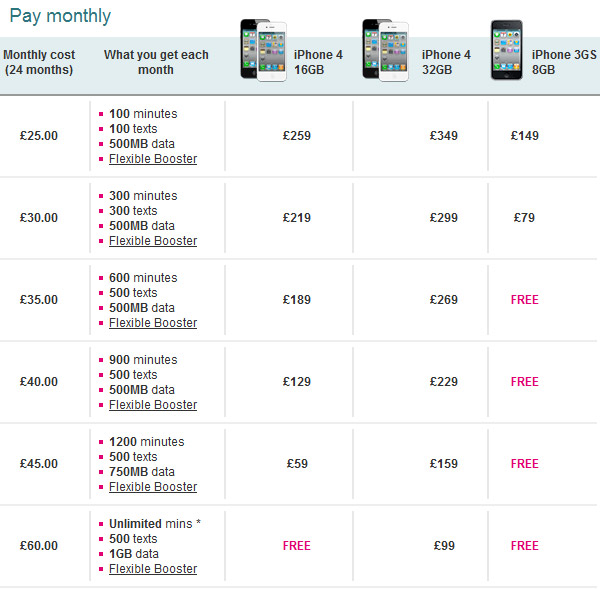 Pay As You Go tariffs