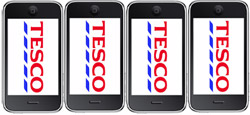 Being able to pick up a smartphone with your Baked Beans and Cornflakes still seems a bit weird to us, but Tesco shoppers will soon be able to lob an iPhone into their shopping baskets, with the retail giant announcing availability for December 14th.
The pricing plans are interesting, with unlimited (subject to fair use policy) 3G web and BT Openzone WiFi access on offer, which will be free for a year to Pay As You Go and one-year contract customers or for two years if you're on a 24-month agreement.
The minimum monthly outlay has been battered down to just down £20 on one-year contracts, but that only gets you a miserly £60's worth of calls and texts, and you'll have to fork out a hefty £320 to land the 16GB handset ($407 for the 32B).
Pay As You Go-ers eyeing up the 32GB number had best brace themselves, as that's going to cost an almighty £538 (the 8GB is £342 and the 16GB £440).