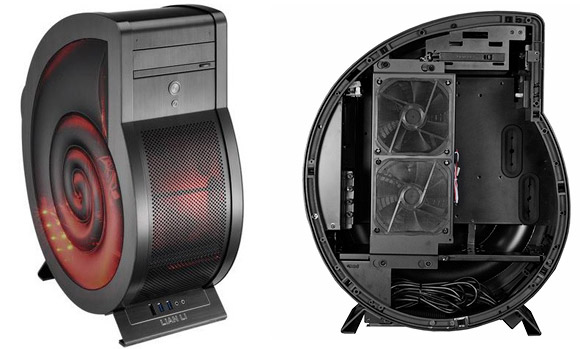 Looking so delightfully bonkers that we simply couldn't ignore it is Lian Li's barking new PC-U6 Cowry desktop case, which takes is design cues from a seashell. Or perhaps a snail.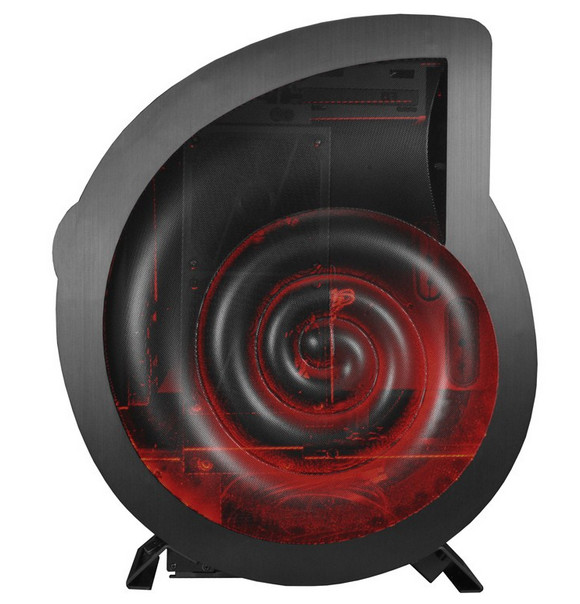 The aluminium creation allows users to fit a full length 310mm video card, and there's room inside that crazy case for two 120mm side-mounted fans, a red LED kit and a full-sized power supply.
The special edition PC case also sports two USB 3.0 ports, one e-SATA port and HD audio ports located at the base of the front-panel, with tool-free mounts for three 3.5-inch and two 2.5-inch storage drives inside.
Measuring 219mm x 500mm x 410mm (W, H, D)., the case is expected to arrive later this month for $349. We know it's a world of wrong, but we kinda like it.
Special Edition PC-U6 Cowry Mid-Tower Chassis From Lian Li
A Piece of Art, Not Just A Box To House Components

10 May 2011, Keelung, Taiwan – Lian Li Industrial Co. Ltd, maker of high-end, all-aluminum computer chassis since 1983, today launches the all-new and extremely stylish special edition PC-U6 Cowry: an all-black, PC case with design characteristics of a seashell. This unique PC chassis provides users with a computer case that exhibits personality and craftsmanship while breaking free of simply being a box to house components. Inspired by nature, the Cowry appeals to a very specific niche. It is not meant to be hidden under a desk but instead incorporated into its surroundings as a part of decoration and reflection of taste. Until now, PC chassis with unique designs have been marketed towards gamers. With the Cowry an entirely new demographic will begin looking at how their computer case can act as an artistic expression.

The PC-U6 Cowry is extremely versatile with plenty of build space. Users can mount three 3.5″ and two 2.5″ internal HDDs. All of the HDD mounts are tool-less and come with anti-vibration thumb screws with rubber suspension. Externally, one 5.25″ ODD tool-less mount is located at the top of the front-panel. Four, ventilated PCI slots are located on the back-panel with enough space to mount graphics cards as long as 310mm. Micro-ATX or Mini-ITX motherboards mount using thumb-screws within the PC-U6 Cowry as well as a standard ATX PS/2 power supply unit, that mounts at the base of the case right above ventilating holes protected by a washable air filter.

Lian Li's special edition Cowry is thermally-optimized as well. Two side-panel 120mm fans keep airflow constantly circulating to prevent heat buildup. Both fans are protected by washable air filters. A fan speed control-switch has been included as well, allowing users to adjust fan speeds as desired. To further aid airflow, designers have incorporated ventilation holes on the front and rear panels of the PC-U6 Cowry and both are protected by washable air filters. Two, rubber-ringed holes are also included for users to be able to easily mount a liquid cooling system.

This special edition PC case comes with two USB 3.0 ports, one e-SATA port, and HD audio ports; all are located at the base of the front-panel. Also included is one USB 3.0 to USB 2.0 converter. Lian Li has also included cable clamps and openings throughout the case to aid in the internal organization of users' computers. Sparing no expense, for users who wish to add some color to highlight the uniqueness of this case, a 530mm red LED kit is included and can be mounted easily.

The special edition, all-aluminum, PC-U6 weighs in at 4.5kg. Its dimensions are 219mm x 500mm x 410mm (W, H, D).

Traditional Durability

The essence of Lian Li is the craftsmanship of the engineering. Intrinsic to the workmanship and quality of Lian Li's products is their customization capabilities, which include a whole host of optional extras that can be added to an already feature rich product. For more details on features and extras available for the PC-U6, please go to the Lian Li website: www.Lian-Li.com