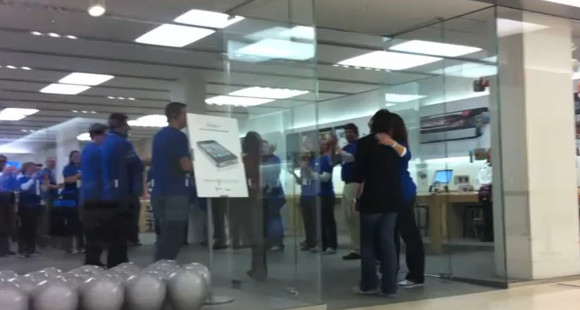 The web is full of ghastly videos of over-excited, blue-shirted Apple employees high-fiving anyone insane enough to wait in a queue for a new iPhone overnight, but it seems that the hype has stopped dead at the Apple store in the Mall of America – one of the largest malls in the US.
As the new  iPhone4 finally launched on the Verizon network, the company were expecting the same kind of weird hysteria that accompanied the original launch of the iPhone 4, but it seems that – in Minneapolis at least – that whole whoopin' and a-hollerin' thing has become thoroughly passée.
Facepalm all the way
Watch in embarrassment as hordes of Borg-like Apple employees enthusiastically clap the two customers who bothered to wait outside the Apple store in the Minnesota Twin Cities.
It makes for quite uncomfortable viewing and we actually feel rather feel sorry for the Apple staff who are – presumably – compelled to act like such eejits every time a new Apple product is launched.
Let's hope that this embarrassing PR flop marks the end of such crass, corporate-engineered celebrations of consumerism. Well, until the iPhone 5 gets released, at least,