This fascinating new product from Wacom called the Inkling promises to 'bridge the gap between traditional, freehand sketching and digital development,' by letting artists sketch ideas on to paper and have them digitally captured, complete with layers.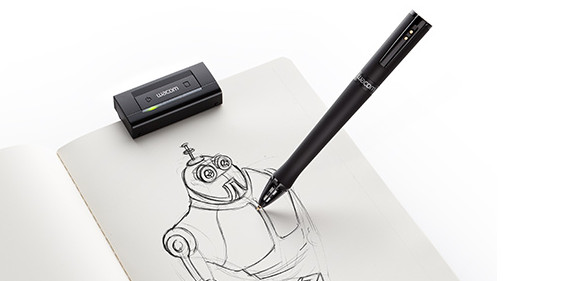 Using the 'Digital Sketch Pen,' artists, visioneers and, err, brainstormers can sketch ideas down on to sheets of normal paper or a regular sketchpad with the capture device digitally recording every stroke.
It's also possible to add new virtual 'layers' when sketching, making it easy to seperate different elements of the drawing for editing later.
Sketches can be saved as JPEG, BMP, TIFF, PNG, SVG and PDF format files, with the Inkling offering direct transfers to Photoshop, Illustrator, and Autodesk Sketchbook Pro/Designer.
The Inkling should go on sale worldwide in the next few weeks, with the US listed as getting stocks in "mid-September."
Priced at a reasonable 199.99, the Wacom Inkling is something that we could see artists finding very useful indeed – especially ones who have had trouble using art tablets for their drawings.
We certainly would have loved it when we were publishing our football comic way back in the day.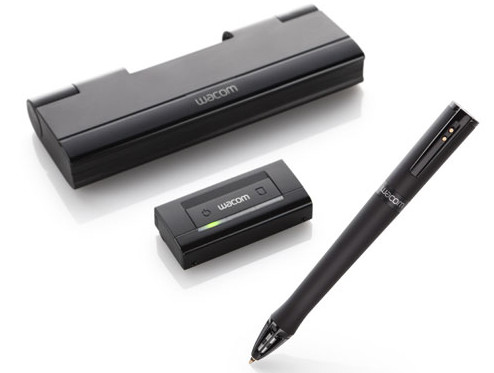 More info:
Inkling Specifics

The Inkling digital sketch pen is comprised of both hardware and software components. Hardware includes the pen and a wireless receiver that captures a likeness of the sketch and stores it digitally. The ballpoint pen uses Wacom pressure-sensing technology to detect how hard the pen is being pressed to the paper while sketching.

These pressure variations will appear in the digital version of your drawing.
The receiver can be clipped to the edge of standard paper or sketchbooks and the position can be adjusted for left or right handed users to provide the receiver with an uninterrupted line of sight with the pen tip. When sketching is complete, the receiver is connected to the user's computer via USB to transfer the digital files. Files are opened with the included Inkling Sketch Manager software to manage layers or change file formats before transferring them for adjustment and editing in other creative software applications.

Inkling can store thousands of sketches and can export layered files from the Sketch Manager software directly to Adobe® Photoshop® and Illustrator® (CS3 or newer), as well as Autodesk® Sketchbook Pro (2011 or newer). Alternatively, files can be saved in JPG, BMP, TIFF, PNG, SVG and PDF formats for use with other applications. The pen and receiver store and recharge in a compact case making it easy to transport Inkling between, home, office, meeting rooms or any typical workspace.
Technical Specifications
General

Tracking Technology Inkling uses ultrasonic and infrared technologies.
Supported Paper Sizes Maximum paper size: A4 paper (210 x 297 mm, 8.27" x 11.69") Inkling can be used on larger paper sizes but will only record a drawing area of this size. Inkling will not record strokes made within 2CM of the receiver.
Paper Inkling does not require any specialized paper. It is intended to be uses with standard paper or Sketchbooks on flat, rigid drawing surfaces.
Charging Charging: USB (powered port). Pen and receiver charge inside Inkling case.

Pen Specifications

Dimensions 154 +/- 0.4mm (L), 17 +/- 0.4mm (W), 15.6 +/- 0.4mm (D max) 6.1 in. (L) x 0.67 in. (D) x 0.614 in. (H)
Weight 19 +/- 3 [g] (0.67 oz)
Ink Refill Standard Mini Ballpoint ink refill (1 mm ball size), black ink
Battery Type – Rechargeable battery, Ni-MH
Charging time 8 hours
Charging time Battery Type: Rechargeable Li-Polymer battery

Sketch Manager Application

System requirements Windows 7, Vista or XP (SP3, 32 or 64 bit versions), Mac OS 10.4.0 (or later)
Supported file formats
Layered File Export: Adobe® Photoshop® or Adobe® Illustrator® CS3 or later and Autodesk® SketchBook® Pro or SketchBook Designer (2011 or later). File Saving Formats: JPG, BMP, TIFF, PNG, SVG and PDF.
[Inkling. ]