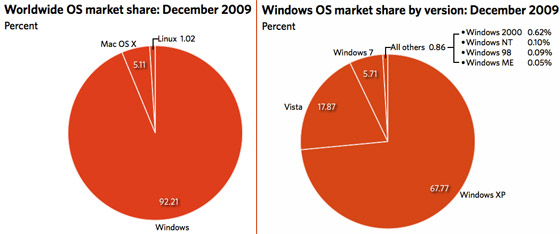 After the sheer horror that was Vista, Microsoft looks to have got things back on track, with Windows 7's strong 2009 holiday season sales being reflected in a growing OS market share.
The operating system now has a bigger overall market share than all the tracked Apple OS X versions  (10.4, 10.5 and 10.6), even if the total Windows market share dropped 0.31 percentage points (from 92.52 percent to 92.21 percent) between November and December 2009 .
The Mac OS also saw a slight reduction in market share of 0.01 percentage points (from 5.12 percent to 5.11 percent) while Linux was the only OS to show growth, shimmying forward 0.02 percentage points (from 1.00 percent to 1.02 percent).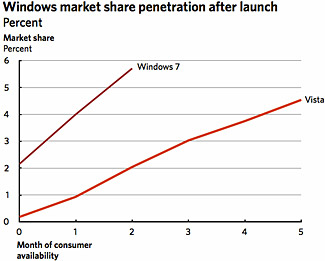 Sliding windows
The figures show that Windows has lost market share over the whole year (from (93.66 percent in January 2009 to 92.21 per cent by the end of the year), while both Mac OS (4.71 percent in January 2009 to 5.11 per cent) and Linux (0.90 percent to 1.02 per cent) have been making gains.
Windows 7: a hit!
Microsoft may be losing some ground, but there's no denying that Windows 7 is proving a massive hit, scoring achieving a far higher level of market penetration in a faster amount of time than Vista managed.
After a month of sales, Vista settled at at 0.93 percent, while Win7 raced to register a hefty 4 percent mark.
By the following month, Win7 had leapt to 5.71 percent, while Vista was still sauntering around the 2 percent score.
More facts and figures at ArsTechnica.