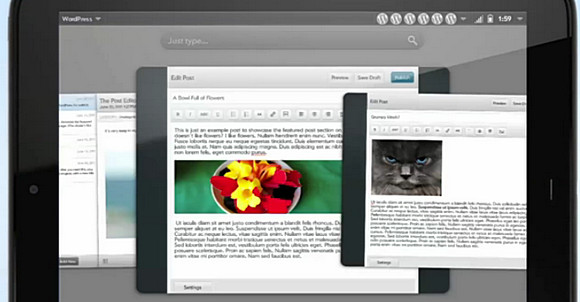 Looking delightfully slick is the new WordPress for webOS which looks a delight on its shiny new promo video.
WordPress for webOS uses nifty sliding panels to let users swiftly move between new and existing content, with a list of your latest comments, drafts, posts or pages available by tapping on the appropriate content.
There's also a visual text editor onboard along,  and combined with HP's new TouchPad tablet and the stunning webOS card interface, the combo looks a real treat for bloggers.
Check out the promo video here to see if you're as impressed as we are,  and scroll down for the feature list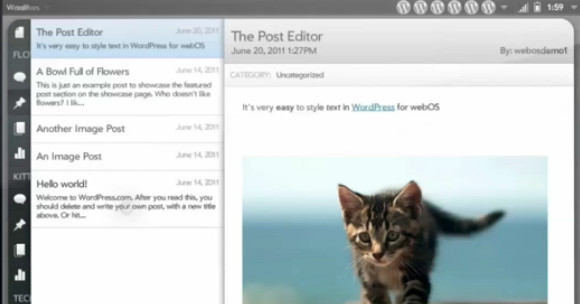 WordPress for webOS enables you to manage your blog wherever you happen to be at the time. Available in English, Spanish, French, Portuguese, German, Italian, Dutch, and Japanese.

WordPress for webOS uses the innovative Cards feature, which allows you to quickly switch between managing, editing, and browsing content.

Tap an email address or website URL within the app and a new card is launched and stacked for fast and intuitive navigation.

* Sliding panels make it easy to manage comments, drafts, posts, and pages. Tap any item to drill down further. * The visual editor enables you to format text, add links, and embed media into your posts and pages.
* Works with both WordPress.com and self-hosted WordPress blogs.
* The app notifies you of new pending comments.
* WordPress Stats are built right in (requires Jetpack for self-hosted blogs, more info at www.jetpack.me). WordPress for webOS is 100% Open Source (GPLv2).

Learn more and help develop the app at webos.wordpress.org/development