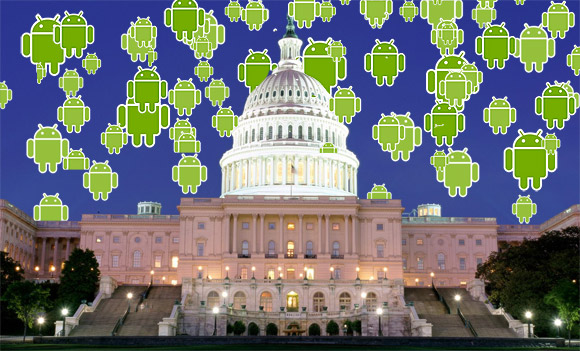 Those kerrrazy, stat-loving types at comScore have just come from a fun-packed totting-up session to reveal a party pack of facts about the growth of smartphones in the US.
After romping about in a saucerful of saucy facts, comScore are reporting that 76.8 million out of 234 million American mobile phone users are now kitted out with them thar fancy smartphones, and the most popular platform of them all is Android.
Google grows
Google Android now commands a 38.1 per cent market share of US smartphone subscribers, a hefty 5.1 per cent rise from the last quarter.
In second place is Apple with 26.6 per cent – echoing a modest 1.4 per cent growth  from last quarter – while Blackberry/RIM continued to shed customers, managing third place with a 24.7 per cent share – down 4.2 per cent.
Microsoft and Palm sauntered into fourth and fifth places with 5.8 per cent (down 1.9 per cent) and 2.4 per cent (down 0.4 per cent) respectively.

Samsung remains #1
Samsung remains the don of handset manufacturers in the US, with a leading 24.8 per cent share of the market, followed by LG (21.1 per cent), Motorola (15.1 per cent), Apple (8.7 per cent) and finally wobbly old RIM with just 8.1 per cent.
comScore Reports May 2011 U.S. Mobile Subscriber Market Share

Smartphones Reach Key Milestone; Now Owned by 1 in 3 Americans

RESTON, Va., July 5, 2011 /PRNewswire/ — comScore, Inc. (NASDAQ: SCOR), a leader in measuring the digital world, today released data from the comScore MobiLensservice, reporting key trends in the U.S. mobile phone industry during the three month average period ending May 2011. The study surveyed more than 30,000 U.S. mobile subscribers and found Samsung to be the top handset manufacturer overall with 24.8 percent market share. Google Android led among smartphone platforms with 38.1 percent market share.

OEM Market Share

For the three month average period ending in May, 234 million Americans ages 13 and older used mobile devices. Device manufacturer Samsung ranked as the top OEM with 24.8 percent of U.S. mobile subscribers, followed by LG with 21.1 percent share and Motorola with 15.1 percent share. Apple strengthened its position at #4 with 8.7 percent share of mobile subscribers (up 1.2 percentage points), while RIM rounded out the top five with 8.1 percent share.

Top Mobile OEMs

3 Month Avg. Ending May 2011 vs. 3 Month Avg. Ending Feb. 2011

Total U.S. Mobile Subscribers Ages 13+

Source: comScore MobiLens

Share (%) of Mobile Subscribers
Feb-11
May-11
Point Change
Total Mobile Subscribers
100.0%
100.0%
N/A
Samsung
24.8%
24.8%
0.0
LG
20.9%
21.1%
0.2
Motorola
16.1%
15.1%
-1.0
Apple
7.5%
8.7%
1.2
RIM
8.6%
8.1%
-0.5

Smartphone Platform Market Share

76.8 million people in the U.S. owned smartphones during the three months ending in May 2011, up 11 percent from the preceding three month period. Google Android ranked as the top operating system with 38.1 percent of U.S. smartphone subscribers, up 5.1 percentage points. Apple strengthened its #2 position with 26.6 percent of the smartphone market, up 1.4 percentage points. RIM ranked third with 24.7 percent share, followed by Microsoft (5.8 percent) and Palm (2.4 percent).

Top Smartphone Platforms

3 Month Avg. Ending May 2011 vs. 3 Month Avg. Ending Feb. 2011

Total U.S. Smartphone Subscribers Ages 13+

Source: comScore MobiLens

Share (%) of Smartphone Subscribers
Feb-11
May-11
Point Change
Total Smartphone Subscribers
100.0%
100.0%
N/A
Google
33.0%
38.1%
5.1
Apple
25.2%
26.6%
1.4
RIM
28.9%
24.7%
-4.2
Microsoft
7.7%
5.8%
-1.9
Palm
2.8%
2.4%
-0.4

Mobile Content Usage

In May, 69.5 percent of U.S. mobile subscribers used text messaging on their mobile device. Browsers were used by 39.8 percent of subscribers (up 1.5 percentage points), while downloaded applications were used by 38.6 percent (up 2.0 percentage points). Accessing of social networking sites or blogs increased 1.8 percentage points to 28.6 percent of mobile subscribers. Game-playing was done by 26.9 percent of the mobile audience (up 2.3 percentage points), while 18.6 percent listened to music on their phones.

Mobile Content Usage

3 Month Avg. Ending May 2011 vs. 3 Month Avg. Ending Feb. 2011

Total U.S. Mobile Subscribers Ages 13+

Source: comScore MobiLens

Share (%) of Mobile Subscribers
Feb-11
May-11
Point Change
Total Mobile Subscribers
100.0%
100.0%
N/A
Sent text message to another phone
68.8%
69.5%
0.7
Used browser
38.3%
39.8%
1.5
Used downloaded apps
36.6%
38.6%
2.0
Accessed social networking site or blog
26.8%
28.6%
1.8
Played Games
24.6%
26.9%
2.3
Listened to music on mobile phone
17.5%
18.6%
1.1

[Via]