Hardcore Euro-travellers should be well acquainted with sky high data bills and the hassle of swapping networks and juggling accounts as they flit through different countries, so Xcom Global's new Europe-wide data service could prove a lifesaver.
The newly-launched Euro SIM lets data-hungry Euro-perambulators rent a single device  that will serve up unlimited data access across no less than 40 countries.
From Barnsley to Bilbao
Users can bag a MiFi for $14.95 per day or a USB WWAN model for $12.95 a day, and then enjoy unlimited surfing across almost every country in this part of the world, from the chilly vistas of Iceland down to the sunny breezes of Malta, with the likes of Romania, Finland, Estonia and Bosnia thrown into the bargain.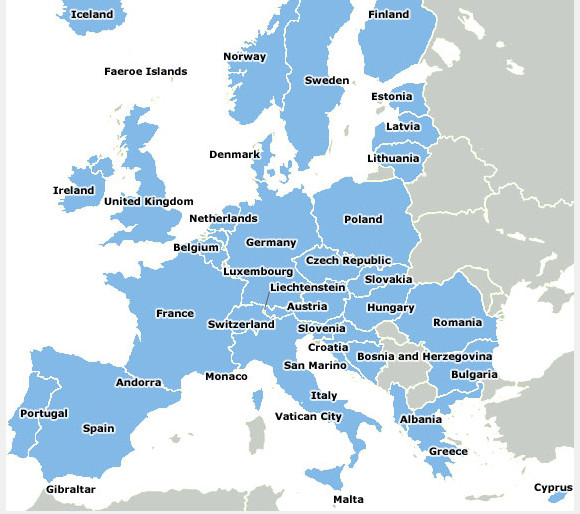 If hardy travellers manage to find themselves in an enclave of  Europe-land that isn't covered, they'll still be able to get online at a cost of one cent per KB.
Although the word 'unlimited' is liberally thrown about, data fiends would be well advised to read up on Xcom's caveat:
[Fair Usage Policy (FUP)]
In some countries, a Fair Usage Policy may be in place in accordance with the business practices of the local internet service provider. If a FUP is in place, it may limit the transfer of a specific amount of data over a period of time. Internet service providers commonly apply a cap on the amount of wireless data when a user has exceeded a certain amount of data (data usage of over 400MB for the last 3 days), which can result in slowing a connection speed or service suspension.
Press release
Scroll in a downwards direction to get the lowdown on the deal:
XCom Global Announces the Availability of a Euro SIM and the Addition of Over 20 European Countries to its Wireless Internet Rental Coverage

– International travelers have low-cost international 3G WiFi access available to them across a rapidly expanding coverage area that now includes more than 60 countries –

SAN DIEGO, Calif. – August 1, 2011 – XCom Global, Inc., a leading provider of low cost wireless Internet access rental services for international travelers, announced today the availability of a Euro SIM card which will enable travelers heading for multiple European destinations to rent a single device. This new SIM card will provide coverage in most major European countries: http://www.xcomglobal.com/europe40/

The cost will be the same as a standard daily rental with the added convenience of one device providing coverage for every country on a traveler's European itinerary. In addition, 20 more European countries are now covered under the company's Unlimited aXcess plan. Denmark, Finland, Norway, Iceland, Hungary and Portugal are among the destinations that were added.

"Thousands have experienced the no-hassle Internet access that XCom Global can provide while traveling overseas," said Seiji Nishimura, founder and CEO, XCom Global, Inc. "If you have a need or desire to stay connected, once you've tried our rental service, you won't want to travel any other way. International roaming charges, exceeding your data plan's data limit, or seeking out specific locations like a hotspot or hotel business center for access will no longer be an issue. We make it easy – easy to rent, easy to understand your costs, easy to use. And now for travelers heading to Europe with multiple-country itineraries, we're offering an easy single-device solution."

XCom Global's high-speed Internet access rental service provides international travelers unlimited data usage and the freedom to wirelessly roam abroad at fixed rates starting at $12.95/per day in over 60 selected countries including Canada, China, France, Germany, India, Japan, Mexico and the United Kingdom. A complete list of countries can be found on the website: http://www.xcomglobal.com/coverage/ Long term (over 14 days), multiple country, and student discounts are also available. http://xcomglobal.com/plans/

Bundled with the Unlimited aXcess plan, the XCom Global's MiFi Hotspot rental unit enables instant access to a personal mobile hotspot, so travelers can stay connected wherever they are. Up to five WiFi-enabled devices can use the unit simultaneously allowing the MiFi Hotspot to be shared with traveling companions and saving on multiple usage charges. http://xcomglobal.com/devices/