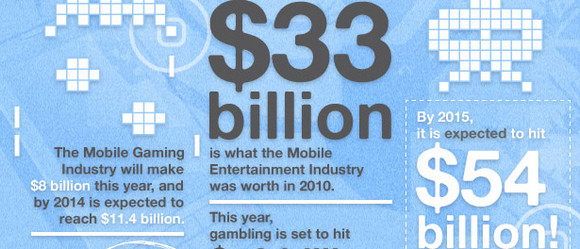 The busy folks at Geekaphone – an online resource for the mobile industry – have been ticking boxes, totting up totals and compiling lists, with the results being slapped together in a neat infographic.
Amongst the feast of facts on offer are gems such as the fact that the mobile gaming industry was worth $33 billion in 2010 and is predicted to scoop up $54 Billion by 2015.
The vast majority (70-80 per cent) of all mobile downloads are games, while music lovers splashed out $3.1 billion on their phones for tunes. Spare a thought for poor old Blackberry, with 46 per cent of their owners having no games at all on their phones. Grumpy sods.
Unsurprisingly, the study found that 84 per cent of tablet owners play games, and the Angry Birds game has been downloaded 140 million times, with the free version raking in least $1m a month just from ads..
A few Android facts were lobbed into the mix, with the infographic stating that Android is soon to overtake Apple in number of total available apps, and that there's already more free apps available than on the rival iOS platform.
Soak up more stats in the infographic below (click for bigger image):