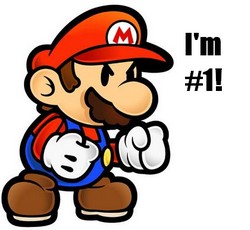 We've not entirely sure why people commission these studies, but a survey of 3,000 Brits revealed that Mario is the country's all time favourite video game character.
A survey of 3,000 Britons, commissioned by shopping website VoucherCodes.co.uk, found that 22% of those asked (and who could presumably be bothered to reply) declared their love for Mario, with Sega mascot Sonic mere inches behind with 21% of the vote.
The results may form a double boost for Mario's creator Shigeru Miyamotowho is set to receive the British Academy of Film and Television Arts highest individual honour, a Fellowship, at Friday's BAFTA Video Game Awards.
Here's the full listing:
Top 10 Video Game Characters of All Time
1.      Mario (Super Mario)
2.      Sonic (Sonic The Hedgehog)
3.      Lara Croft (Tomb Raider)
4.      Pac-Man (Pac-Man)
5.      Donkey Kong (Donkey Kong)
6.      Luigi (Super Mario)
7.      Link (Zelda)
8.      Chun Li (Street Fighter)
9.      Cloud Strife (Final Fantasy VII)
10.     Kirby (Kirby's Dreamland)
More info from the vouchercodes people (whose connection with Mario is something we're still puzzling over):
Nintendo icon Mario, who squeaked past his longstanding rival from Sega by less than one percent, trounced protagonists from more recent smash-hit franchises, including Metal Gear Solid, Grand Theft Auto and Halo.

The duo, with almost half a century of gaming action between them, scored almost double the number of votes of their nearest rivals. Tomb Raider's Lara Croft managed 12% while pill-munching 1980s arcade pioneer Pac-Man netted over 11% of the votes.

Halo may be a flagship title on Microsoft's Xbox consoles but cybernetic hero Master Chief could not even garner 1% of the vote.
Another big name to fail to win the British public's heart was Niko Bellic of Grand Theft Auto IV, despite being the central character in one of the most critically acclaimed and commercially successful games of all time. The Eastern European gangster bombed with just over 1%.

Despite first appearing in 1981 and 1991 respectively, Mario and Sonic remained firm favourites with younger players, coming out clearly on top with 16-18-year-olds and those aged 19-21.

Pac-Man won the lion's share of its votes from older gamers, scooping as much as 19% of the votes from those aged 36-40 and 51-55.

Critics of sex and violence in computer games may descry their effects on the young but it was the eldest voters aged 56+ who voted voluptuous gun-toting explorer Lara Croft as their all-time favourite, the only group to do so.