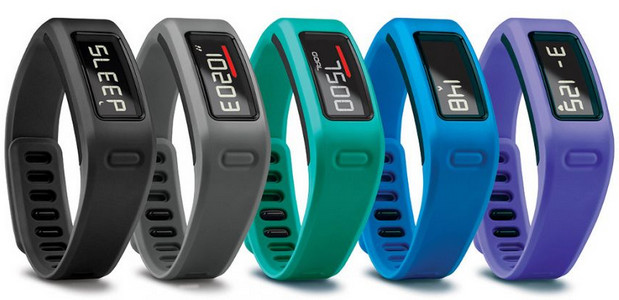 Satnav supremos Garmin have unveiled their new Vívofit fitness band, which they hope will manfully tussle the likes of FuelBand and Fitbit Force to the ground and emerge victorious.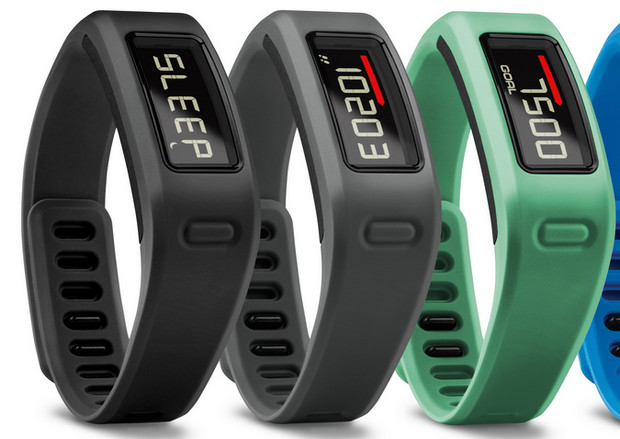 What makes Garmin's offering look more interesting than some is the curved, always-on watch display that serves up useful additional facts like daily goals, steps, goal countdown, calories, distance and, of course, the time. The device also tracks your slumbers'n'snoozes.
Unlike many other fitness bands that have to be taken off as soon as you go near the wet stuff, Vívofit is waterproof up to 50m,  and also boasts a battery life that can keep on rocking for around a year, courtesy of a  user-replaceable battery.
Naturally, the little fella can thrust your data in the direction of your electronics, with Garmin Connect letting you examine your perambulations on the desktop or via its own app, which can serve up daily personalised daily goals and lots of pretty graphs and shizzle.
Vívofit should be jogging into UK and US this quarter, and will come in black, purple, teal, blue and slate and retail for US$129.99 (£99.99).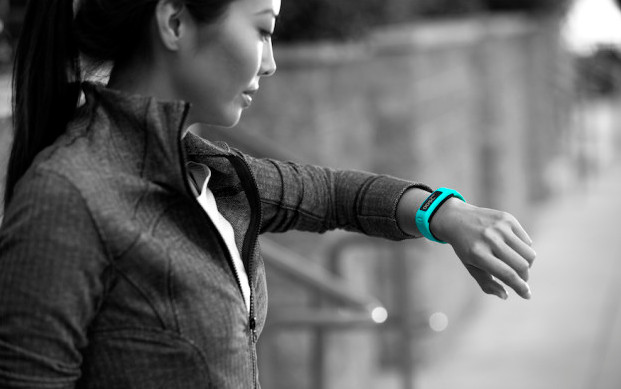 Here's the full press release stuffed full of every possible gadget-related fact you can think of.
OLATHE, Kan./January 6, 2014/Business Wire — Garmin International Inc., a unit of Garmin Ltd. (NASDAQ: GRMN), the global leader in satellite navigation, today announced vívofit (veevo-fit) — a stylish, lightweight fitness band designed to turn good intentions into lifelong habits. Vívofit is the only fitness band that automatically greets users with a personalized daily goal, tracks their progress and reminds them when it's time to move. Featuring a unique, curved display that always stays on, vívofit also shows steps, goal countdown, calories, distance, and time of day. Vívofit's user replaceable batteries last over one year and vívofit is water-resistant (50m), as well as being compatible with ANT+™ heart rate monitors1 for fitness activities. Vívofit will be showcased in the Garmin booth (South Hall 4 #35812) at this year's CES. To see the vívofit in action, go to www.garmin.com/vivo.

"Garmin has been providing fitness monitoring devices for over a decade, and with vívofit we say hello to the fitness band that knows your potential," said Dan Bartel, Garmin vice president of worldwide sales. "Being able to monitor the quality of rest after retiring for the night, being challenged by personalized daily goals and doing so without having to charge it every few days, makes vívofit a fitness band that should be on everyone's wrist."

Vívofit learns users' current activity level, then assigns an attainable daily goal. As milestones are met, vívofit will adjust the goal for the next day. Research shows prolonged periods of inactivity, such as sitting at a desk, decreases the body's production of fat-burning enzymes. Taking frequent, short walk breaks throughout the day can reverse this. And while it is easy to lose track of time and forget to move, vívofit knows. A red move bar appears on the display after one hour of inactivity and builds when users have been sitting too long. Walking for a couple of minutes will reset the move bar, and get users out of the red.

Vívofit follows progress 24/7, and it can stay on for more than a year without a battery change. Setting the sleep mode when going to bed allows vívofit to monitor the quality of rest. With the touch of one button, users can wirelessly sync vívofit with Garmin Connect™, a free online fitness community with currently over four billion miles uploaded by users. At Garmin Connect, users can see a complete picture of their progress through easy to read reports and graphical representations, including their total sleep hours, as well as periods of movement and restful sleep. Also at Garmin Connect, users can join online challenges with other vívofit users or start their own competitions with friends to compete for virtual badges and bragging rights. Users can access this free online community from their computer or on their compatible mobile device2 with the Garmin Connect™ Mobile app.

Using a heart rate monitor with vívofit to record heart rate and zone data will achieve more accurate calorie burn information for any fitness activity, such as a run or a cardio class at the gym. The vívofit band is water-resistant, so it can be worn in the shower or get caught in the rain, worry-free.

Vívofit will be available in black, purple, teal, blue and slate and both small and large sizes come in the box. Vívofit will begin shipping Q1 2014 and have a retail price of $129.99 and $169.99 (heart rate monitor bundle).

Vívofit is the latest from Garmin's expanding fitness segment, which focuses on developing technologies and innovations to enhance users' lives and promotes healthy and active lifestyles. Whether it's running, cycling, or other athletic pursuits, Garmin fitness devices are becoming essential tools for athletes both amateur and elite. For more about features, pricing and availability, as well as information about Garmin's other fitness products and services, go to www.garmin.com/intosports, www.garmin.blogs.com and http://twitter.com/garmin.