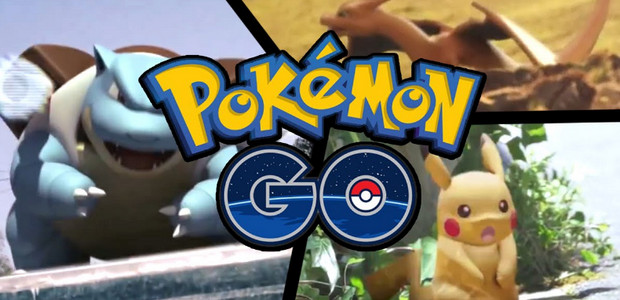 It's more than doubled the value if its creators Nintendo, and now Pokémon Go has become the biggest mobile game in U.S. history.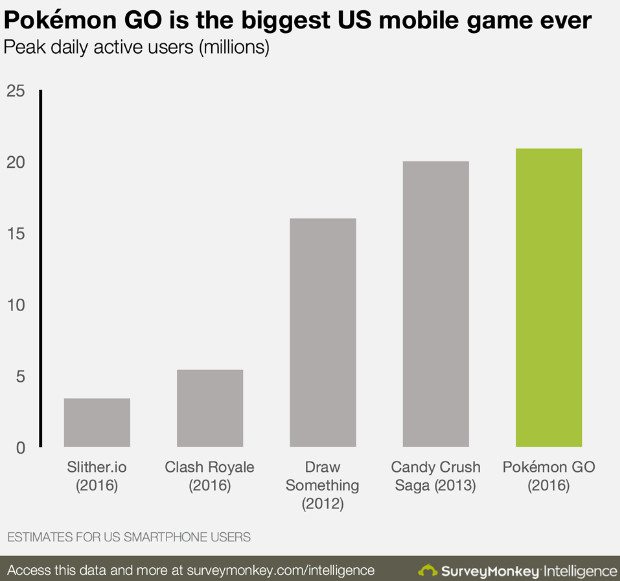 Scooping up 21 million daily active users barely a week after its release, the app cruised past Candy Crush Saga's previous record tally of 20 million users recorded in 2013.
The data comes from online survey company SurveyMonkey, which noted that Pokémon Go has already surpassed Tinder and Twitter when it comes to daily active users. Notably, the app isn't even available globally yet, with the amount of users set to skyrocket further.
From SurveyMonkey:
Within three days of its release, Pokémon GO attracted more users than Twitter, and rose to the top of the App Store revenue charts, earning millions of dollars a day for its publisher, Niantic.

As of yesterday, Pokémon GO attracted just under 21 million daily active users in the United States, surpassing Candy Crush saga's rumored peak US smartphone audience of 20 million and making it the biggest mobile game in US history.
The company ponders whether Pokémon GO on Android could go on to pass Snapchat within a couple of days on Android and even surpass Google Maps itself as the largest user of Alphabet's mapping data.
Whether the game turns out to be a lasting phenomenon or a passing fad remains to be seen, but at the moment it seems that everyone is going crazy for Pokémon GO.
VP on the forums explains the game's concept (or at least what he understands of it so far):
An 'augmented reality' app based around the usual premise of a Pokemon game – gotta catch 'em all.

So, you download it to your phone (for free).

It uses your gps tracking data. You head outside, and wander around. As you do so, it tracks where you are and lets you know if there are any pokemon listed as being nearby. You follow the map on your phone to find them. When you find them, it switches to camera mode, so you see the real world through your camera on your phone, with the pokemon in question superimposed into the scene – that's the augmented reality bit. Then you try to catch it.

The aim is to collect as many pokemon as possible, requiring you to travel far and wide to get them. You can train them, increase their levels, eventually taking them to pokemon gyms (which are stationed in real-world public places like parks and libraries and lol police stations) to train them even more. You can pit your pokemon in battle against other people's pokemon.

There are 3 teams, you join one of them. There's something to do with teams fighting to control certain real-life areas, but I don't understand that part.
Chat about the game and get the latest news on the forums.
The beginner's guide to Pokémon Go: A FAQ on how to catch 'em all