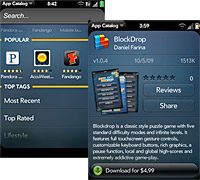 Palm Pre users in the UK and Europe miserably slopping around a half-empty paddling pool of  apps will soon be able to dive headlong into a glistening pool bubbling with nearly 1,000 apps, come March 2010.
Since the Palm Pre launched in the UK back in October 2009, us long suffering Brits have only had a miserable selection of free apps to choose from in the webOS App Catalog, while our American cousins have enjoyed rummaging around an app store that's nearly five times the size.
Happily, things will get better in a few months, with  Developer Community Manager Chuq Von Rospach announcing the soon-come arrival of the European App Catalog in March 2010 in the Palm Developer Network Blog.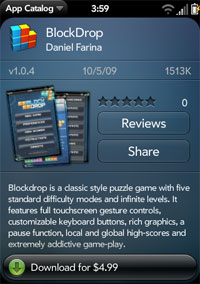 The general app catalog model is not new, but what we're doing with it is. The Palm developer program extends the unique web orientation of the Palm webOS platform, providing developers innovative opportunities to leverage the web as a promotional channel for applications.

We offer greater freedom and choice of how to get your applications to market and unparalleled control to promote and grow your business. For developers looking to make money, it's all about speed, promotion, and reacting to customer feedback. Our platform gives you greater access to customers and faster cycle times to make higher-quality, compelling applications.
This announcement really couldn't come any quicker for Palm.
With reports that Pre sales haven't lived up to expectations in the UK, the company really needs to be able to entice users with an app store overflowing with useful and well-written apps to back up their excellent handset.