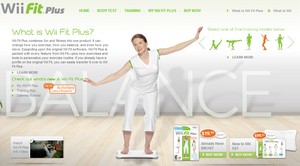 Wii Fit Plus, the follow up to the massively popular Nintendo Wii Fit exercise game, should be stacking up on shop shelves today in plenty of  time for the Christmas rush.
In addition to all the original Wii Fit features, the updated  (ahem)  "exertainment" game offers no less than fifteen new balance-board exercises, plus six new strength and yoga programmes to coax lardy sofa surfers into some sort of shape.
A new 'My Routines' option lets users customise their own yoga routines and strength-training exercises so they can create at-home training regimes, with a calorie counter measuring how many cakes have been burnt off.
With its focus on encouraging  people to exercise, the game was recently given permission by the NHS to use their Change4Life logo in their advertising, which must add up to being  something of a coup for Nintendo.
Wii Fit Plus will be available in shops from 30th October with the Wii Fit Plus with Balance Board
currently knocking out for around £75, while the Wii Fit Plus game only
is around £18 on Amazon.