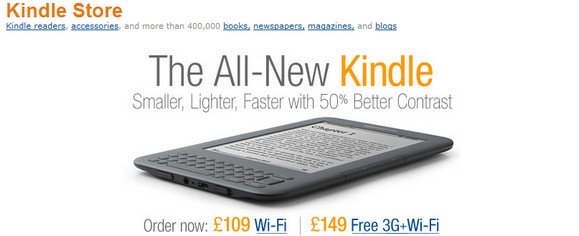 Over eight million of Amazon.com's ground breaking Kindle electronic-book readers are expected to have been sold by the end of 2010, a figure over 60 percent higher than analysts had predicted.
Guesstimate-tastic
Bloomberg Businessweek is reporting that Amazon looks set to shift 8 million Kindles, a figure way ahead of the initial 5 million estimate, with sales up 233 per cent compared to last year's total sales of 2.4 million Kindles.
It's worth noting that Amazon doesn't officially dish out the actual numbers of sold units, so the figures are based on statements from Bloomberg's sources.
Amazon have dished out a few nuggets of info though, saying in October that sales of the latest Kindle – launched in July – had already surpassed total Kindle sales in the fourth quarter of 2009.
Kindle books can also be read on the iPad, iPod Touch and iPhone, Research In Motion BlackBerrys and Android handsets with a Windows Phone 7 mobile version coming soon.
We heart the Kindle
We've got a Kindle in the office and have to say that we love the thing – it's easy to use, the price is right, and we're finding ourselves reading a lot more books these days.
[Bloomberg Businessweek]