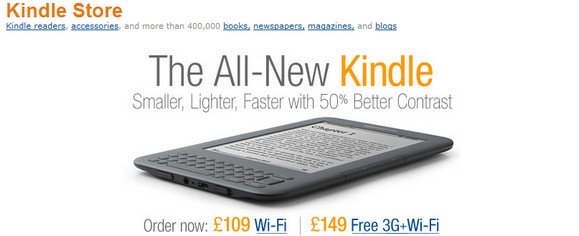 With the release of the eagerly anticipated Kindle 3 eReader coming up at the end of the month, Amazon has today launched its UK Kindle Store, offering books, magazines and newspapers for wireless downloading to the device.
400k books
The UK store offers more than 400,000 ebooks for downloading, and stocks over 80 per cent of the current 100 Nielsen UK bestsellers, some retailing at competitive prices.
For example, Stieg Larsson's novel, "The Girl Who Kicked the Hornet's Nest" – which currently occupies the second place in Amazon's own charts – is available for download for just £2.70 to UK buyers.
Not all books are as cheap though, with the top ten selling books ranging in price from £1.96 up to £8.55.
Greg Greeley, vice president of European retail at Amazon, purred: "The opening of the UK Kindle Store allows customers to buy content in pounds sterling and offers a great shopping experience including UK customer reviews, recommendations, bestseller lists and customer service."
Newspapers ready for downloading
The Kindle can also download daily newspapers, with all subscriptions starting with a 14-day free trial.

UK publications include The Independent (£13.99/month), Daily Mail (£8.99/month)  the Daily Telegraph (£14.99) and the Financial Times, which charges the most at £17.99 for a month's worth of newspapers (all include the Sunday edition).
The freebie London Evening Standard is also available for £3.99, with the daily newspapers being automatically delivered wirelessly to users' Kindles in the morning.
Curiously, there's no sight of a Guardian download for the Kindle, which seems strange considering the newspaper has had one of the more progressive digital strategies, falling into bed with Apple with almost unseemly haste.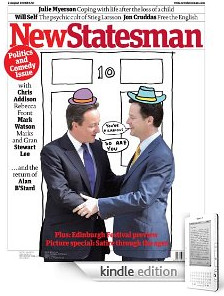 Magazines
Amazon is also offering a range of magazines, including the New Statesman (£2.99/month), Business Week (£1.99), The Economist (£9.99/month) and PC Magazine for just 99p a month.
Magazines are auto-delivered when the physical issue hits the newsagent, and there's a free month trial available on all magazines.
Sold out
Such is the buzz being  generated around the new Kindle devices that the original batch of pre-orders for an August 27th delivery sold out quickly, but users placing orders now should be able to pick one up at the beginning of September – check out the links below for more info.
Kindle, Wi-Fi, 6″ Display, Graphite -£109
Kindle, Free 3G + Wi-Fi, 6″ Display, Graphite, 3G Works Globally -£149