Amazon has announced plans to lob a free Kindle app in the direction of Android users, letting them  download and read eBooks without having to shell out for a Kindle device.
The app will come with all the usual Kindle goodness and sync with other devices and support notes and bookmarks.
Buy direct
The Android app follows on from the  iPhone version, although Amazon says that the Android version will come with a useful bonus: the ability to buy books directly from the app – something that is not possible on the iPhone app.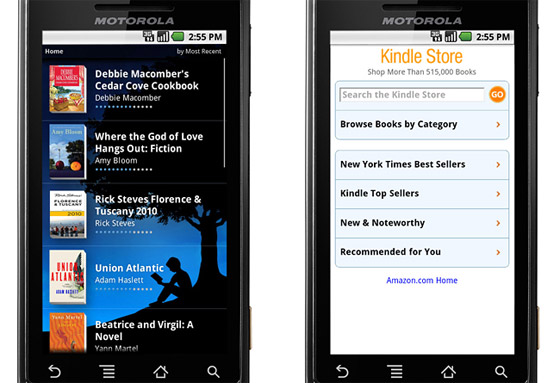 The Android Kindle app will unleash access to a massive 500,000 titles (but don't be surprised if us Brits end up with a smaller catalogue than our US cousins), and we can forget all about newspapers and magazines being available at launch, too.
Android Kindle main features:
Get the best reading experience available on your Android phone. No Kindle required
Access your Kindle books even if you don't have your Kindle with you
Automatically synchronizes your last page read and annotations between devices with Whispersync
Adjust the text size, add bookmarks, and view the annotations you created on your Kindle, computer, or other Kindle-compatible device
Read in portrait or landscape mode
Tap on either side of the screen or flick to turn pages
Amazon is currently keeping schtum about the release date, but impatient users can register for release notification now.