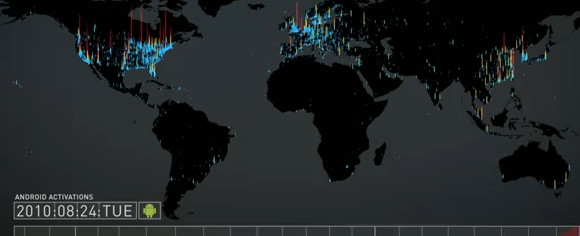 Despite Apple's efforts to block the growth of rival tablets and Android App Stores with yet more of its dubious patent trolling, the Android platform continues to go from strength to strength, capturing nearly half of the worldwide smart phone market
New figures from market research firm Canalys show the worldwide smartphone market growing 73 per cent year-over-year to more than 107.7 million units shipped last quarter.
Although Apple owns the largest share of smartphone shipments and profits, Android rules supreme as the top dog operating system by a country mile.
Globally, Android lead the market in 35 of the 56 countries tracked by the research firm, with Android shipments in the second quarter rocketing by 379 per cent to hit 51.9 million units, giving the OS a 48 per cent slice of global smartphone shipments over the quarter.
Here's the full, fact-packed press release:
Android takes almost 50% share of worldwide smart phone market

iOS becomes second largest smart phone platform

Palo Alto, Singapore and Reading (UK) – Monday, 1 August 2011

Canalys today published its final worldwide country-level Q2 2011 smart phone market estimates, showing substantial market growth in all regions. Globally, the market grew 73% year-on-year, with in excess of 107.7 million units shipping in the second quarter of 2011. Of the 56 countries Canalys tracks around the world, Android led in 35 of them and achieved a global market share of 48%. Asia Pacific (APAC) remained the largest regional market, with 39.8 million units shipping there, compared with 35.0 million in Europe, the Middle East and Africa (EMEA), and 32.9 million in the Americas.

Android, the number one platform by shipments since Q4 2010, was also the strongest growth driver this quarter, with Android-based smart phone shipments up 379% over a year ago to 51.9 million units. Growth was bolstered by strong Android product performances from a number of vendors, including Samsung, HTC, LG, Motorola, Sony Ericsson, ZTE and Huawei. The final country-level data delivered to clients today shows there were particularly strong performances from Android devices in APAC countries, such as South Korea, where Android holds an 85% platform share, and Taiwan, where it has 71%.

With shipments of 20.3 million iPhones and a market share of 19%, iOS overtook Nokia's Symbian platform during the quarter to take second place worldwide. In doing so, Apple also became the world's leading individual smart phone vendor, stripping Nokia of its long-held leadership position.

'The iPhone has been a phenomenal success story for Apple and a watershed product for the market,' said Canalys VP and Principal Analyst Chris Jones. 'It's an impressive success story, given that Apple has only been in the smart phone market for four years. With the next-generation iPhone anticipated in Q3, it's likely that Apple's position will grow even stronger in the second half of the year.'

Samsung also moved ahead of Nokia, with its flagship Galaxy S II product performing well, but its overall performance was underwhelming, considering the opportunities offered by the upheaval at Nokia.

'Samsung has failed to fully capitalize on Nokia's weakened state around the world, as the Finnish company rides out a challenging transitional period,' said Jones. 'It's the best placed vendor to grow at Nokia's expense, taking advantage of its global scale and channel reach, but it hasn't yet done enough to capitalize on this, particularly in emerging markets.'

Samsung was the largest Android device vendor and the number two vendor overall in the market with shipments of its own-branded devices at 17.0 million units. Its year-on-year growth of 421% was helped by significant growth of 355% in its bada smart phone shipments. Samsung also acts as an ODM for the Google Nexus S and T-Mobile Sidekick 4G, collectively estimated to have shipped 0.7 million units.

Nokia's leadership position has proved most resilient in key emerging markets, and it still leads in the BRIC countries: Brazil, Russia, India and China. 'The problem for Nokia is that demand for its Symbian-based smart phones has dissipated very rapidly, particularly in operator-led markets, such as Western Europe, where it's been strong in the past,' said Canalys Principal Analyst Pete Cunningham. 'It badly needs the first of its Windows Phone devices to launch as soon as possible to arrest a decline and, hopefully, silence its critics.'

'While it is committed to launching a device before the end of the year, we do not expect to see it until mid-to-late Q4, and it will be much longer before a portfolio of Nokia Windows Phone smart phones drives volumes. Nokia is set to have several more difficult quarters before a possible reversal of fortunes,' added Cunningham.

Microsoft is also eager to see Nokia's first Windows Phone products, along with those from its other OEM partners, ship with its Mango update. 'A fresh crop of products is certainly needed,' said Jones. Fewer than 1.5 million Microsoft-based smart phones shipped during the quarter, equating to a mere 1% share of the global market, down 52% against shipments a year ago.

Windows Phone OEM partner HTC saw Android driving the vast majority of its portfolio, but Canalys expects it to continue to be a leading provider of Windows Phone products. HTC achieved particular success in North America this quarter, climbing to a 21% share and consolidating its second place position, while Apple's North American share dropped from 31% last quarter to 25% this quarter.

RIM had a challenging quarter in North America, with its market share slipping to 12%, down from 33% a year ago, leading to negative press coverage in the United States. But RIM's global shipments grew 11% year on year, keeping it the number one vendor in Latin America with a 28% share.

'It's easy to be negative about BlackBerry in the US, but it's important to remember that in other markets, particularly emerging markets, it continues to see significant interest and uptake of its devices, for example in Indonesia and South Africa where it is the leading smart phone vendor,' said Jones. 'Nonetheless, it must continue to innovative and recapture lost momentum. It's critical that the next-generation BlackBerry OS 7-based products launch ahead of the upcoming holiday season to compete in the market.'