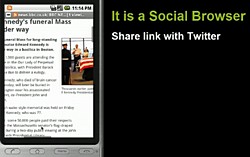 If you're a Motorola Droid owner and you've been looking enviously at your pals toting multi-touch browsers (like the iPhone and Palm Pre), then good news is at hand.
The recently updated Dolphin browser now comes with added multi-touch support, so Android phones that allow for multi-touch in third party apps can get down to some multi-finger action.
Sadly, that list of phones is rather short so it's only Droid, Hero & Cyanogen users that are going to be able to join the fun for now, but it's still a very capable browser that has become the preferred choice for many Android surfers.
Billing itself as social, smart, and fast, Dolphin lets you share content via popular social networks, include Twitter, and Del.icio.us, sync bookmarks with Google, and the the browser offers RSS detection and subscription with the ability to save links for reading later.
Anyone out there using it yet?
Dolphin main features:
Quick access to Google services (Search, Gtalk, Gmail, etc)
Fast windows switching
All-in-one start page
Sync with Google bookmarks
RSS detection and subscription