A slick new update for Google's Android Market sees the app store for Android mobile phones getting a major makeover.
Carousel
The home screen of the Android Market now sports a snazzy carousel feature which lets users flip through featured apps, Cover Flow-stylee.
There's also new categories for Live Wallpapers and Widgets, with Google pledging to add more categories for popular apps in the future, too.
Individual app pages have changed too, with the old tabbed interface being replaced by a shiny new "streamlined" single page.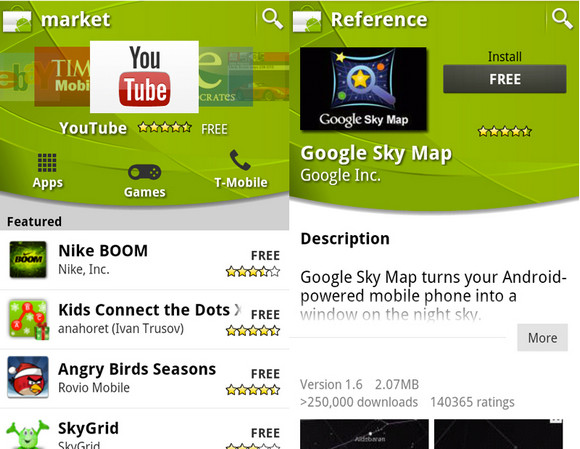 Get your refunds in quick
Other changes see the the refund time for apps being slashed from 24 hours to 15 minutes (apparently to stop people abusing the system) and Google have increased the size of maximum file downloads to 50MB, clearing the way for bigger, more feature rich games.
Slap it on all over
Google has also got the green paint out and sloshed it quite liberally over the new interface, adding to what amounts to the biggest update to the Android Market since it was introduced.
The brand new Android Market interface will be rolling out to Android 1.6+ users in the next couple of weeks, so keep checking your updates!
[Via]