According to the techie bods at mobile ad network AdMob, Android OS traffic overtook iPhone traffic in the U.S. in March this year for the first time ever.
Their report shows Android traffic in the U.S. surging upwards to bag a 46 percent of operating system share- a sizeable leap over the iPhone, which only managed 39 percent for the iPhone operating system.
The iPhone OS still rules the roost worldwide though, grabbing 46 percent of the OS share compared to Android's 25 percent.
It's worth noting that AdMob's figurs are based on its measurements of  mobile ad impressions, which they say acts as a proxy for overall traffic.
It's not the most accurate system and the figures have been swiftly disputed by SFGate: No, Android Did NOT Just Pass iPhone In Mobile Web Traffic.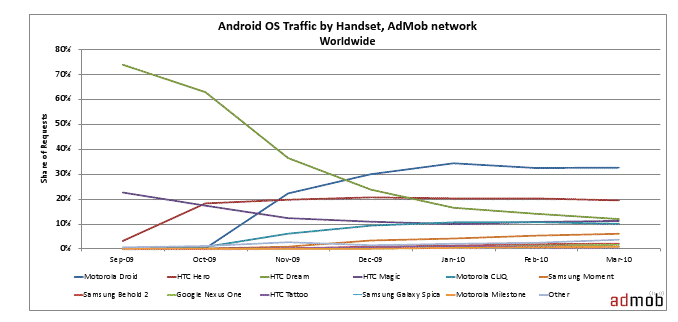 Android on the rise
However you want to spin the figures, there's no denying that Android is an OS on the rise and almost certain to rival – if not eclipse – the iPhone in the future.
The rise of Android continues at an impressive rate, with apps multiplying faster than bunny rabbits on Viagra, and hot new handsets appearing monthly. 
That said, there's still a fair way to go before the Android Market reaches the sky-high totals of Apple's AppStore, but with over 38,000 apps available, that should be enough for most people.
[Via]