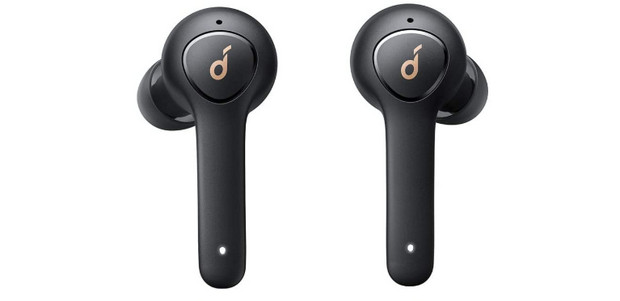 It's fair to say we were somewhat blown away by the Anker Soundcore Life Q20 Bluetooth headphones we bought a while back, and our opinion hasn't changed one bit after several months of use – they are truly fantastic value.
So how would their equally affordable wireless earbuds match up? We gave them a listen….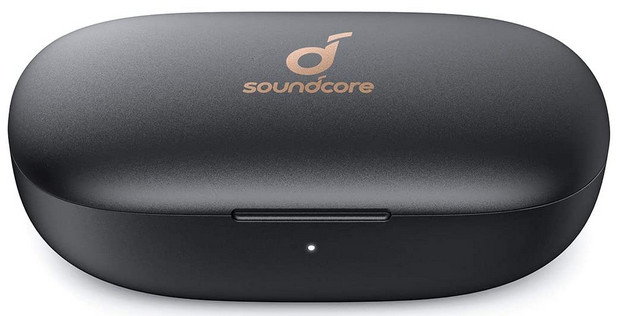 First off an admission: although we paid for the headphones out of our own money, Anker invited us to review the Anker Soundcore Life P2 wireless earbuds, and we've been wearing them around town around our flat for the past six weeks  as the coronavirus lockdown grinds on.
First impressions of the build quality are positive, with the ultra-light earbuds magnetically snapping into the reassuringly solid USB-C charging case.
There's a decent selection of silicon tips, and we had no problem getting a secure fit, although couldn't shake off the fear of losing one when we got out into world (this applies to all earbuds –  we've never had one fall out yet, so perhaps it's an irrational fear of becoming bud-less!)
The earbuds themselves are pleasingly understated – no white 'look at me' shades, just an austere, two-tone dark grey which won't draw attention to yourself.
But talking of design, it's impossible not to comment on the, err, Apple tribute going on, but once they're in your lughole it's not a thing to be concerned about.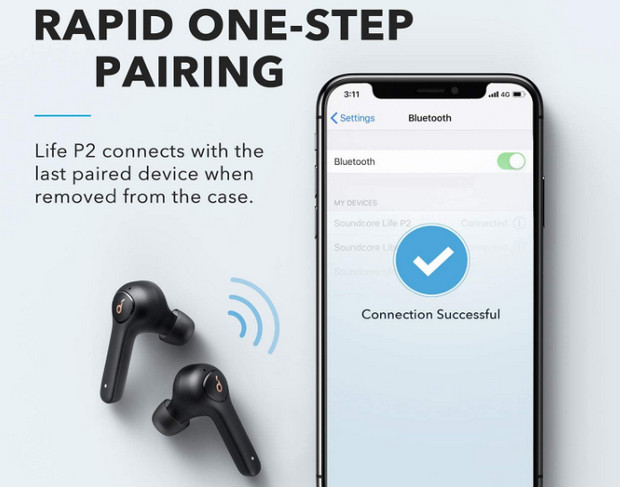 Sound quality
Once again, we found ourselves impressed with the bang for yer buck with this Anker product, with a decent 'oomph' from the  bottom end, clear mid-range and the treble kept in control, and the sound quality on phone calls was absolutely fine.
There's no noise cancellation on board, but the tight-fitting silicone ear tips did a decent job of blocking out enough ambient sound for our tastes.
The Bluetooth connection was mainly solid as a rock, although strangely enough we had a few crackly break ups when connected to a Huawei P30 Pro, but everything was fine with  a Huawei P30 handset.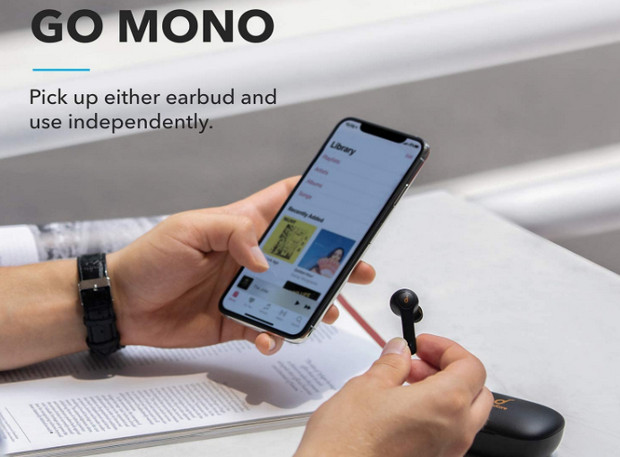 Control buttons
On both earbuds, there's a central physical 'clicky' button which lets you stop/start or skip/forward tracks. We weren't so impressed with these and would have preferred touch controls as it wasn't always comfortable putting pressure on your ears to control tracks.
There's four microphones on board –  two designed to help with noise reduction when making calls in noisy environments – and they did a good enough job, although we were told our voice could have been a bit clearer.
Battery & Build
Despite their budget price, the Anker SoundCore Life P2s seem solid and durable, with the manufacturer claiming that they can survive being fully submerged for up to 30 minutes – so a long lathery session in the shower should be no problem.
Battery life was good too:  we got around seven hours and the nifty quick charge feature whisked up another hour of playback after just 10 minutes of charging, with the included  USB-C case proving a convenient extra 4.7 charge cycles for on-the-go listening.
Verdict
For around £45 – and often available for less on special offers –  the Anker Soundcore Life P2 buds are an impressive offering.
They're comfortable to wear, provide an above average sound quality and build for the price, and serve up a long battery life, with the handy carry case making it easy to top up on the move.