Not long after Apple released the latest version of its mobile operating system, iOS 5, online forums swiftly filled with complaints from iPhone users suffering poor battery life.
Although the battery drain didn't seem to affect all users,  just one of the many threads on Apple's own support forums managed to rack up over 4,000 replies and nearly 300,000 pages views, which would suggest that it wasn't a niche problem.
Despite the growing complaints, Apple did what it usually does and ignored everyone for weeks on end before finally conceding that there was a problem and announcing that they were working on a fix.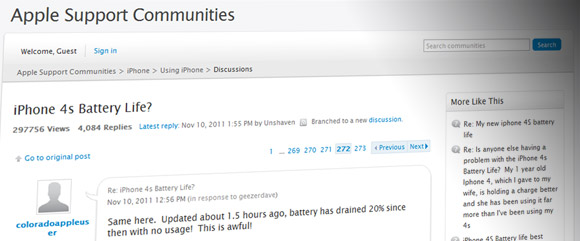 Fix available
The bug fix, iOS 5.0.1, is now available to download through iTunes or as an over-the-air updates for iOS devices.
The OS upgrade also adds new multi-touch gestures for the first gen iPad, sorts out some Documents in the Cloud bugs and improves voice recognition for Australian iPhone users, whose broad Fosters-influenced accents baffled Siri.
Still a problem for some
As ever, Apple have declined to offer any information about what caused the problems or what fixes have been employed,
but
early reports suggest that although battery life has improved for some, others are still suffering serious battery drain.
Some recent comments from Apple's support forum:
Same here.  Updated about 1.5 hours ago, battery has drained 20% since then with no usage!  This is awful!
Upgraded to 5.0.1 this morning.  Still draining at the exact same rate.  Unplugged with a full charge 2 1/2 hours ago, and already down to 80% with light usage.
New update is  no help at all.
I opened the safari  and lost  2 % just by opening the safari browser…This really *****