There's no longer the need for travelling types to unfurl flapping maps and do battle with baffling transport maps thanks to a cavalcade of excellent transport apps available on the iPhone.
If you're wandering over the wiley, windy moors or just stuck in a pub in an unfamiliar part of town, there's an app to get you home. Here's four of the best:
It's quite a pricey number at £4.99, but regular rail travellers will soon find this app paying itself back in not time.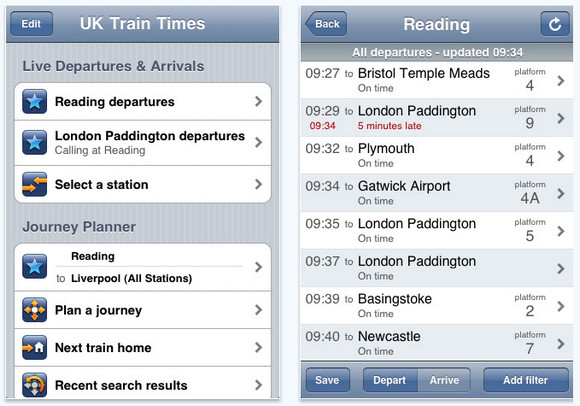 The app lets travellers access up-to-minute train time information and download train times for those 'stuck in the tunnel' moments.
You can also plan journeys across the National Rail network, keep up to date with delays and cancellations, view Live departures and arrivals at all National Rail stations – and watch live train progress with platform information.
And if you find yourself a little worse for wear after a long session in a far distant pub, the app can quickly find your nearest station and tell you the next train home! (assuming that the local railway line wasn't ripped up in the Beeching Cuts, of course).
There's no shortage of London tube-related apps but we found the 59p Tube Deluxe to be the one we liked the best.
Offering an official Underground map, the apps lets you plan journeys across the metropolis, check for cancelled services and weekend works, view live status updates and locate the nearest station.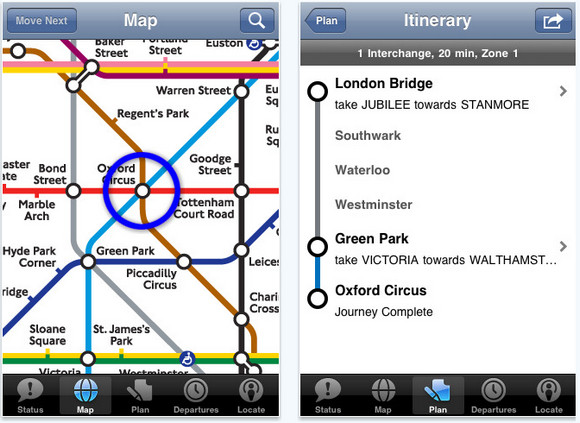 The tube map can be viewed in landscape & portrait formats with a bit of pinch and zoom letting you swoop in for a closer look.
The journey planner works without an internet connection, so you can reroute your journeys, and there's also a handy listing of first & last service times.
If you've spent any length of time at a windswept bus stop wondering if a bus is ever going to come over the hill, London bus is a great app to have in your pocket.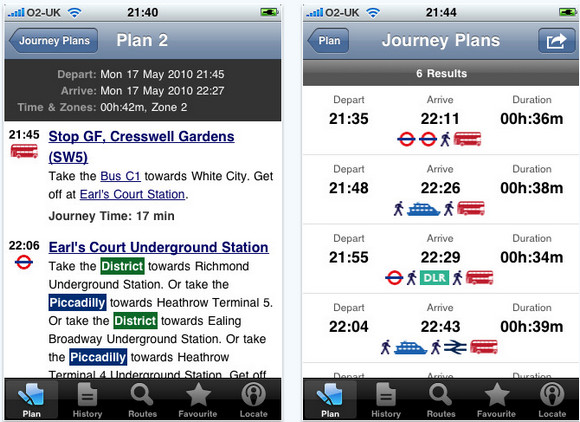 Claimed to be, "the most comprehensive guide to traveling in & around Greater London using the Bus, Tube, Rail, Coach DLR, River & Trams," the app also lets you plan  journeys to and from some 2,400 overground rail stations in England, Scotland & Wales.
Covering  750 bus routes and 2,400+ overground rail stations, users can look up real time journey plans and timetables and quickly find the nearest bus stop – all for 59p.
Aimed more at travellers moving around under their own steam, the Outdoors app lets you fill up your iPhone with fabulous Ordnance Survey maps covering vast areas of the country for a comparatively small outlay.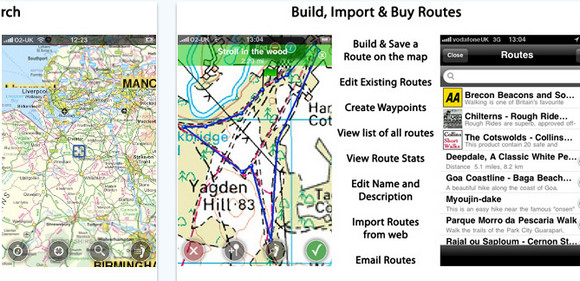 Perfect for hikers and cyclists – or sad people like us who just like to browse Ordance Survey maps – Outdoors offers access to the full range of Britain's superb Ordnance Survey maps, with downloadable 1:25k maps and 1:50k maps, priced from £9.99 per region.
All of Britain's OS maps can be downloaded to your iPhone or iPad, so you won't be reliant on finding a signal when you're out in the wilds.
The app also lets you view speed, distance, altitude, time elapsed and current bearing, along with current Longitude/Latitude, Grid Reference info.