Looking rather cute and reaching out to Christmas gift buyers everywhere is the £49.95 Ozaki iMini Cute2, an iPod alarm clock served up in a feast, nay a fiesta of nine colours.
The wee Ozaki iMini Cute2 thingies are designed for waking you from your slumbers, and can rouse you with your own tunes, the FM radio or a hangover-enhancing buzzer.
Sporting mains and battery power options, the Ozaki's compact dimensions should make them worthy travelling companions.
Here's a wham bam thank you ma'am run down of the features:
– Plays music, charges and syncs any iPod / iPhone
– 2 x 2" full-range speaker drivers with 6 watts power
– Intuitive front panel control cluster
– Simple top-mounted Snooze and Function buttons
– Large Backlit LCD display for FM Radio and Alarm clock
– Dual Alarm: Wake up to iPod, Radio or Buzzer
– Multiple Snooze function
– Standard 3.5mm line-in connector for other MP3 support
– USB interface for iPod sync with Mac or PC
– Compatible with all iPod models except shuffle
– Compatible with iPhone in Airplane mode
You should get around 7-8 hours of continuous playback from the six AAA batteries (not included, natch)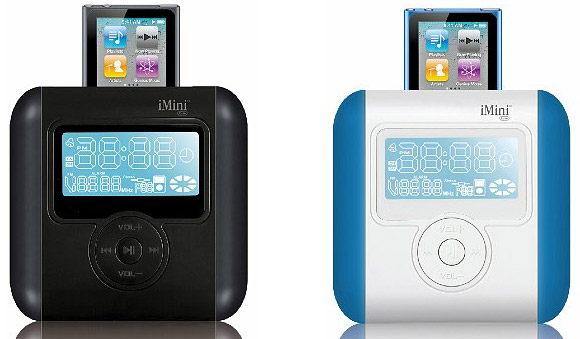 Available in 9 purdy colours, opening the box will unleash such joyous extras as five iPod dock inserts, an AC adaptor,  a 3.5mm Jack signal cable and a user manual (which we suspect will be more of the 'folded piece of paper' type).
Specifications
Model: IP831 iMini Cute2
Amp Output Power: 2W x 2
Driver Output Power: 3W x 2
Driver Unit: 2 x 2 inch Full-range
Frequency Response: 200Hz ~ 15 KHz
Dimension: W112 x H112 x D112mm
Weight 450 grams
If this looks like the kind of thing you'd like to go to bed with, the Ozaki iMini Cute2 is available now from from UK retailers such as HMV, audioout.co.uk & ebuyer.com