Apple will be putting an end to months and months of really dull, fact-free speculation from traffic-desperate tech blogs with the announcement of a new version of the iPhone on October 4th.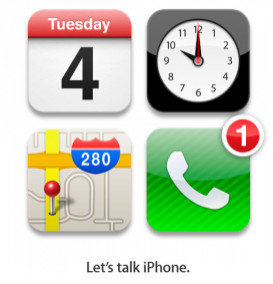 Expectations are high for what will be the company's first iPhone upgrade without Steve Jobs at the helm.
Instead, new CEO Tim Cook will be the one coming down from Cupertino mountain clutching the latest iPhones for the faithful.
And the media drones on
Although Apple is saying nothing before the event, that hasn't stopped the tedious speculation from tech sites – CNet managed to drag out a whole page dedicated to "translating" the event invite image (right).
This fascinating piece of 'news' elicited this response from one unimpressed reader:
The fact that an entire news article can be derived from speculating on an Apple invite shows me how obsessed the world is with tech and CNET is with Apple.
Voice recognition ahoy
With the invitation to the event entitled, "Let's talk iPhone," rumours are rife that the new handsets will cone with some sort of voice recognition onboard – notably, Apple purchased a speech-recognition software company called Siri last year.
Certain to be in the upgrade are an improved camera and faster processor, all running on the new iOS 5 operating system which includes a new notification system heavily "inspired" by Android (read: nicked) and a text messaging systems that borrows equally heavily from Blackberry (read: nicked).
It's going to be massive
Despite the massive growth of Android-based phones – they're currently outselling Apple  2 to 1 –  there's no doubt that whatever Apple serve up on October 4th, it'll sell by the shedload.
For iOS aficionados and legions of upgrade-craving Apple fanboys, the extended 16 month wait since the release of the iPhone 4 must have been some sort of living hell, so we can surely expect even bigger bizarre outbreaks of whooping, high fiving and general iPantWetting when the thing goes on sale.
The madness has already started with some berk apparently already queuing outside the London Apple store, but we'll be buggered if we're going to give that publicity-seeking buffoon any coverage here.
[Via]