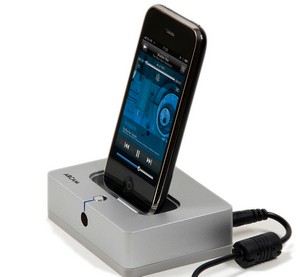 There's all sorts of snazzy docks available for iPod/iPhones, but music-mad users looking to squeeze the last drops of sonic goodness out of their MP3 collections should perhaps take a peek at Arcam's irDock.
Replacing their earlier rDock, Arcam's shiny new high-end audiophile dock sports a die-cast aluminium anti-vibration enclosure with a damped rubber base offering RF shielding, and comes with a bundled remote for full loafing-on-the-sofa control.
Claimed to offer a, "no-compromise approach to iPod playback, using audiophile grade amplifiers to achieve the best sound quality possible," the irDock works with any Hi-fi, music system, home cinema or even radiograms – so long as there's an audio input available.
The irDock's low noise power supply comes with three plug attachments and universal voltage capability for taking it on the road.
There's also an RS232 connection lead for displaying track information on Arcam Solo products, as well as the latest generation AVR500 and AVR600 receivers, the AV888 pre-amp processor and theT32 Tuner.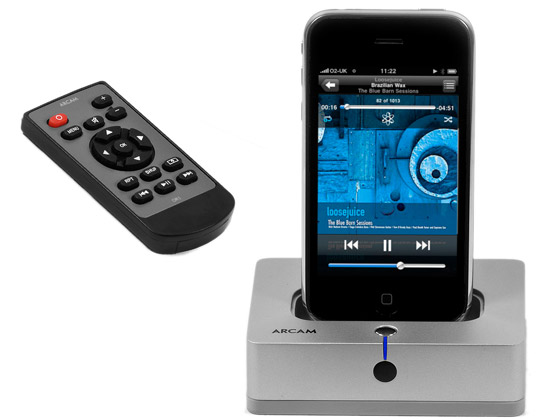 Intelligent charging
The irDock also comes with a special charging on/off button, which lets users play the iPod from its internal battery supply – Arcam claim that this "intelligent feature" will double the life of the rechargeable iPod battery, bringing a "modest but useful improvement in sound quality," into the bargain.
We can't imagine why anyone would want to plug in such a high quality dock into a creaky radiogram, but if you've got a top notch hi-fi ready and waiting to hear from your iPod/iPhone, the irDock can be all yours for £150.
MORE DETAIL
– The best sound quality from any iPod dock under £crazy money
– Uses the iPod's 30-pin line-out connector
– Bypasses the headphone amp to achieve best quality
– Built-in audio pre-amp with high performance op-amps
– Audiophile-grade low-noise double-regulated power supplies
– Highest quality line-level audio
– Buffered RCA phono audio outputs enable audiophile cables to be used
– Intelligent charge on/off control
– Die-Cast Aluminium Anti-Vibration enclosure
– Damped rubber base
– Use Apple universal dock inserts supplied with all new iPods/Phones
– Full iPod remote control using the supplied mini remote handset
– Full iPod remote control with any Arcam System handset
– Displays iPod music info on Solos, AVR500/600 receivers,
AV888 pre-amp processor and the T32 Tuner.
– S-Video and Composite video outputs to show photos or movies
– Made For iPod
– Use 'Airplane' mode on iPhone to prevent cellular chirps
– Low noise power supply
– Multi voltage international power supply
In the Box
1 x irDock
1 x Mini IR handset
1 x Multi voltage power supply
3 x International plug adapter