If you're a bit fed up with the weedy dumbphone that sits on the end of your landline, the new  Archos DECT-Enabled 35 Phone looks set to drag the home phone into the 21st century.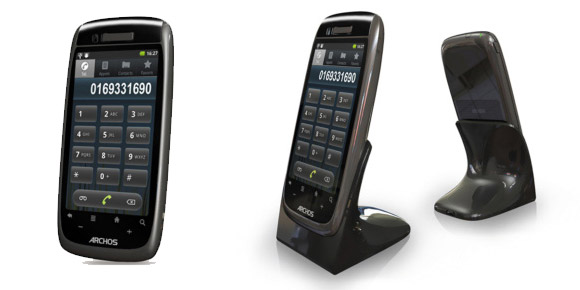 The handset packs a 1GHz processor and features a 3.5 inch display (albeit one running a disappointingly low 272×480 resolution).
There's built-in Wi-fi, front facing camera for video calls, 8GB internal storage and a microSD slot,with the charging dock separate from the handset's wireless receiver, negating the need to have the dock plonked right next to the phone line.
Running Ye Olde Android 2.2 (presumably this will be upgraded) the handset is compatible with any ADSL box or phone line and uses standard DECT protocols, so it should work with standard DECT handsets and bases.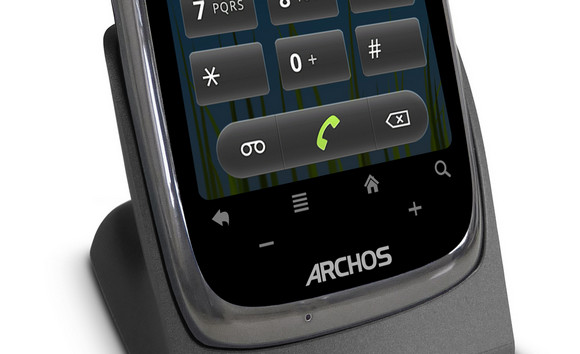 Archos extol the handset's virtues on their website:
The ARCHOS Smart Home Phone takes a Home DECT phone and enhances it with Android; that same great interface as on a smart phone along with all those excellent smart phone features; caller name, number and photo display, customizable MP3 ringtones, web and emails. And transferring contacts from your Android mobile phone to your ARCHOS Smart Home Phone is simple though the integrated applications.
Although it doesn't look as stylish as the Binatone DECT iHome Phone released in November 2010, we're hoping that Archos do a better job of integrating the humble home phone line with Android tech.
The Archos 35 Smart Home Phone can be picked up on Amazon for around £130
. We'll drop them a line and see if we can get a review sample and find out if it's worth the dosh.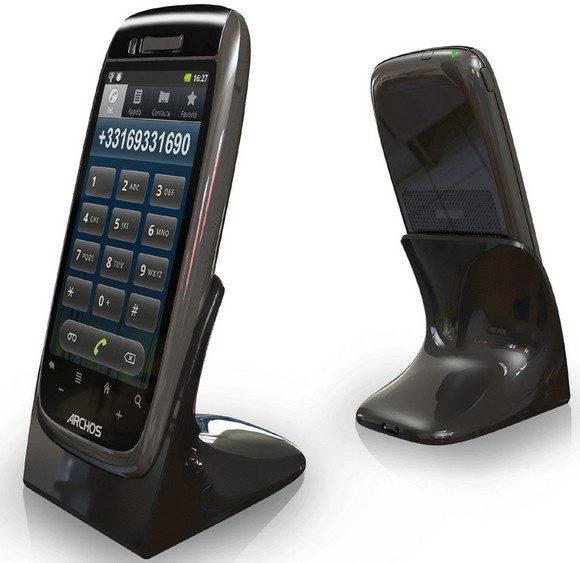 Technical Specification
Internal Storage – 8 GB* internal memory + Micro SD slot
Answering Machine
Screen – 3.5'' color touch screen
Resolution: 272 x 480 pixels
DECT Frequency – 1.9 GHz
GAP compatibility
Name & number memory Unlimited
Hands free mode
Caller ID – Caller contact display: Name, number, email …
Intercom – Calling another handset
Application Framework – Android™ 2.2 Froyo
Processor – OMAP™ 3630 @ 1 GHz with Open GL® ES 2.0 graphic accelerator
Music Playback – MP3, FLAC, OGG, WAV
Photo viewer – JPEG, BMP
Video recording – Records from the built-in front facing VGA camera equipped with a microphone
Video Calling
Video Playback – Plays MPEG-4 AVI and most common video formats
Speakers – built-in speaker, 3.5mm audio jack
Compatibility – Windows 2000/XP/Vista/Windows 7® and Mac® OS 10.4 or above in mass storage mode
Connectivity – Micro USB 2.0 High Speed, Micro SD card slot, WiFi® b/g/n
Weight & Dimesnsions
Dimensions – 126 mm x 61 mm x 11 mm
Weight – 90 g
In The Box
ARCHOS 35 Smart Home Phone
Base / Charging Pod
Support
Power Supply
Micro USB Cable (2 m)
Quick Start Guide
Phone Line Cord
[Archos]