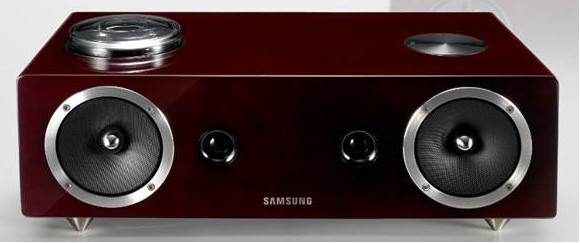 Owners of Samsung Galaxy S devices and iOS smartphones have got a sonic treat in store, courtesy of Samsung's sumptuous new DA-E750 speaker dock.
The stylish looking Audio Dock with Vacuum Tube Amplifier incorporates Samsung's proprietary hybrid vacuum tube amplifier technology and – unusually – can support a broad range of Galaxy S and Apple devices via both docked and wireless connectivity options.
The old-school analogue vacuum tubes are usually found in high-end audiophile products, so you can expect a sweet, sweet sound from Samsung's no-doubt pricey offering.
Boasting a 2.1-channel speaker and beefy built-in subwoofer with 100 watts of sound, the audio dock comes with an analogue (composite) input and a USB port for hooking up a MP3 player,  portable hard drive or USB thumb drive. MP3, WMA and WAV file formats are supported.
The DA-E750 also supports wireless audio file playback through AllShare for Samsung Galaxy devices and Airplay for Apple devices, or via Bluetooth enabled devices.
Pricing is yet to be announced, but looking at that lush finish, we're not thinking 'cheapo.'
Oh no. This baby is going to cost. 
Here's the press release:
RIDGEFIELD PARK, N.J., January 3, 2012 – Samsung Electronics Co., Ltd. today debuted a new line of audio dock systems that feature breakthrough innovation for rich sound qualities comparable to premium audio systems. These audio dock systems are also stylishly designed to complement any room in the home:

• Samsung's Audio Dock with Vacuum Tube Amplifier – the world's first docking system that incorporates Samsung's proprietary hybrid vacuum tube amplifier technology and supports a broad range of Galaxy S and Apple devices via both docked and wireless connectivity (model DA-E750).
• Samsung's Audio Dock for Galaxy S and Apple devices – a sophisticated system that combines functionality with harmonized design for a crystal clear audio experience along with connectivity to both Samsung and Apple devices (model DA-E670).

These new audio docks will be on display at Samsung's booth #12004 in the Central Hall at the 2012 CES, which will be held at the Las Vegas Convention Center (LVCC), January 10-13, 2012.

"Listening to music, whether individually or in a group setting, is one of the most personal and valued forms of entertainment," said Sangchul Lee, senior vice president, Samsung Electronics. "As the leader in home entertainment, we wanted to create products that are unique, highly-functional and beautifully designed, yet offer the crystal clear, rich sound that consumers can enjoy, regardless of the portable device they store their music on."

Exclusive Technology with Enhanced Connectivity and Style 

The Samsung DA-E750 Audio Dock is the company's first speaker dock and features Samsung's exclusive hybrid vacuum tube amplifier technology – a digital amplifier's sharp clarity combined with rich and warm sound performance of vacuum tubes – to produce a pure listening experience to please any audiophile.

Previously only available in premium audio products, vacuum tubes amplifiers have been praised by audiophiles for producing more natural sounds, but these sounds were occasionally subject to distortion. Digital amplifiers deliver clear sound output, are more energy efficient and can fit into a smaller form factor. By combining the best of both, Samsung has achieved a technology breakthrough, thereby raising the bar in sound quality for mainstream audio products. The vacuum tube is used as in the pre-amplifier while the power amplifier uses digital technology so the audio dock is able to maintain its beautifully slim body.

The DA-E750 is the industry's first device with docking support for both Galaxy S smartphones as well as Apple iOS devices including iPods, iPhones, and even iPads via unique dual docking structure. The audio dock, which boasts a 2.1-channel speaker and powerful built-in subwoofer with 100 watts of sound, also offers analog (composite) input and a USB port to play audio files directly from a thumb drive, music player or portable hard drive. MP3, WMA and WAV file formats are supported.

In addition, the DA-E750 supports wireless audio file playback through AllShare® for Samsung Galaxy devices and Airplay for Apple devices, or via Bluetooth enabled devices for the ultimate in flexibility and convenience.

The elegant design of the DA-E750 exudes the highest level of sophistication – when in operation the vacuum tube inside the dock emits a warm, soft glow that accentuates the sleek, high gloss wood finish wood and adds a touch of luxury to the system.

Supreme Convenience and Sophisticated Simplicity 

The Samsung DA-E670 Audio Dock for Galaxy S Smartphones, as well as Apple iOS devices. It is an easy-to-use audio dock that offers a superb listening experience while simultaneously charging the batteries of each device. With its compact footprint, the DA-E670 would be right at home in a living room, in a home office, or even in a bedroom, wherever music can be enjoyed while the devices charge.

The audio dock also delivers a powerful sound with built-in speakers that collectively output 40 watts of power and an integrated subwoofer that allows users to experience an enhanced bass response than what is available on conventional docking stations.

The assortment of features that accompany the DA-E670 include an auxiliary input and support for Bluetooth-enabled devices, audio support for MP3, WMA, WAV files from portable storage devices connected via USB. The DA-E670 also offers users a simple remote control. Like the DA-E750, the innovative DA-E670 supports both AllShare for Samsung devices and Airplay for Apple devices.

CES-specific information may be found at www.samsungces.com