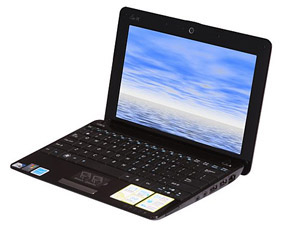 Most people with even a passing interest in technology will be familiar with the concept of the netbook.
Small, low-powered laptops designed for basic computing tasks like email, internet, and word processing, netbooks have enjoyed a dramatic growth in popularity over the past couple of years.
Asus is probably the manufacturer most responsible for making the netbook such a success, with its original Eee models offering mobile computing in a small package at a very attractive price.
Netbooks have grown in size and specifications since the first Eee, and the model under review represents the latest iteration of the Asus netbook line. Inside its very shiny (and very smudge- and fingerprint-prone) black case, the Eee 1005HA-P runs Windows XP on Intel's low-power Atom N280 1.66GHz processor, with 1Gb of RAM (upgradeable via a trapdoor in the base).
The glossy 10-inch screen has a resolution of 1024×600, which is one of the most useful upgrades from earlier generations of netbooks, whose 800 pixel screens made side-to-side scrolling a frequent ordeal on many websites.
The combination of processor, memory, and screen allows this netbook to handle basic internet, email, and office applications with aplomb.
Running an email client, a web browser, and a word processor together generally poses no problems, although users who make a habit of keeping dozens of documents or browser tabs open at once might need to cut back if they don't want performance to slow to a crawl.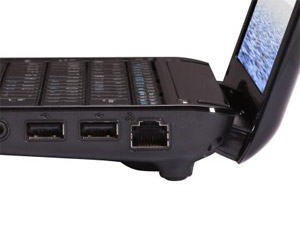 Some reviewers complain that the 160Gb hard drive adds weight and violates the "less is more" principle of the original Eee, which offered only small flash memory drives, but if you're like me and tend to accumulate files, you'll be happy for the extra storage.
Also, because the 1005HA can comfortably handle music, and copes well with standard definition video files, the larger hard drive comes in useful for entertainment purposes as well.
Of course, the above observations could be applied to many netbooks currently on the market. This is an area where basic specifications are remarkably consistent, and the combination of 10-inch screen, N270/N280 processor, 1Gb RAM, and 100+Gb hard drive can be found on literally dozens of models from multiple manufacturers.
Part of this consistency is due to contractual limitations placed by Microsoft on netbooks equipped with the Windows operating system.
Hours of research convinced me that basic technical specs were unlikely to be the deciding factor when choosing a netbook, so perhaps it's worth talking about a few things that the Eee does really well.
Battery
The most amazing thing about the 1005HA is its battery life. The model under review comes with a 63WHr, 6-cell battery, the largest capacity offered for the Eee range. Asus rates this battery for 10.5 hours, and while I've never run it down completely, my experience suggests that the company's claim is no exaggeration, at least for basic internet and office use.
Running video or other high-drain processes cuts into battery life, but the Eee comfortably copes with two full-length movies and leaves you a couple of hours to spare for getting some work done. Ideal for a cross-continent plane trip.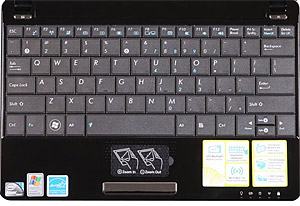 Keyboard
My biggest concern about purchasing a netbook was the keyboard. I don't have the world's most agile typing fingers, and the experience of trying to type on a first-generation Eee almost put me off netbooks for life.
Happily, the keyboard on the 1005 is surprisingly spacious and easy to use, even for a rather klutzy four-finger typist. I occasionally mash the Caps Lock button when attempting to hit the "A" key, but that also happens on my regular desktop keyboard, so the problem is probably me rather than the Eee.
The layout is good, the keys have a pleasant click to them, and overall it's a very functional keyboard for such a small computer.
Trackpad tested
As a desktop user, most of my computing involves using a mouse. I've never been a fan of trackpads, even on full-size laptops. The Eee's trackpad is serviceable, with an array of small raised dots delineating the extent of the touch-sensitive area.
Because of its small size, it is quite easy to accidentally activate the up-and-down or side-to-side scrolling feature when you are simply trying to move the cursor around the screen.
Of course, these scrolling functions can be disabled altogether if necessary. There is a hardware button at the top-left of the keyboard that disables the touchpad altogether, for watching video or for when you use a USB mouse.
Once it's fired up, the Eee will be familiar to anyone who has used a Windows XP computer. There is a trial of MS Office installed, as well as Skype and some other basic software such as the Adobe reader.
There is also a pop-down dock at the top of the screen with some Eee-related games and other features, but with only 600 vertical pixels of screen space it seemed like an unnecessary encroachment, so I disabled it.
On the hardware front, there is a built-in 1.3 megapixel webcam, Bluetooth capability, and built-in 802.11b/g/n wireless, which finds and connects to wireless networks without any hassle. Rounding out the specs are three USB ports, a VGA input, an Ethernet jack, as well as headphone and microphone jacks and a Secure Digital card slot.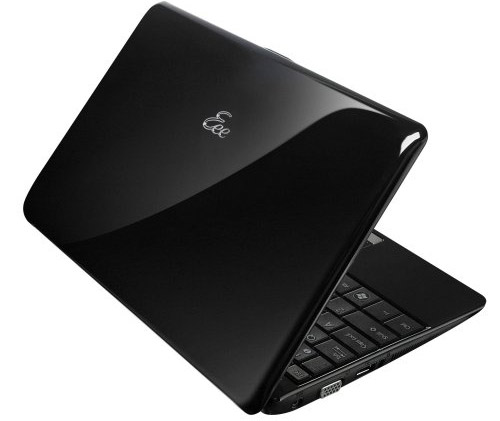 The drawbacks
The Eee does have a couple of drawbacks. While the screen is bright and sharp, if you need to do a lot of work outside, especially in sunny or brightly-lit outdoor situations, this is not the computer for you.
The screen surface is very glossy, and in bright light it reflects like a mirror, making it impossible to discern items on the screen and rendering the computer completely unusable. So much for taking advantage of that great battery life at an outdoor café, or in the park.
Even indoors, any bright light source behind the user can produce distracting reflections. It's possible that some sort of screen cover might mitigate this problem, but Asus's decision to use such a glossy screen on a computer designed for mobility is a little puzzling.
Most of the limitations of this computer are a function of its size and power, and if you know what to expect when you make the purchase, you should not suffer any nasty surprises. Sometimes web-based video, such as YouTube and Netflix, can get a little choppy, but it's not clear to me whether this is a result of the computer's limited specifications, or of Firefox's tendency to place a disproportionate load on system resources.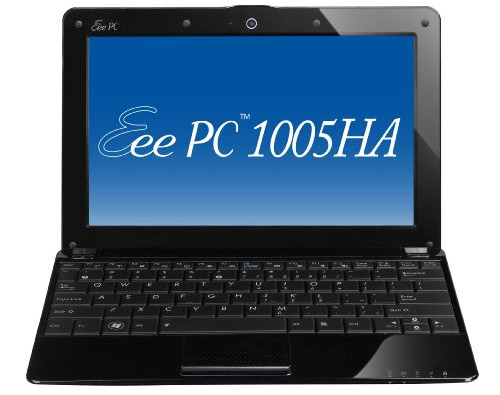 The fact that 640×360 pixel video files play without stuttering on Media Player Classic, even when enlarged to full screen, suggests that Firefox might be the culprit here.
Some reviewers report that upgrading the memory to 2Gb offers noticeable performance improvements, and if I decide to take this route, I'll report back with the results. For now, though, performance is fine for my netbook needs.
Another potential problem is the AC adaptor. Two weeks after the computer arrived, the adapter stopped working. Some internet research revealed that this is a rather common problem, and Asus has been replacing the adaptors in considerable numbers.
Funnily enough, about a day after it died, the adaptor began working again. It seems to go in and out, working on some days and not on others, and this happens even after I've ensured that everything is properly connected and plugged in to a working socket.
Poor customer support
This leads me to one final problem with the Eee, relating not to the computer itself, but to the company. When the adaptor died for the first time, I called Asus's support line to report it and initiate a return.
I'm not sure where Asus support is located, but I spoke to two different people whose English was very poor, and who were clearly doing nothing but reading from prepared scripts. Despite this, they both managed to give me different information: one told me that I would need to contact the retailer who sold me the Eee, while the other was happy enough to initiate a return herself.
This second representative took my information, and assured me that within 24 hours I would receive an email with my authorization to return the adaptor. It's been two weeks since that call, and the promised email has not materialized. Luckily the adaptor seems to be carrying on, if sporadically. Again, internet research suggests that this experience is rather typical of Asus customer support.
Of course, poor customer service is one of the biggest complaints about many technology companies, and Asus certainly isn't alone here.
The round up
While my experience with customer service might have made me cautious about the company, it certainly hasn't soured me on the Eee.
It does everything expected of it, and admirably performs its role as a cheap, portable second computer. There's plenty of competition in the netbook market, but if your power needs are limited, and you like the idea of hours of cord-free (indoor) computing, the 1005HA is a solid option.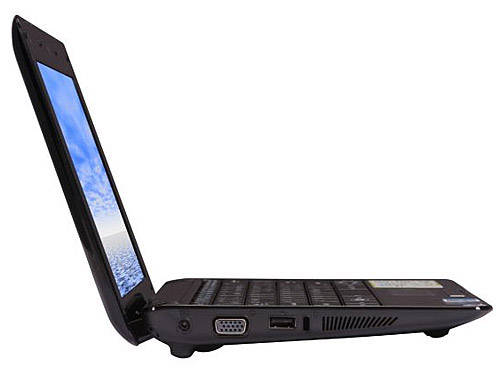 Specs of reviewed model:
Asus Eee 1005HA-P Seashell Netbook Computer
Intel Atom N280 1.66GHz
1Gb memory
160Gb HDD
63WHr six-cell battery
10.1" LED display
Bluetooth 2.1+EDR
802.11 b/g/n Wi-Fi
Windows XP Home SP3
Pick up a Asus EeePC 1005HA Seashell 10-inch Netbook
on Amazon for around £240.